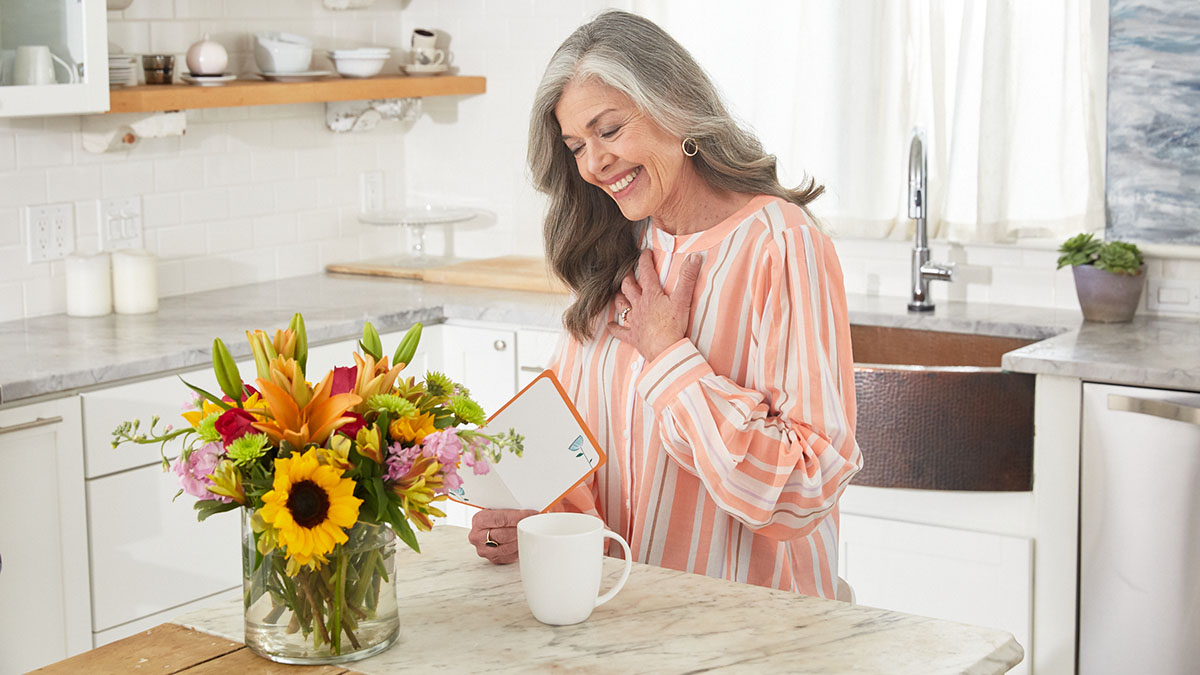 Mother's Day comes just once a year, making it that much more crucial that you plan a day that's absolutely perfect. Surveys show that the majority of moms want to spend their special day with their children and other family members. In addition to flowers and other gifts, giving the gift of your time by planning an activity with the woman who brought you into the world is a terrifically thoughtful idea.
But such Mother's Day activities are often easier said than done. Although Mom would love it if her children lived next door, sometimes the family is spread across the country, or even the globe, and meets only for holidays and special occasions. Even if you're not physically close, you can still plan a wonderful celebration for Mom on Mother's Day.
Here are some activities and creative ideas to celebrate Mother's Day this year — whether you're 10 miles away or 10,000.
---
Plan ahead for the perfect Mother's Day
When you were growing up, Mom spent countless hours planning your days. Now, it's time for you to return the favor. With a few simple phone calls, you can set up a relaxing and fun adventure for Mom.
Step 1: Arrange the activities
The day's itinerary can include a trip to the movies, a massage at the local spa, or a shopping excursion (your treat) at her favorite department store. Cater the day to your mom's interests so she can unwind and enjoy.
Step 2: Reserve a restaurant
Every adventure needs a lunch break to refuel, so make reservations at Mom's favorite restaurant. If Dad can join, great; if not, ask your mom to set aside a few minutes for a video chat with you while she dines.
Step 3: Hire transportation
If you're doing this long distance, enlist the help of a neighbor or hire a professional transportation service to drive Mom around for the day. Provide them with a full itinerary of activities so all Mom needs to do is hop in and enjoy the excitement-packed day you have planned for her.
---
Mother's Day activity idea: Meals and drinks
Celebrate Mom with a tasty meal or potent potable. Here are some ideas.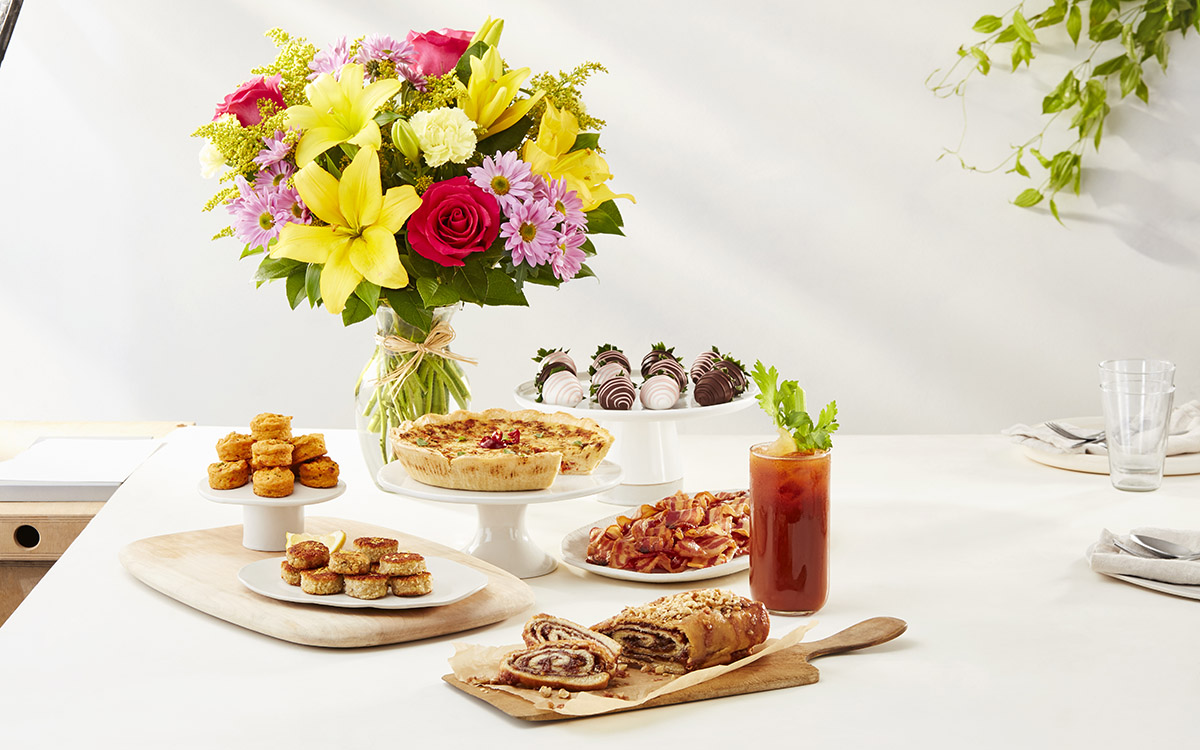 Mother's Day brunch
Brunch on Mother's Day is a must. From cheesy omelets and crispy bacon to buttery pancakes and blueberry waffles, there are so many delicious Mother's Day recipes to enjoy. More importantly, there are stories to be told and laughs to be shared.
If you're far away, there's no need to skip the meal. Just make arrangements via a video conferencing platform, such as Zoom or Google Hangouts. If Mom isn't tech savvy, call her before brunch and walk her through setting up her account and connecting to the room.
To make Mom's day as simple as possible for her, consider ordering her a gift basket packed with brunch ingredients. It can really make her day so much brighter.
Mother's Day cocktail hour
Setting up happy hour in honor of Mom can be lots of fun. From mimosas to bloody marys, swap cocktail recipes and enjoy drinks together, together or virtually. We've listed two popular Mother's Day drink recipes for you below, so get popping! If you or Mom doesn't have these ingredients at home, consider sending a wine gift basket with delicious treats.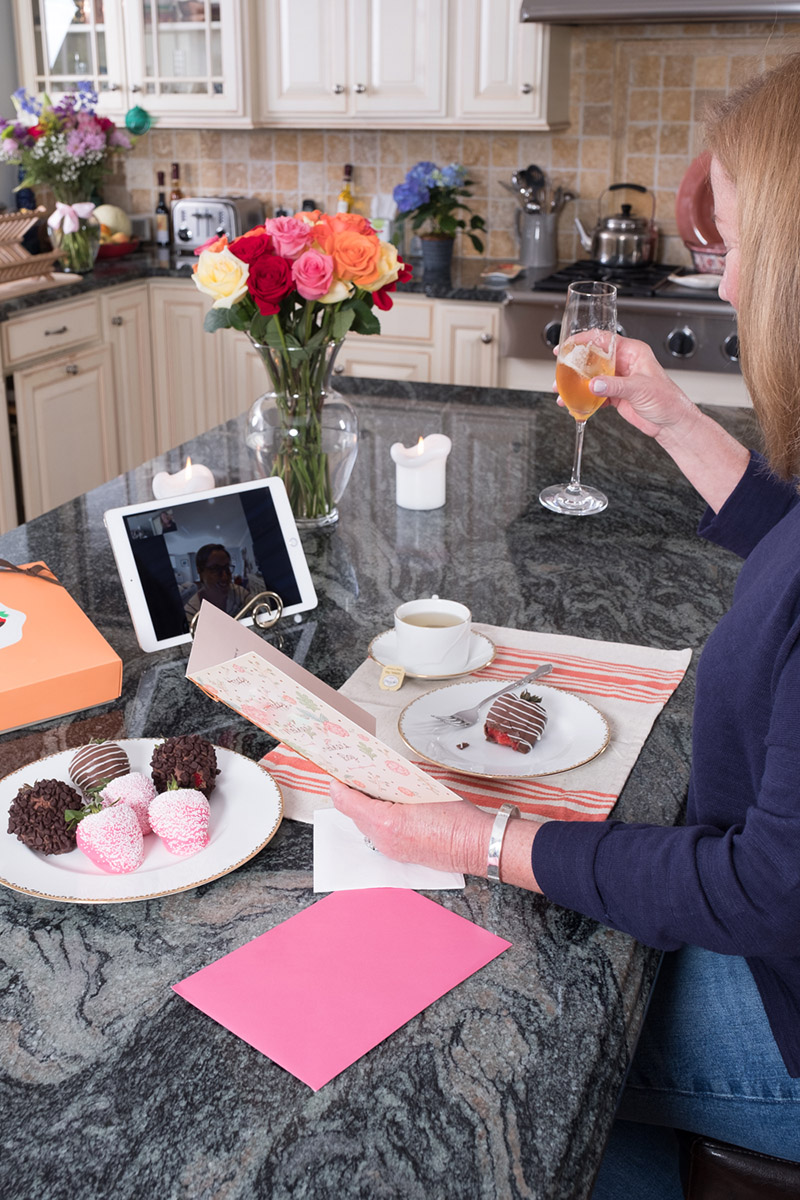 Mimosa
Fill champagne flute halfway with chilled sparkling wine.
Top with orange juice.
Enjoy!
Bloody mary
Salt the rim of a tall glass.
Fill glass with ice cubes.
In a cocktail mixer filled with ice, combine vodka, vegetable juice, Worcestershire sauce, hot pepper sauce, salt, and pepper.
Shake and strain into glass.
Garnish with a stalk of celery and olives on a toothpick.
Set up a dessert date
You may not be able to whisk Mom away to her favorite brunch spot for a Mother's Day meal, but you can still have a wonderful sweet treat together even if she's far away. Set up a time when you will both be available and video chat each other so you can eat "together." To take the dining experience to the next level, surprise her with a dessert-ready mother's day gift basket filled with her favorite treats so she can simply open and indulge.
---
3 other ideas to celebrate Mother's Day
1. Relive memories
Gather old photos and create a scrapbook of memories for Mom to relive. This gift idea can be both virtual and physical: Create a physical scrapbook to arrive at Mom's doorstep and a virtual slideshow for Mom to show off on social media.
2. Send a Mother's Day eCard
If you can't be with Mom on Mother's Day, smother her with love on all fronts —Mother's Day flowers delivered to her doorstep, a loving happy Mother's Day phone call, and a sweet eCard that perfectly fits Mom's personality.
3. Surprise her with a month-full of love
Make it a month-long celebration with a gift that keeps on giving, such as a Kind Notes® for Mom gift. This unique jar is filled with 31 days worth of sweet messages so she can start her days off with a heartwarming message from her dearest child (that's you!).
---
14 Mother's Day activities
These 14 Mother's Day activities will make her day oh so memorable.
Although the idea is to bring Mom breakfast in bed on Mother's Day morning, we bet she'd love to have you join her. So, after you've whipped up her favorite meal and delivered it to her bedside, make a plate for yourself and enjoy the food together!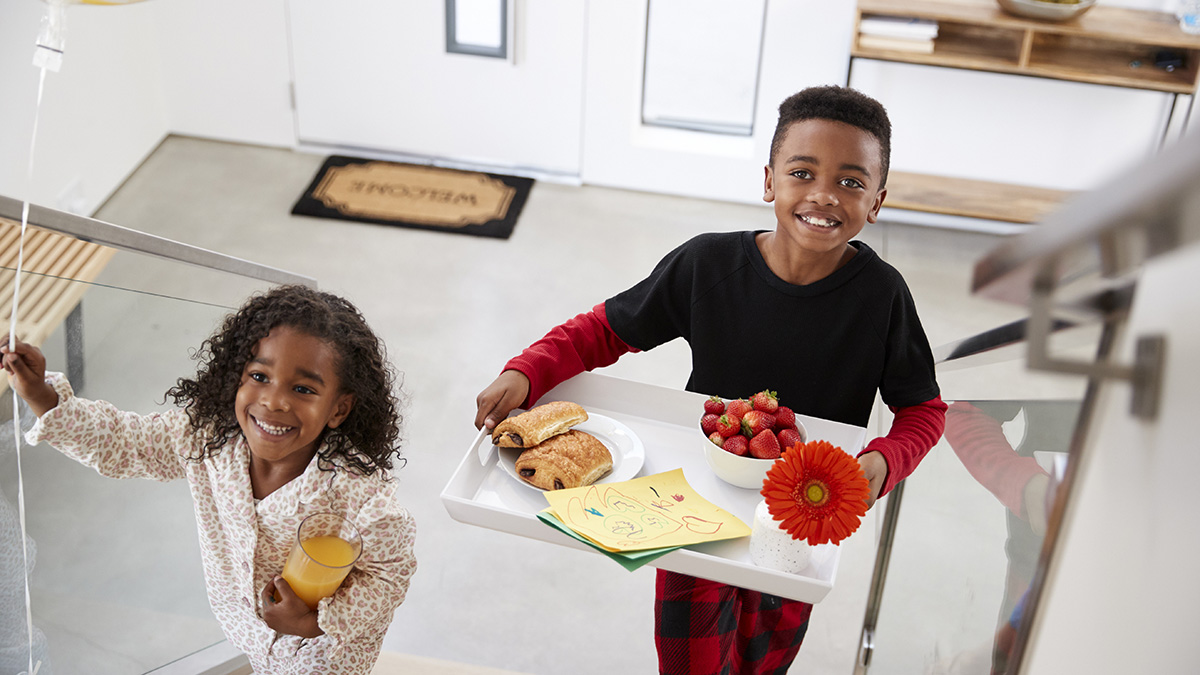 2. Go to the spa
Every mom could use a little R&R, so treat her to a spa day. Just be sure to make an appointment in advance to guarantee yourself a spot — you're not the only one who thought of this idea for Mother's Day! If you'd rather do a spa day in, give her a spa gift basket that she can use to pamper herself.
3. Treat her to dinner
If Mom does most of the cooking in your house, give her the night off and treat her to a nice dinner at one of her favorite restaurants. Again, a reservation is key here as Mother's Day is the busiest day of the year for the restaurant industry.
4. Go wine tasting
If Mom likes wine, spend the day at a winery near you. Or, if you're feeling creative, plan your own Mother's Day wine tasting at home!
5. Plant flowers
Spring is the perfect time to start shaping up the garden. Go buy some of Mom's favorite bulbs, and then lend a helping hand and start planting!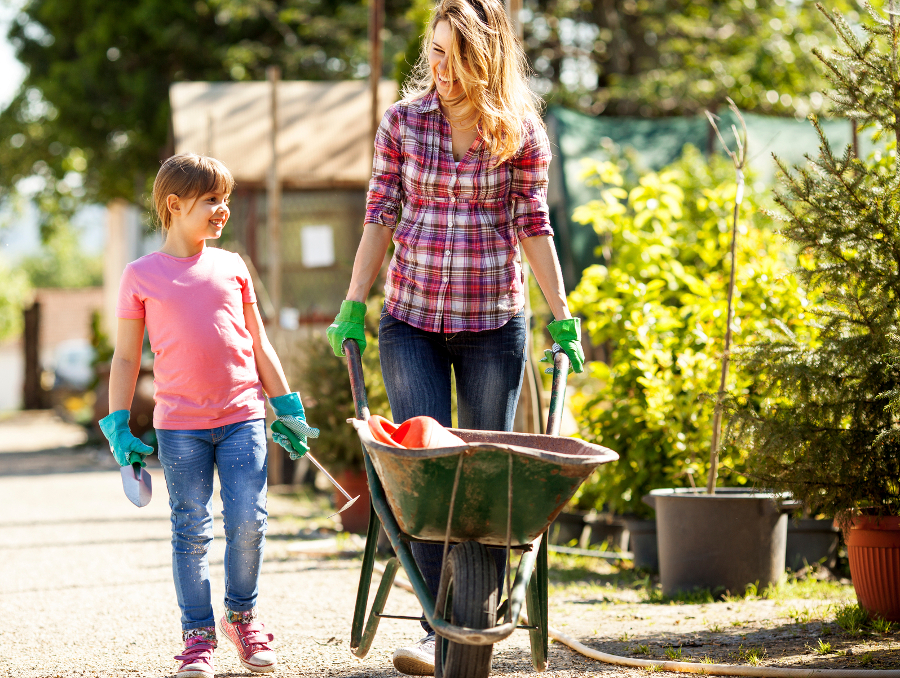 6. Take a day trip
You'd be surprised at how many amazing places there are to visit and see in your area. Research a local attraction that neither of you has been to and go!
7. Have a picnic
Weather permitting, head to your local park and treat Mom to a picnic lunch. Pack her favorite on-the-go-type meals and snacks for her to nosh on — she'll love it!
8. Watch home movies
You and Mom have made a ton of memories together over the years, so settle in on the couch and relive some of your best and favorite ones. And don't forget the popcorn.
9. Go for a hike
Spend some time outdoors and take Mom on a hike on one of your favorite trails. Physical activity is so important, and by hiking together, you can make exercising that much more enjoyable.
10. Bake
Have a dessert recipe that's been in your family for years? Pull it out of your recipe box and work with Mom to bake a treat that will have both your mouths watering!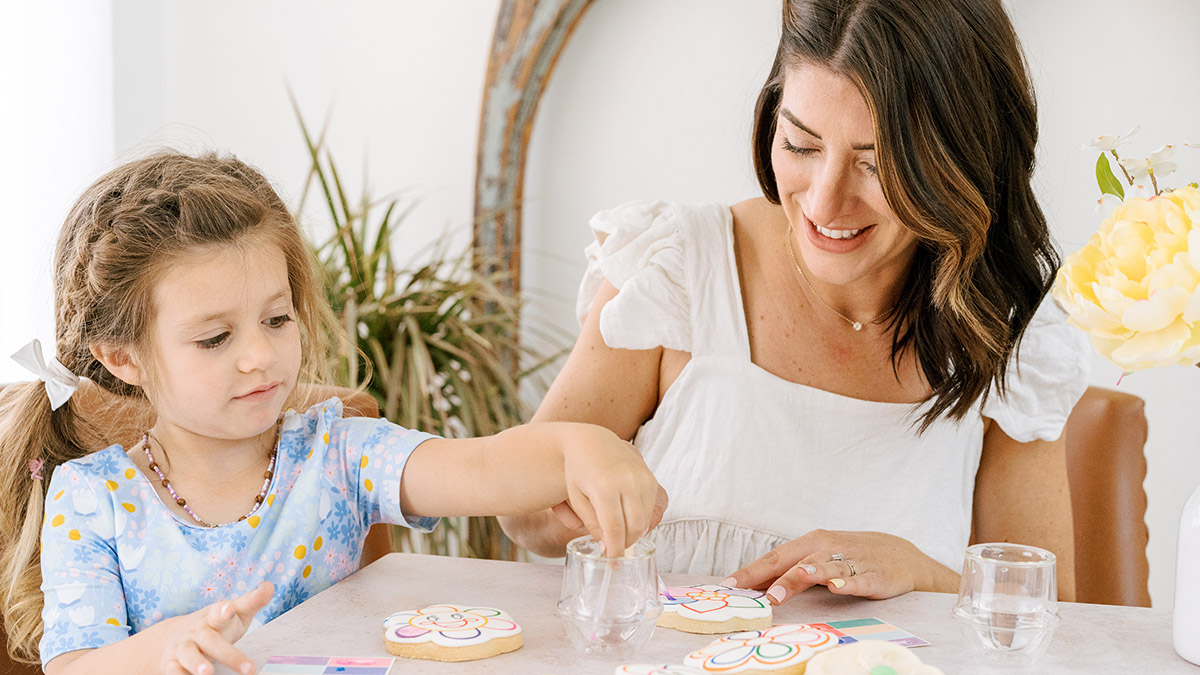 11. Go shopping
Moms are often the ones treating their children to a shopping spree, so reverse roles on Mother's Day and treat her to one. With summer just around the corner, now is the perfect time to seek out her must-have outfits.
12. Volunteer
Find a local charity or organization that could use a helping hand and donate your time. Not only will you be giving back to your community and helping others, but this is also the perfect opportunity to strengthen the bond between you and Mom.
13. Take a class
Is there something Mom has always wanted to learn or sharpen her skills at? If so, see if you can find a class near you, or online, that you can participate in together. Some examples include a painting or cooking class.
14. Play games
Bring everyone together for game night featuring all Mom's favorite games. And have we mentioned yet how integral snacks are to enhancing the fun?
---