Spring is not quite in the air yet. With weeks to go before it's officially a new season, and the end of the winter tending to linger, engaging in self-care is a must. And if anyone knows how to capitalize on winter, it's Scandinavians. "We go to work or school in the dark, we watch the sun from behind a window, and the light disappears before we head back home," says Johnny Van Duong, a project manager in civil engineering and a resident of Oslo, Norway.
With the winters being quite long and dark, we all need some extra care and the classic winter hygge happens with lots of cozy blankets.
Katinka Friis
Public Relations & Press Manager
VisitDenmark
How do Van Duong and his fellow Scandinavians beat the winter blues? They practice hygge, (pronounced HEW-guh), which means creating a cozy environment and enjoying simple comforts. During the winter, Scandinavians emphasize cooking, believing that preparing food is more satisfying than pulling a meal from a delivery bag. Engagement is found in stimulating entertainment that doesn't come with a screen, such as puzzles, crafts, and reading. Winter sports are not only invigorating but a way of life. It's not uncommon to see a neighbor telemarking to a friend's house to deliver a homemade care package.
Pictures of woolen socks, reading by the fire, and activities that promote comfort and warmth are heavily promoted on social media. "With the winters being quite long and dark, we all need some extra care, and the classic winter hygge happens with lots of cozy blankets," says Katinka Friis, public relations and press manager for VisitDenmark.
Here are six mood-boosting winter practices to follow based on hygge.
1. Cozy days
Van Duong regularly engages in Fredags hygge or Søndags hygge, which directly translates to "Friday coziness" and "Sunday coziness." On Fridays, friends gather for a taco or pizza dinner and socialize in a comfortable atmosphere, such as someone's home or a restaurant. Sundays are more robust if the weather allows it. One of Van Duong's favorite Søndags hygge activities is cross country skiing. "We'll camp somewhere, light a bonfire, grill sausages, and have a winter lunch/picnic with seats dug in the snow," he says.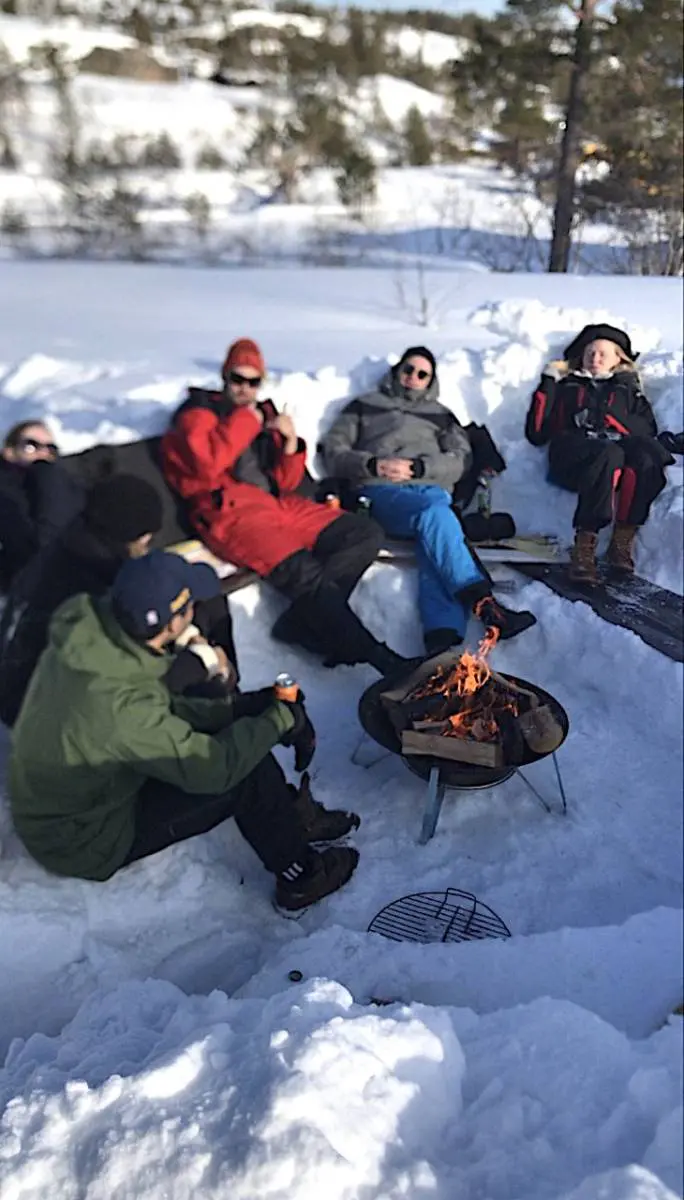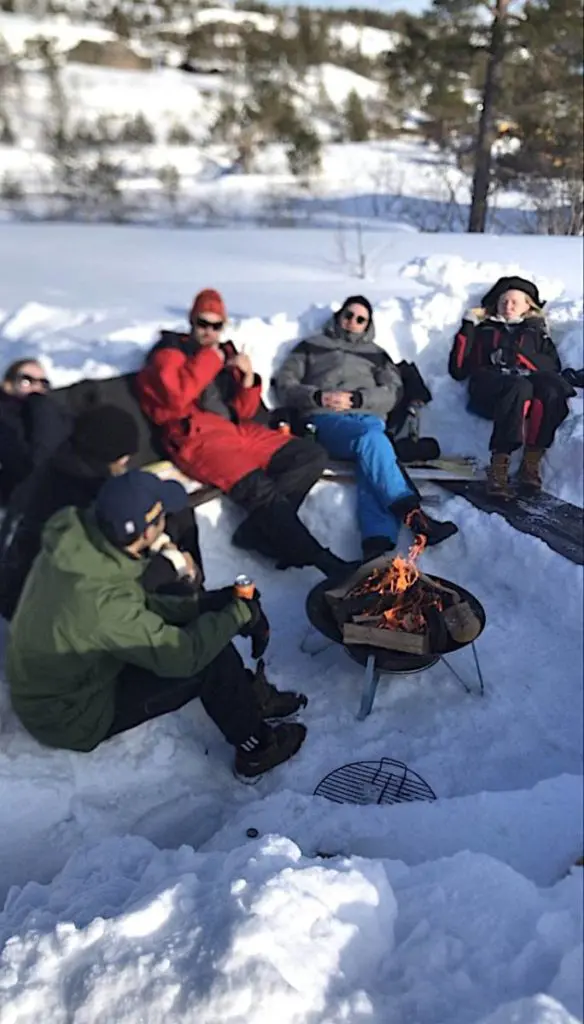 2. Cabin culture
Going on cabin retreats to escape the demands of work and the obsessive connection to digital devices is a Norwegian winter hygge ritual. "We appreciate the quality time we get to spend with friends and family," Van Duong says. Cabin culture activities include building a fire, playing board games, chopping wood, baking, and lighting candles. "You wouldn't have that during the summer, would you?" Van Duong adds.
3. Just add flowers and plants
If there's one way to bring harbingers of a warmer season into the home, it's with flowers and plants, which contribute to hygge practices. Anything from an elaborate arrangement to easy-to-care-for succulents can emit joy through their color, beauty, and scent. "I love having flowers," says Dr. Chloe Carmichael, a clinical psychologist and author of "Nervous Energy: Harness the Power tribute to Your Anxiety" who recommends partaking in the spirit of hygge. "Flowers, plants, or an herb garden is a way to bring nature indoors and elevate a mood."
Winters are challenging for Valerie Ghitelman, 1-800-Flowers.com vice president of product development, sourcing, and design, because she cannot spend time in her garden. So how does Ghitelman get around this predicament? With fresh flowers, of course, and having elements of nature indoors. "Hygge is who I am," she says. "I bring home colorful flowers at least once a week to help me get through the gloomy months of winter," she says. Here's another idea: Guarantee a regular cycle of flower deliveries by treating yourself to a monthly flower subscription.
4. Drink up
Nurturing beverages provide comfort and warmth and, thus, are part of the hygge ritual. The act of drinking tea is a way to embrace the quiet and peaceful solitude of winter, says Emeric Harney, marketing director of Harney Tea. "Look at teatime as 'me time,'" he says. "A time to engage in comfort activities with a cuddly throw, your favorite human or fur friend, and a good book."
And then there's the other beloved winter drink — hot cocoa. The sweet, warm taste lifts the spirits of people of all ages. "Personally, for me, beating winter has to be that hot cup of cocoa with extra whipped cream and mini-marshmallows after getting inside and escaping the cold," Van Duong says.
5. Outdoor fitness is foremost
Hygge also involves exercising outside, which promotes feelings of positivity. "Even on the coldest days, the Danes bring hygge down to the harbor front or the beach, where they jump in the icy waters and reheat with their thermos filled with coffee or hot chocolate and some indulgent baked goods from the local bakeries," Friis says.
Carmichael explains that fitness is needed to increase dopamine levels, which are lower in the winter. These neurotransmitters emit pleasure to the body, thus placing increased importance on activity. "Fitness gives us that efficacy to give us control of ourselves and bodies," she says.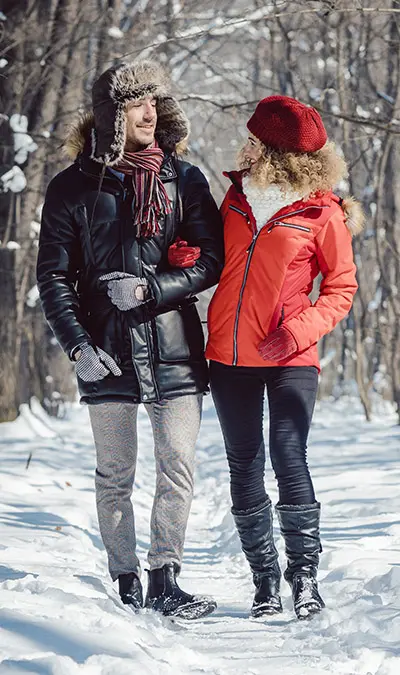 But it's so cold out! Try these tips . . .
Venturing outside in the cold may not seem like an enticing option, but once you're outside and moving, you'll feel the benefits.
One of Carmichael's preferred hygge activities is winter walks. She recommends keeping it interesting by making it a private scavenger hunt, where you look for 10 signs of winter along the way. Homing in on icicles or how your breath freezes in the air can have a wondrous, mood-enhancing effect.
Want an even greater challenge? Wear a weighted vest or listen to high-energy music to get the heart rate up and connect with nature all at once.
Social activity
How can you bring in a social element to your fitness routine? Carmichael says to further multitask your winter walks by asking a friend to join you, which is beneficial since we tend to be less social in winter. This way you connect with friends, stay fit, and are outdoors.
6. Positive engagement
Hibernation also has its benefits, Carmichael notes. Hygge can be achieved by consciously sleeping in. Make a delicious stew. Map out your spring and summer plans. "Find out when Memorial Day is and research state parks to visit in your area or a great site for a picnic. Targeting dates help your brain realize that winter will not last forever," she says.
Despite the climate, Scandinavia ranks as the world's happiest place to live. By making a point to include uplifting activities daily — such as lighting candles, surrounding ourselves with fresh flowers, fitness, and preparing delicious meals — winter becomes a more welcomed time of year.