Autumn is many people's favorite time of year, and there are lots of good reasons for that. The weather is pleasantly cool, with crisp nights that make us want to get cozy with a favorite cardigan and warm apple cider. It's the return of baking season, which means the aromas of cinnamon, nutmeg, and cloves are everywhere you turn. People are arriving back from their summer vacations, and the time feels right to reunite with friends. All that, and more, makes autumn an awesome season for celebrating a birthday with these fall birthday party ideas.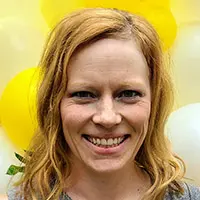 Think boozy hot chocolate, an apple cider bar, s'mores, and flannel blankets.
jessie williams
Founder, WE Events
"Fall is my favorite time of year in Chicago," exclaims Jessie Williams, founder of WE Events, a party and event planning service. "The leaves are changing colors, the temps are getting more manageable, and kids are back in school."
Whether you're planning to host an autumn birthday party for an adult or child, you have as many themes to choose from as there are leaves on the ground.
4 fabulous fall birthday party ideas
Autumn birthdays fall into that perfect sweet spot on the calendar. This time of year offers the flexibility of hosting either an indoor or outdoor party, along with plenty of easy ways to embrace the season.
1. Make it all about them
"To make a fall party extra special, customize," Williams says. "Use items that go with your theme and add names or nicknames to those items. Think blankets for a bonfire party or mugs for a camping party."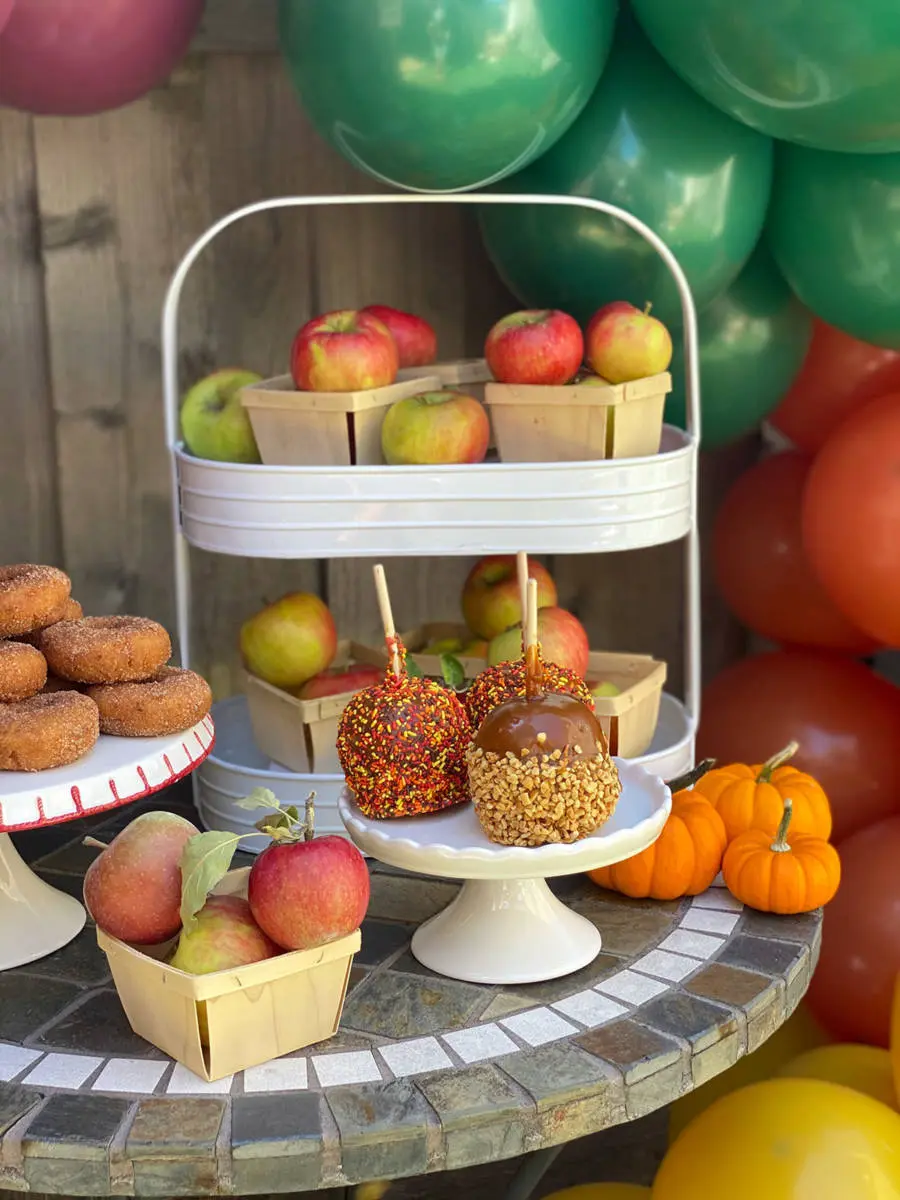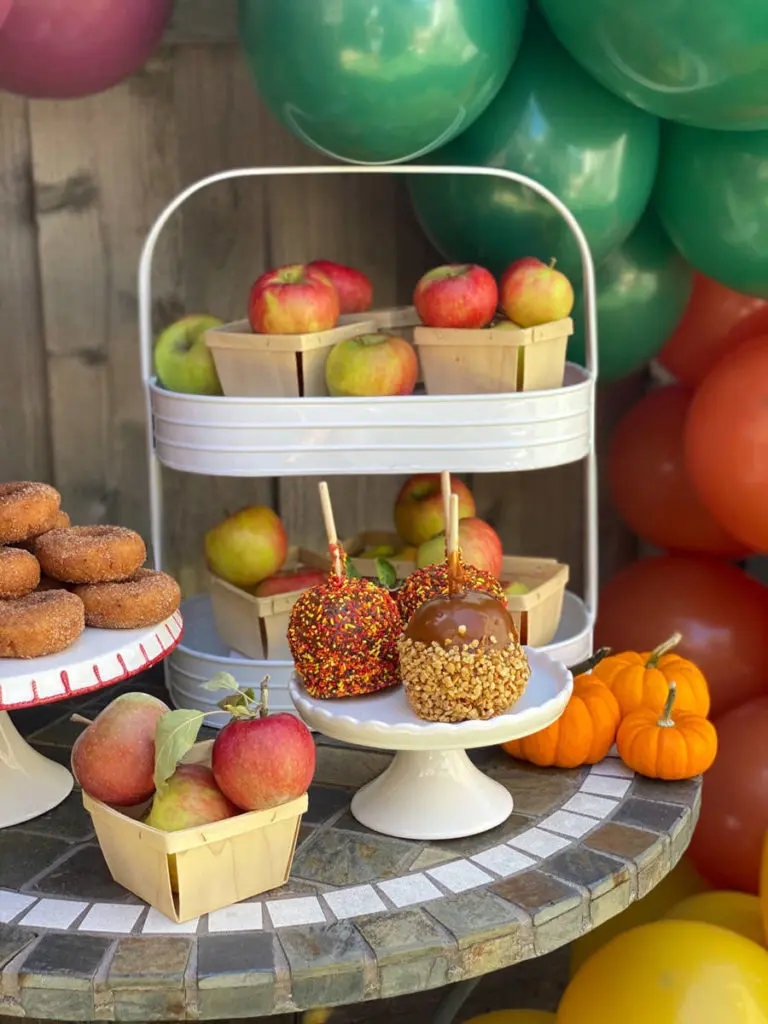 2. Add an awe-inspiring autumn treats table
A show-stopping food table can set the tone for the rest of the party. Whether it's a snack buffet or dessert bar, this stylish self-serve station can be decked out for the season with wooden crates and other warm, rustic touches. One idea is a DIY apple cider bar chock full of toppings, such as cinnamon sticks, cocoa powder, and whipped cream.
The finishing touch? Plenty of fall decor. Tablescapes are extra easy for fall, with gorgeous natural options everywhere you look. "Use gourds, pumpkins, apples with fall leaves, and fall floral to decorate the table," Williams says.
3. Decorate with seasonal florals and shades
Think about the colors of fall: oranges, reds, browns. With that in mind, Williams suggests supplying a captivating printed photo backdrop, with designs ranging from rustic wood or a fall scene with blankets, sunflowers, and hay bales.
Balloon sculptures are also a popular budget-friendly way to make a big impression. For a retro fall camp-out vibe, opt for muted shades of moss green, beige, and rust tone balloons accented with natural dried flower arrangements of pampas grass, wheat, and thistle.
4. Be mindful of fall's wild weather
Planning parties in the Windy City, Williams knows all about preparing for the unpredictable autumn weather. "Wind and rain can very quickly ruin a party. When planning any outside party, it's always best to have a backup plan." She suggests considering renting tents or heaters, or selecting a venue that has an interior option if needed.
"I like to always bring tablecloth weights and, if setting up a tablescape with paper plates, have something heavy to place on each plate, such as a custom "place card," so they don't blow away," Williams says. "My favorites for fall are pumpkins or apples with each guest's name on them."
Trick or treat yourself to a Halloween-themed party
Fall is associated with Halloween, so why not lean into that connection for an October birthday? You have so many options when you embrace this theme, the most obvious of which is a costume party.
This can translate to a lavish masquerade ball for adults; for kids, make it a fun DIY costume contest. A gorgeous Día de los Muertos-inspired dinner party, complete with tamales, sugar skulls, and hibiscus tea, can work for all ages. Create a makeup station to give everyone traditional calaveras skull faces, which will make for instant photo ops.
Another kid-centric idea is to create your own backyard pumpkin patch, far away from the swarming crowds at the local farm. Here you can set up outdoor pumpkin painting stations and a scarecrow stuffing area replete with old clothes, hay, and silly accessories.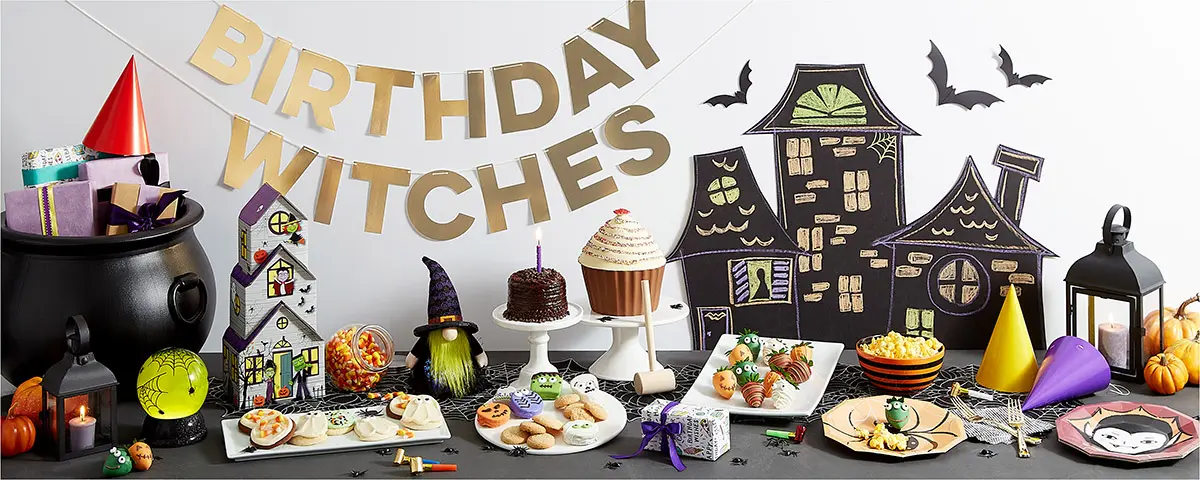 One of the favorite parties Williams has planned was actually not for a client but for her daughter and their neighbors. "We hosted a 'ghost hunt,' where I put candy and trinkets inside plastic eggs that I wrapped in tissues with ghost faces drawn on them. I hid them throughout our yard and the neighbor's yard," she says. "The house was already decorated for Halloween, so no extra decorating work was needed. Even the older kids had a blast finding the 'ghosts.'"
Williams points out a wonderful fall party perk: If you decorate for Halloween, or even just the autumn season, your party decorating is nearly done. Just add a few birthday elements to make it feel extra special for the guest of honor.
---

---
Fuel your November celebration with the spirit of Friendsgiving
November birthdays can present a planning challenge, as they fall during a time when most people's attention is on Thanksgiving and prepping for the holidays. If you're planning a large get-together for friends or classmates, consider holding the birthday party earlier in the month, when the weather may be warmer and schedules less chaotic. Play with a fall clothing theme, such as everyone comes wearing their favorite flannel or a sweater-weather ugly sweater. And don't forget: Your party should be not just for the guest of honor but the senses as well. With the lovely smells of fall filling the air, this is definitely the time to bust out the pumpkin spice candles.
Williams suggests considering a philanthropic option to infuse your party with the spirit of gratitude that is so prevalent during the season. "Consider encouraging guests to bring an item to donate to a charity." This could be anything from books for a children's hospital library to dog toys for an animal rescue. For an adult Friendsgiving birthday party, this can take the emphasis away from presents and make it more about coming together and helping out a cause everyone can feel good about.
4 fun fall birthday ideas & themes for kids
1. Football party
Fall means football time. If you have a little fan of the game, you can create a miniature-sized tailgate party, complete with smaller versions of classic parking lot games, such as cornhole or ladder ball.
2. Scary movie night
Gather up those blankets and pillows, set up a projector screen, and play some slightly spine-tingling classics.
3. Classic country fair
Give guests bandanas, set up classic carnival games, such as ring toss and milk bottle knockdown, and serve corn dogs and funnel cake.
4. DIY party
Whether your guests are decorating candied apples, making mini-wreaths, decorating cookies, or trying their hand at some autumn-scented soap making, fall-themed crafts can keep everyone entertained.
4 fabulous fall birthday themes for adults
1. Hoedown party
Williams suggests renting a backyard mechanical bull, using mason jars to hold floral arrangements, and adding extra seating with hay bales. Ask everyone to come in their best rodeo attire, such as cowboy boots, a long-sleeve button-up, jeans, and a leather belt with a big, ol' belt buckle.
2. Backyard bonfire
"Think boozy hot chocolate," Williams says, "an apple cider bar, s'mores, and flannel blankets." Add a lush fall soundtrack and a few conversation games, such as "Two truths and a lie" or "Would you rather."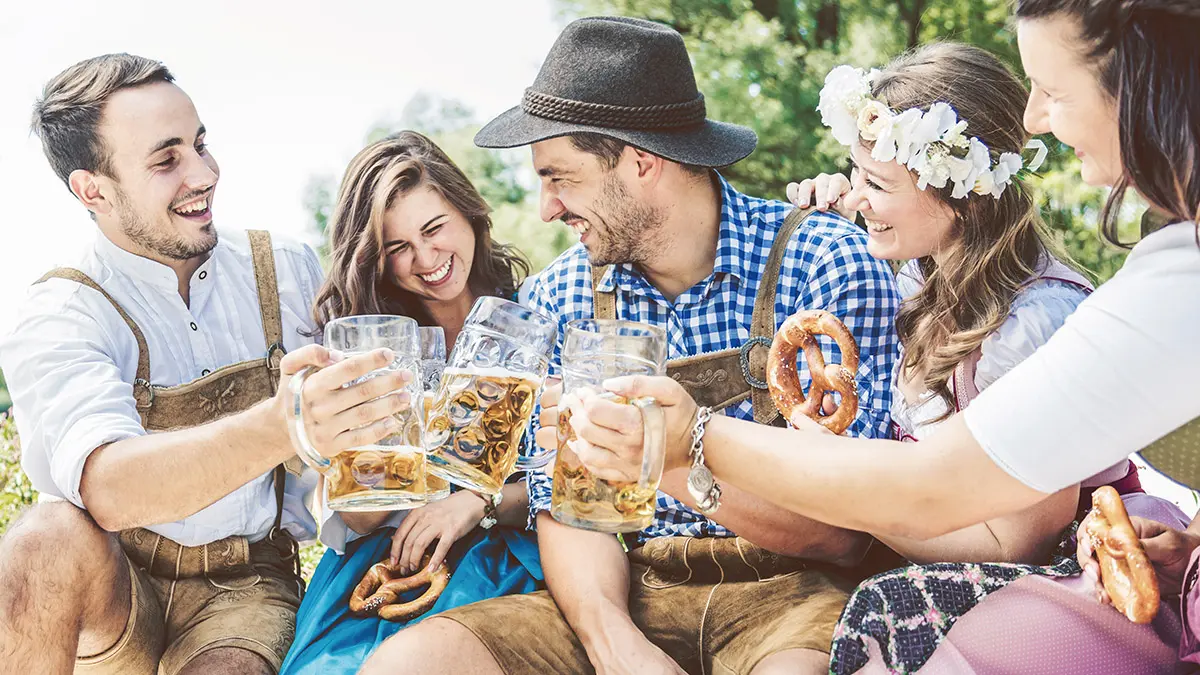 3. Oktoberfest party
Create a backyard biergarten with a sampling of fall beers and classic German cuisine, including sausages and fresh-baked pretzels. As a bonus, ask guests to dress in traditional Bavarian garb.
4. Seasonal harvest sampling
Embrace all the flavors of the harvest with a dinner filled with fall's favorites, including Brussels sprouts, squash, sweet potatoes, and pumpkin. Put a comfort food fall twist on the traditional charcuterie board with a hearty and homey baked potato board, complete with a host of favorite toppings. Or go all in on a single flavor, with a menu that includes pumpkin hummus, pumpkin salad, pumpkin soup, and pumpkin ravioli.