It's the moment we've been patiently waiting for–Pantone chose their color of the year for 2017! Can you guess what it is? We'll give you a hint: It's a color that represents the environment and specifically signifies a fresh beginning, nature and a healthier lifestyle. If you guessed "Greenery," you're right–and we couldn't be more excited about it!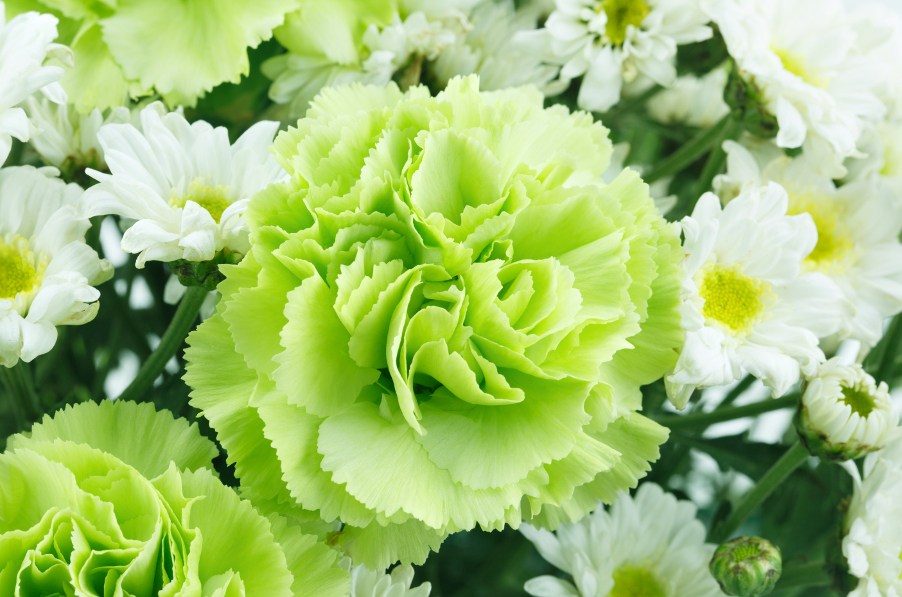 According to The Pantone Color Institute, this refreshing and revitalizing color was selected to evoke the feeling of the first days of spring, when the great outdoors becomes restored and renewed. This color represents a sense of freshness, which will be reflected in trends that are minimalistic and simplistic in 2017.
The yellow-green hue that makes up "Greenery," is here to remind us to take a deep breath and strive for inner peace, while stressing the importance of taking a break from our daily routines to replenish ourselves. We can't think of a better way to achieve that level of re-invigoration than by incorporating some of these calming products into our lives: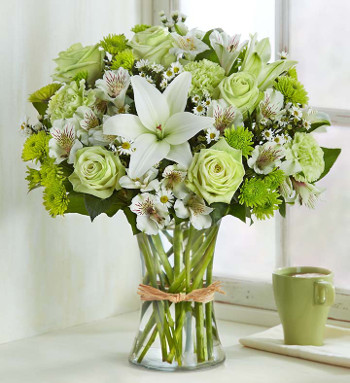 This tranquil arrangement comprised of the perfect mix of pale green and creamy white shades of lilies, roses, carnations, alstroemeria, and more serves as a reminder of how nature and "Greenery" can add beauty to any space.
We can't think of a better way to relax and unwind than with an at-home spa day! The combination of a cozy robe, zen green tea and all of the body products you could ever need will help you reach the ultimate level of relaxation. Hints of "Greenery" and natural elements will make you feel like you're on a spa retreat, while the fresh scents of cucumber and melon are there to reinvigorate you.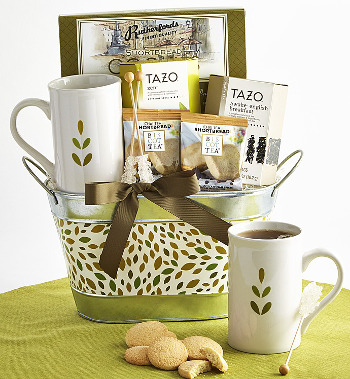 The name says it all! With this selection of relaxing and awakening teas, delicious biscuits and cookies, you will have everything you need to feed your body and your soul.
What do you get when you combine the ultimate in artisan-crafted teas with a stainless steel infuser and an uplifting green ceramic tumbler? A truly enjoyable and delicious experience, that's what! This gift set will turn drinking your daily cup of tea into a very special occasion.
We can't think of anything cheerier than a bouquet of daisies, except for when they're in an even cheerier vase! Designed exclusively by inspirational artist, Sandra Magsamen, this bouquet radiates joy and positivity and will brighten anyone's day in an instant.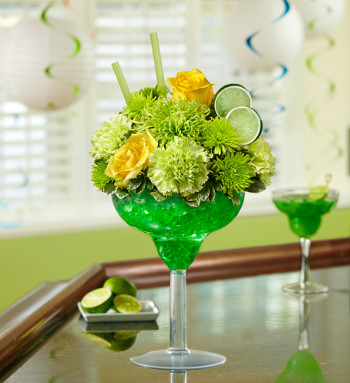 Margarita Bouquet
We mentioned earlier that the idea behind "Greenery" is to take a break from our daily routines and find some time to restore ourselves–so we're transporting you to a tropical destination with this Margarita Bouquet. The combination of green carnations, spider mums, poms and hypericum, with a pop of yellow roses makes us want to raise our glasses and toast to our newly re-energized selves.
We dare you not to smile when looking at this little pup! White carnations are handcrafted to resemble your furry best friend who is dressed up with "Greenery" athos poms, and more! The arrangement is set in a festive ceramic box that is reusable — so you can always keep the party going!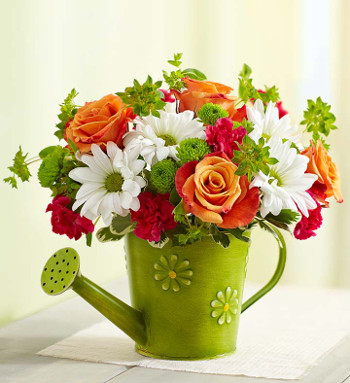 Showers of Flowers
Sprinkle some happiness and cheer into someone's life with this combination of fresh roses, carnations, daisy poms, button poms, and more. The green watering can closely resembles "Greenery," and adds a vibrant element to this beautiful arrangement.
Mugable Sending Big Smiles
Deliver a smile with this combination of vivid yellow roses, hot pink mini carnations, and more. The green ceramic keepsake mug will serve as your daily reminder to feel happy and that you are loved every time you use it.