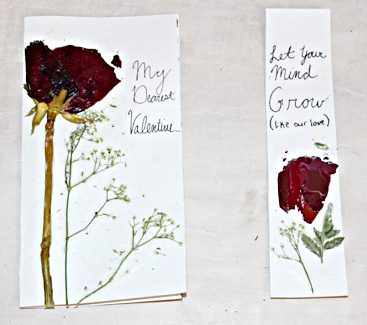 A stunning bouquet of a dozen fresh roses may be the way to your sweetie's heart on Valentine's Day, but the card is your chance to convey the messages that flowers may not.
This year, combine the beauty of nature's finest flowers with a bit of creativity and fun, and create your own floral-inspired DIY Valentine's Day card! For this project, we used pressed flowers to create a one-of-a-kind card that will really touch your special someone's heart. With a few simple alterations, we took this homemade card above and beyond by including a detachable bookmark as well – that way you'll always be on their mind even when they are lost in their own world while reading their favorite book!
Materials needed to create the Pressed Flower Valentine's Day card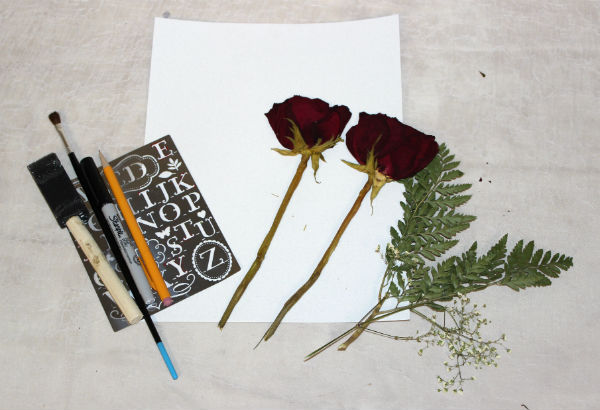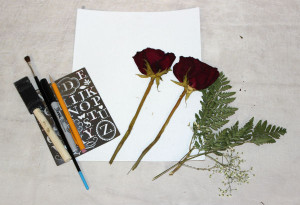 • Pressed Flowers
• Cardstock
• Mod Podge
• Foam Brush
• Marker
• Pencil
• Scissors
• Pizza Cutter (optional)
Directions for DIY Valentine's Day Card:
First, create your pressed flowers. Once you have those prepared, set aside.
Take your piece of cardstock and fold, leaving about 3 inches on one side for the attached bookmark.
Using your pencil, sketch out the writing – this is easier to do before applying the mod podge. You may choose to outline your message in marker at this point, but I left that part for after placing the flowers in case the words needed rearranging.
To create the "perforated" edges for the bookmark, run your pizza cutter several times over the area that will become the bookmark edge. You may also choose to simply create a dashed line for your giftee to cut out – just be sure to have scissors on hand.
Now that the body of your card is complete, use your foam brush to apply mod podge to the front of the card. Place your pressed flowers on top of the card and lightly press down for 30-60 seconds to ensure they stay in place. Now, add another even layer of mod podge onto the pressed flowers to seal. Be care not to put too much or it may dry in globs.
Let dry, and now you have a beautiful Valentine's Day card, made with love!