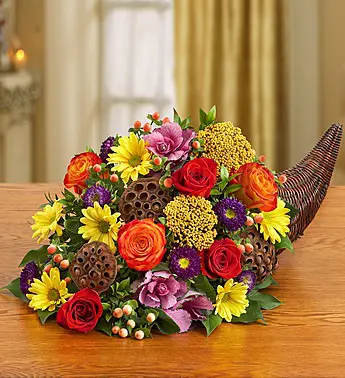 Every year on the fourth Thursday in November, friends, neighbors, and families gather together to celebrate and give thanks. They fill their homes with decorations reminiscent of fall, relive favorite memories from the past year, and sit down for a traditional feast featuring the star of the show – a turkey sized for sharing. But where did these traditions and the holiday we now know as Thanksgiving stem from?

Thanksgiving History
The First Thanksgiving
The history of Thanksgiving dates all the way back to the year 1621, when Pilgrim settlers celebrated their first fruitful harvest after a harsh year full of scarcity. The first Thanksgiving was a three-day feast of celebrations; the Pilgrims were joined by a group of Native Americans from the local Wampanoag tribe where they feasted on fowl, (today's turkey) and local vegetables from their harvest. The tables were adorned with "horns of plenty" – also known as cornucopias – overflowing with foods to celebrate the harvest.
Thanksgiving the National Holiday
Although the first Thanksgiving was celebrated in 1621, it wasn't until 1789 when it became a national day of Thanksgiving. It was during that year that President George Washington proclaimed Thursday, November 26 to be a "day of public thanksgiving and prayer." The savory story doesn't end there though – although our first president declared the holiday a national celebration, it wasn't until Abraham Lincoln's term that it became the national, annual holiday we know today. On October 3, 1963, President Lincoln declared the last Thursday in November a day of "thanksgiving and praise." And thus, history was made.
These traditions represent the Thanksgiving celebration in the United States of America, but this type of holiday isn't just celebrate in the U.S. Learn about how other countries celebrate Thanksgiving!