Looking for the perfect decoration for a Halloween party? Wow your guests by making this DIY Halloween flower arrangement featuring a ceramic pumpkin, your favorite candies, and the best fall flowers! In just 9 easy steps, I'll show you how to create this festive centerpiece whether for your own home or to give the hosts a Halloween party you're attending!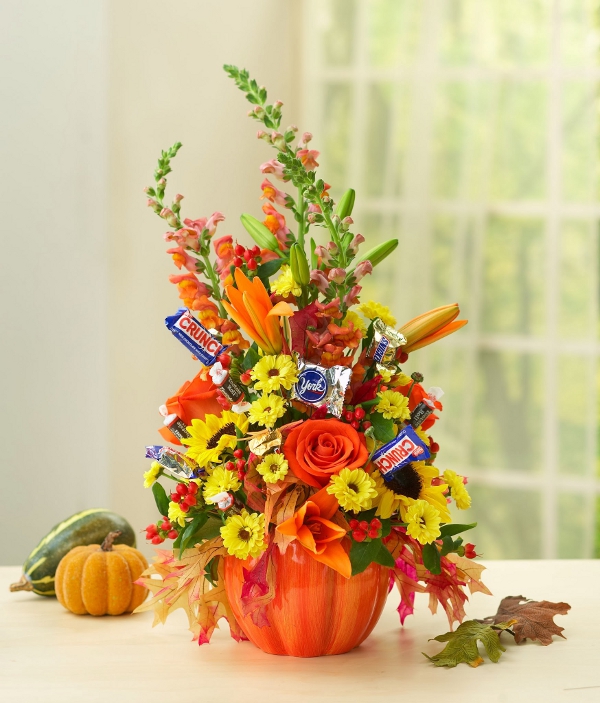 DIY Halloween Flower Arrangement Materials:
Pumpkin Flower pot
Scissor or Knife (To Cut the Flowers & Floral Foam)
Floral Foam (preferably with holes)
Water
Flowers

We Used: Lilies, Viking Daisy Poms, Hypericum, Snap Dragons, Roses, Sunflower

Fall Glycerin Leaves
Candies in Wrappers
WireSticks for the Candy
How to Make the DIY Halloween Flower Centerpiece:
Choose any Halloween ceramic container or pot. We used a pumpkin ceramic pot for our creation.
Carve the floral foam to fit your pot. You will want to place the cut foam into the container to make sure it fits snugly.
After cutting the floral foam to fit your container, place the floral foam into water roughly five minutes beforehand. The trick is to let the foam sink into the water so it absorbs as much water possible. If your floral foam has holes, which is preferred, you want to make sure the holes are face down into the water for best absorption to keep your flowers well fed!
When the foam is saturated, take it out of the water and place it into the ceramic pot. Make sure the foam is secure and snug inside.
Next, begin creating a base with the glycerin leaves by carefully sticking them into the floral foam. We decided to place the leaves low to form a base for the flower arrangement. You can cut the glycerin leaves as needed to fit your arrangement and to make sure they still allow the ceramic pot to show.
Now that you have created a base with the glycerin leaves, it's time to start adding our beautiful fall flowers to go perfectly with our ceramic pumpkin and autumn glycerin leaves. We started with the tallest flowers first, snapdragons, to give the arrangement height. Typically the rule of thumb is ~2 and a half times the size of the vase.
After adding all of our snapdragons, we began to add the remainder of the flowers in the following order: Lilies, Hypericum, Viking Daisy Poms, Roses & Sunflowers. We added more as needed to fill the arrangement. We adjusted the height to ensure all flowers were able to be seen in the piece. Note: Do not be scared at sticking the flowers into the floral foam, you want to make sure they are secure.
 After adding the flowers and leaves, begin to stick in your candies into wire sticks and begin to place the sticks in the arrangement as you see fit.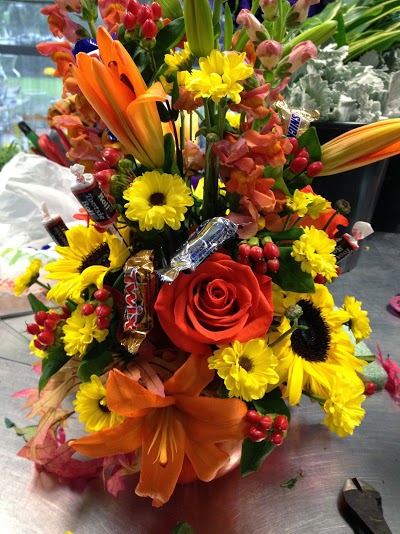 10. When all these steps are finished, you have finished your Fall Halloween flower arrangement! Feel free to add flowers and candy for finishing touches and make sure you leave some visibility for your creative ceramic vase!
Enjoy and HAPPY HALLOWEEN!
If you liked this article, you may also be interested in some of our other Petal Talk articles from 1-800-FLOWERS.COM Expert Jerry Rosalia:


· DIY Mother's Day Crafts: How to Make a Mother's Day Floral Arrangement
· How to Make an Easter Floral Arrangement
· How to Make A DIY St. Patrick's Day Floral Arrangement
· Winter Plant Care Tips: How to Care for Plants in the Cold Weather
· Keeping It Green: How To Keep Plants Alive
· How To Repot A Plant
· How To Arrange Flowers With A Gridded Vase
· Rose Care: How to Save Roses with "Bent Necks"
· Learn more about Jerry Rosalia and his 58+ years of experience in the flower and plant industry!