Looking for the perfect decoration for a Halloween party? This DIY Halloween craft featuring a ceramic pumpkin, your favorite candies, and the best fall flowers will wow your guests — and help satisfy their sweet tooth, too.
Create this festive centerpiece for your own home or as a gift for the hosts of a Halloween party you're attending this month. Either way, it will help set just the right mood for you to have a monstrously good time!
Materials:
Pumpkin flower pot
Scissors or knife
Floral foam (preferably with holes)
Water
Flowers (I used lilies, "Viking" daisy poms, hypericum, snapdragons, roses, and sunflowers.)
Fall glycerin leaves
Halloween candy (in wrappers)
Wire sticks (for the candy)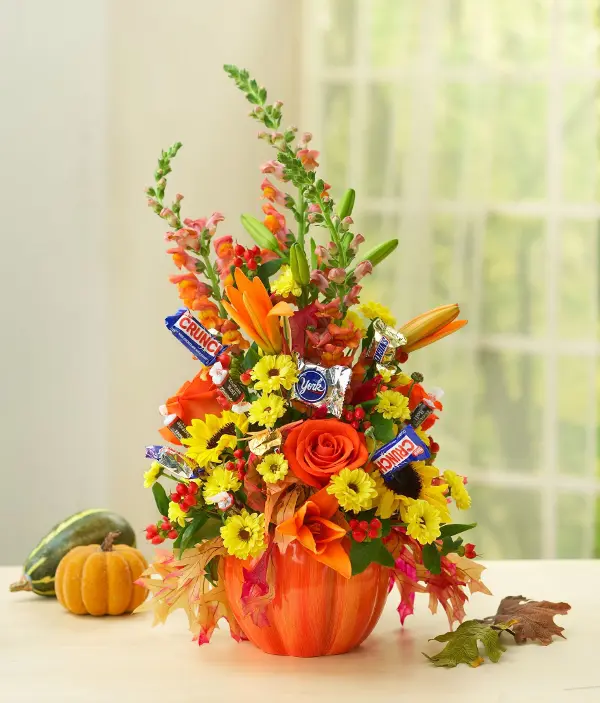 How to make the DIY Halloween flower arrangement:
Choose a Halloween ceramic container or pot. I used a pumpkin ceramic pot for my creation.
Carve the floral foam to fit your pot. You will want to place the cut foam into the container to make sure it fits snugly.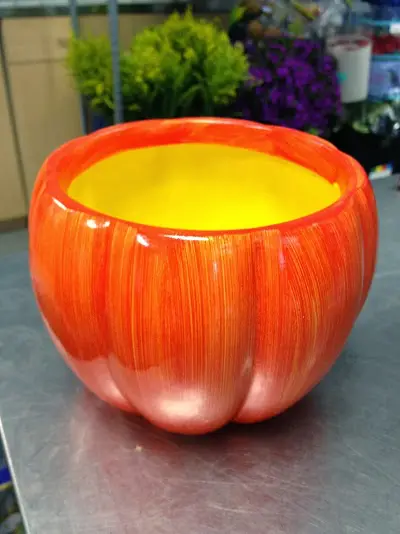 Place the floral foam in water and soak it for roughly five minutes. Let the foam sink into the water so it absorbs as much water possible. If your floral foam has holes (which is preferred), make sure the holes are face down in the water. This ensures the foam will absorb the most water possible and, thus, keep your flowers well fed!
Once the foam is fully saturated, remove it from the water and place it in the ceramic pot. Make sure the foam is secure and snug inside.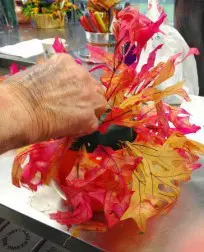 Create a base with the glycerin leaves by carefully sticking them into the floral foam. I placed the leaves low to form a base for the flower arrangement. You can cut the glycerin leaves as needed to fit your arrangement but still allow the ceramic pot to show.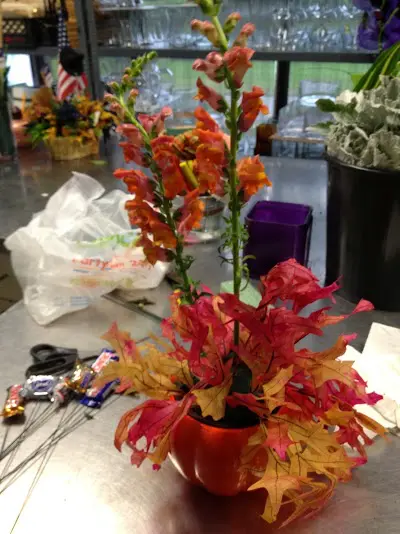 Now we add our fall flowers to our ceramic pumpkin and autumn glycerin leaves. Start with the tallest flowers first (in my case, snapdragons) to give the arrangement height. Typically, the rule of thumb is the flowers should be 2 1/2 times the height of the vase.
Add the remainder of your flowers in whatever order you please. In my case, I added the lilies, hypericum, "Viking" daisy poms, roses, and, lastly, sunflowers. I added more as needed to fill the arrangement, and adjusted the height to ensure all the flowers were visible. Note: Don't be scared of sticking the flowers into the floral foam — you want to make sure they are secure.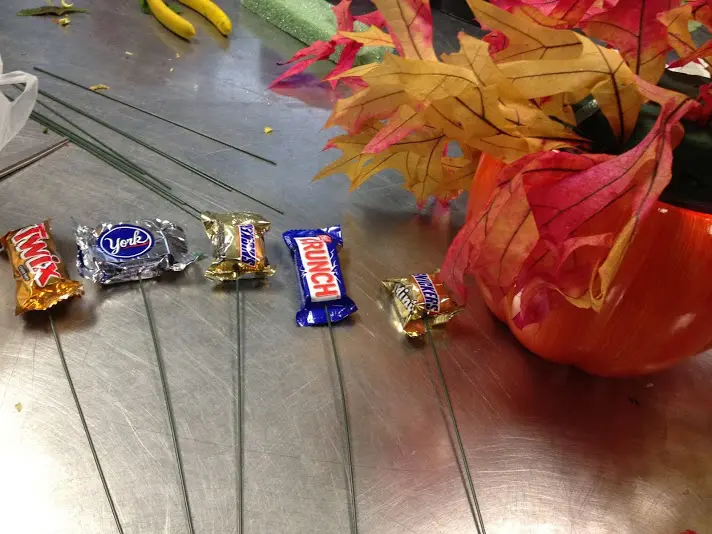 Stick your candies into the wire sticks and place the sticks in the arrangement as you see fit.
Your Halloween flower centerpiece is finished! Feel free to add more flowers and candy for finishing touches, and make sure to allow some space so people can see your creative ceramic vase.
Enjoy and happy Halloween!