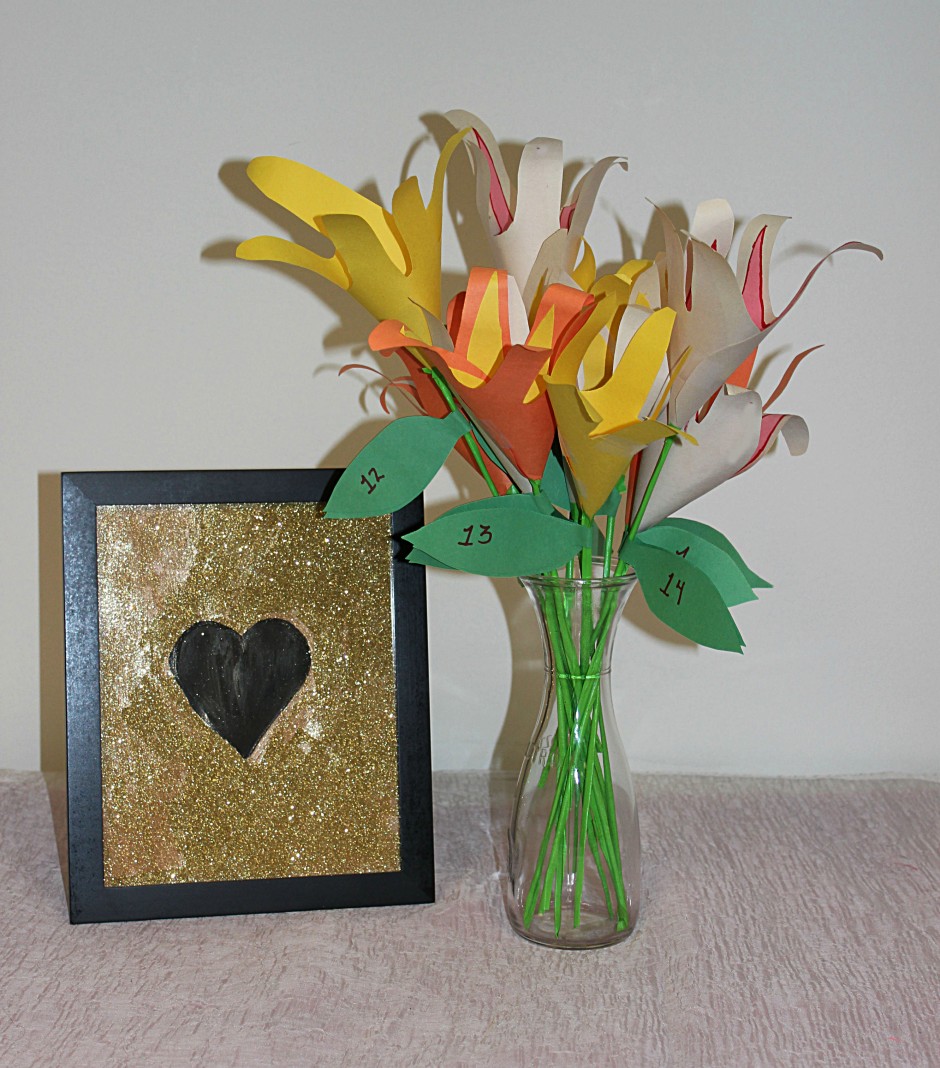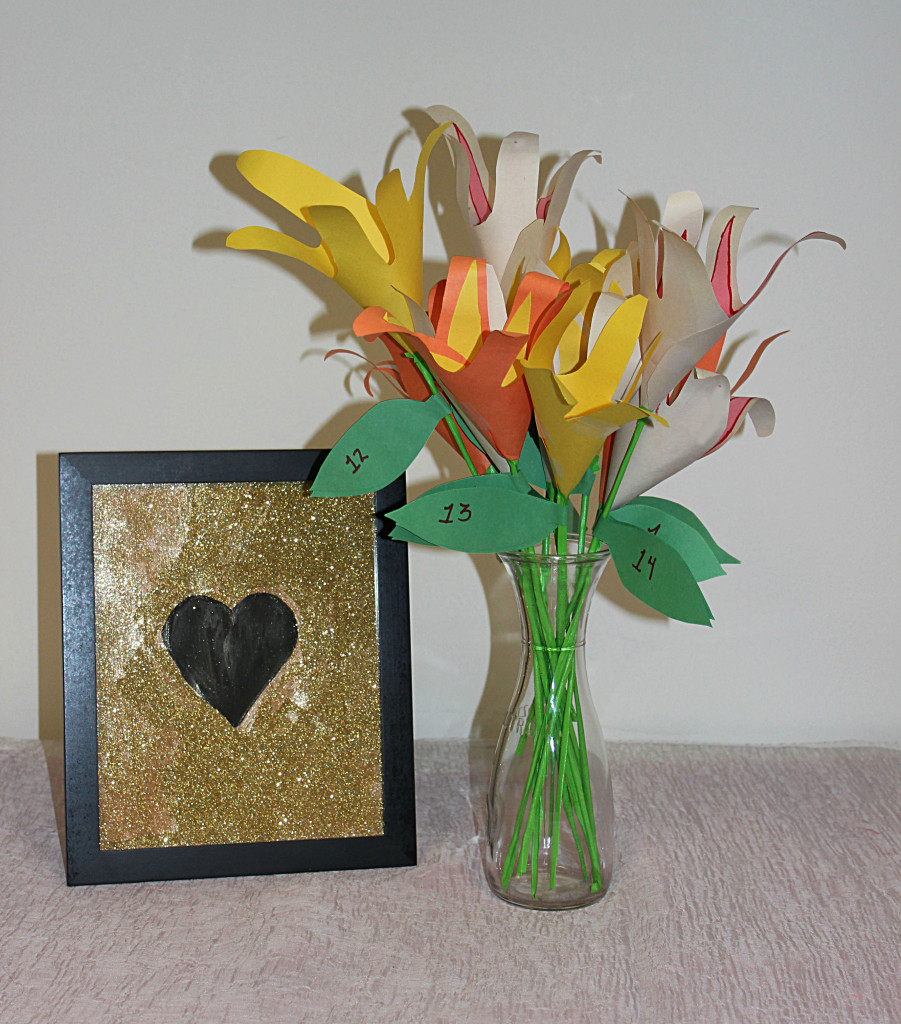 February 14 may be the official day of love and romance, but why wait until then to celebrate your sweetie?! Start the Valentine's Day festivities early with 14 days of love notes – one note a day starting February 1st and ending right before that romantic dinner you have planned (in case you don't have anything planned, here's a friendly reminder!).
I used restickable glue to create one-of-a-kind love notes using the leaves on my paper flowers. You can use this technique to turn any type of bouquet – from fresh flowers to paper roses – into a creative gift for your special someone.
These paper lilies are so easy to create and customize, whether you are a beginner crafter or advanced DIY pro! I took inspiration from different types of lilies – from Tiger lilies to Stargazer Lilies when choosing the color combination. Even little hands can make these DIY paper flowers, making it the perfect Valentine's Day craft for kids. Turn this into a family fun activity by having your children help with the tracing and cutting, or have them create a bouquet of their own!
Materials for DIY Paper Lilies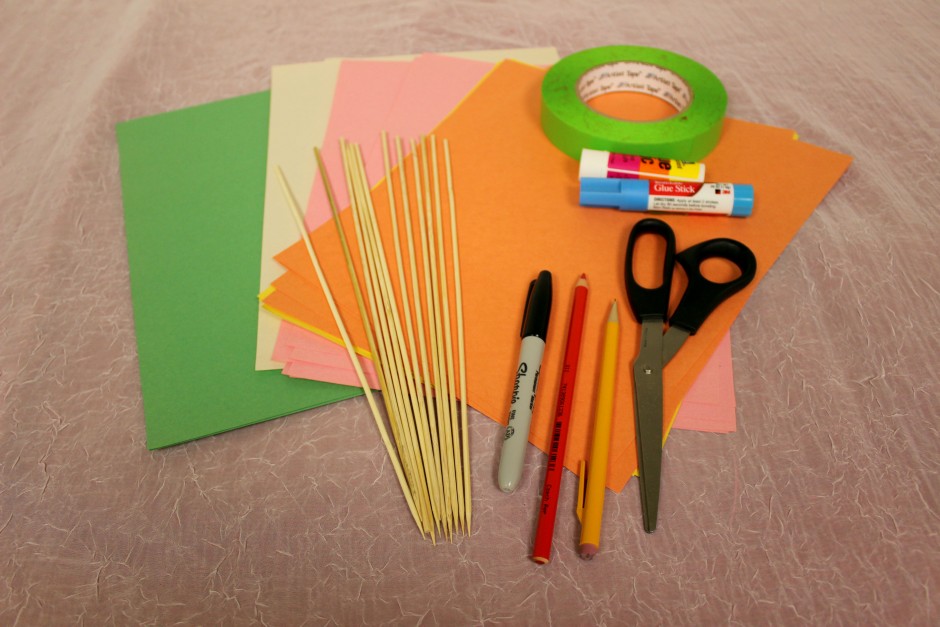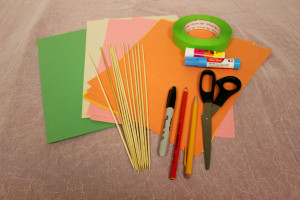 • Construction paper for flowers – 10-12 pieces (white, orange, yellow, pink)
• Construction paper for leaves – 4 pieces (green)
• Scissors
• Restickable glue stick
• Regular glue stick
• Pencil
• Bamboo Skewers
• Green Tape
• Vase
• Cardstock (optional)
How to Make Paper Lillies:
1. Take seven (7) pieces of construction paper for flowers and cut in half horizontally. Each piece of paper will yield 2 lilies. 2. Take 3-4 pieces of construction paper for the inside of the flowers (to create the two-tone effect). Cut these pieces into thirds as pictured.
3. Using your pencil, draw a 5-petaled figure, similar to a hand (the shape does not have to be perfect). The smaller strips will go on top of the larger pieces, so draw a similar shape, just varied in size. I recommend creating a stencil using cardstock or heavy grade paper, so you can just draw one and use it as a tracing template.
4. Cut out the shapes. Now, use your glue stick to attach the smaller "hand" on top of the larger one. Use combinations typically found in lilies such as white and yellow, white and pink, or orange and yellow. You may also choose to leave some of the flowers one-tone for variety.
5. Use your pencil to roll the ends of the flower to create the folded look. Be extra careful as to not tear the ends of the petal.
6. Gently roll the paper together, leaving a small hole at the bottom for the stem to fit through. Seal together with glue.
7. The flower part is done! Set aside your flowers and grab your green tape and bamboo skewers.
8. To create the stem, simply cut a long piece of green tape and lay on a flat table. Then, place your bamboo skewer at the edge and slowly roll into the tape to cover. Alternatively, you can also wrap the tape from the bottom up.
9. Cut off any excess tape. Slip the skewer through the flower and secure by cutting a small piece of tape off and wrapping it around the hole (on the outside).
10. Now you have a beautiful bouquet of paper lilies! However, you're not finished yet! The next step is to create the conversation starting love note leaves.
How to Make Valentine's Day Love Note Leaves:
1. Grab the green construction paper. Each piece of paper will yield 4 flowers. Fold in half horizontally, then fold into fourths.
2. Cut into the 4 folded strips (don't cut into half). You should have 16 strips, each folded in half. This leaves 2 extra "leaves" in case of error.
3. On one side of the strip, draw a leaf shape similar to this one.
4. Cut out the shape and you should be left with a double sided leaf similar to the one pictured.
5. Now's your chance to personalize your Valentine's Day bouquet with a love note! This can be filled with love quotes, or specific reasons as to why your sweetie is special to you.
6. Number your leaf (1-14) on the outside, making sure to number both sides.
7. Open your leaf back up and slip your flower into it. Using the restickable glue stick, put glue on one side of the leaf. Fold the other half onto itself. Hold for 60-90 seconds to seal the glue.
8. Stick your paper blooms into a vase and voila! You have a sweet surprise your Valentine will ooh and ahh over.