From tulips to chrysanthemums, our series "The Language of Flowers" explores everything from fresh flower care tips to flower symbolism and meaning. In this story, learn about the longtime association between ice skating and flowers.
No one knows for certain how the tradition of gifting flowers to figure skaters started, but a good guess is that it is rooted in the world of ballet.
In 19th century Europe, popular – but often poorly paid – dancers received furs, money, and jewelry from wealthy patrons, while everyday balletomanes threw blooms at dancers' feet. Starting in the 1930s, prima ballerinas received elaborate bouquets when they stepped out from behind the curtain to take their bows, a tradition that continues today. In recent years, it is occasionally extended to male dancers as well.
Ballet influences much of figure skating, from strength and conditioning training to posture to moves like spirals, pirouettes, and even jumps. So, it's not surprising that by the 1950s, crossover fans were showering the ice with blooms after their favorite skaters competed.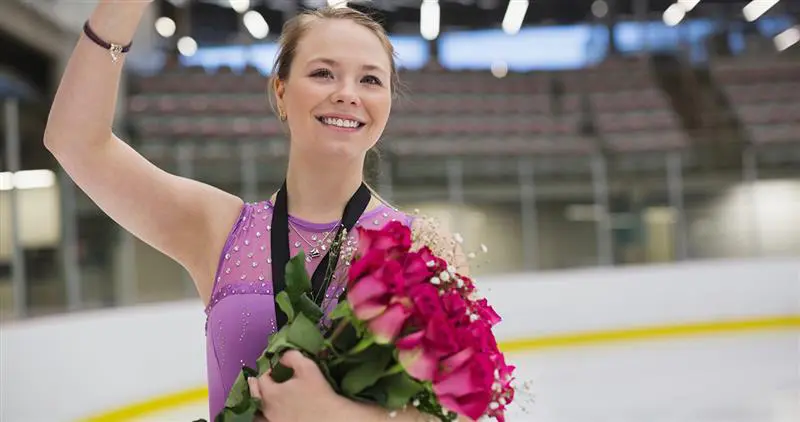 The golden age of ice skating and flowers
Skating's connection with flowers reached its height in the 1970s through the first half of the 1990s. Fans of that era have indelible memories of graceful champions, gliding elegantly to their music before quadruple and triple axel jumps ruled the day. Often, flowers are entwined within those iconic images.
There's Dorothy Hamill, America's girl-next-door, gathering up daffodils and carnations after her golden performance in 1976, clutching the blossoms close as she squinted to view her marks. Or skating's siren, Katarina Witt, accepting a gold medal after her enticing routine to Bizet's Carmen, holding a dozen red roses that perfectly matched her costume.
Women were not the only recipients. In 1984, Great Britain's great ice dancers, Jayne Torvill and Christopher Dean left the ice after their unforgettable Bolero free dance with half of their torsos obscured by freesias and carnations. (Ironically, another one of their programs that year was set to Jerry Herman's "I Won't Send Roses.") "Scott Hamilton, who reigned supreme from 1981-1984, often found himself maneuvering around flowers on the ice while waving to fans."
The flower tradition continues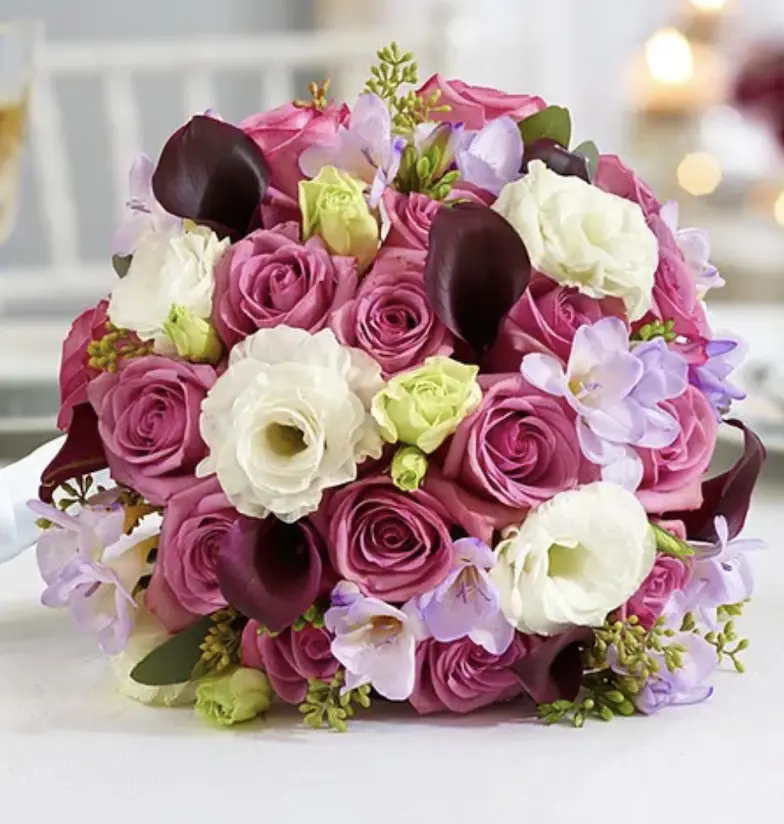 The connection between flowers and skating remains strong. Skaters receive floral gifts from officials – bouquets, and occasionally necklaces or crowns – when they step up to the podium to receive their medals. Skaters at the recent U.S. Figure Skating Championships in Nashville, Tennessee, were awarded bouquets of white tulips and red roses along with their medals.
"Obviously, you can't always bring the flowers home, especially if you have a long international flight. So sometimes I bring them down to people working the front desk of the hotel," newly crowned U.S. champion Mariah Bell said. "But I always keep the ribbon, and I have a collection of ribbons from all of the bouquets. I also take pictures of the bouquets, to keep as memories."
Skaters still often receive floral gifts from fans. When Canadian ice dancers Piper Gilles and Paul Poirier performed a free dance tribute to Dutch post-impressionist painter Vincent Van Gogh, they collected sunflowers wherever they competed."
Officials awarded U.S. ice dancers Kaitlin Hawayek and Jean-Luc Baker with flower crowns when they won an international competition in Japan in 2018.
"I remember standing on the podium and seeing myself on the jumbotron, and never before had I imagined I would ever wear a flower crown," Baker said.
"Flowers certainly have a special connotation of gratitude and appreciation, and I'm always so grateful to get them," Hawayek said.
Flowers say 'I love you'
Skaters at the grass-roots level often receive floral gifts, as well. A recent trip to a club show in Hackensack, New Jersey, found parents and grandparents congratulating their young skaters with gifts, and a smattering of bouquets stood out among the brightly wrapped boxes and stuffed animals.
Holly and Martin Valero, from nearby River Edge, presented granddaughter Emma with red roses.
"She used to do dance, and then she switched over to skating," Holly said. "It's just something small, a memento for today. She's 13, so she is a little old (for) a plush toy or anything like that. She's kind of over that."
"I thought flowers would be more appropriate," Martin added. "I just thought it would be nice for her to know we love her."
---