Nothing makes dancers smile more after a performance than showering them with bouquets of flowers! Whether it is their first or last dance recital, gifting them with flowers after a flawless performance is a traditional gesture to express how proud you are of their dancing achievements.
For years, ballerinas have been presented with beautiful robust bouquets at curtain call as a congratulatory gift for their exceptional performance. Over the course of this tradition, certain rules have been established to ensure successful performances and equality among the dancers.
The history behind presenting dancers with flowers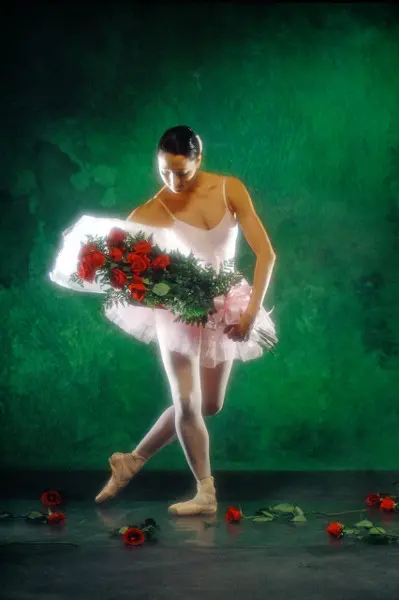 The act of providing ballet dancers with flowers has been a part of the ballet itself for as long as people can remember. In the 1930s, dancers were not paid very well, so fans would send flowers and other gifts as a sign of praise.
At curtain call, when the lead ballerina takes her bow, she is presented with a beautiful bouquet of flowers. From this bouquet, she will usually remove a single flower, kiss it, and then pass it on to her male lead dancer as a sign of thanks and praise. Unless a man performs a female role, it is considered a faux pas to present him with his own bouquet after his performance.
Since ballerinas bow with a big bouquet in hand, there are certain technical aspects that come into play. The bouquet must be a certain oblong shape that is carefully arranged so it can easily rest on one arm. Before the bouquet is presented, someone backstage will loosen a single flower so it can be easily removed from the bouquet by the ballerina. The flowers themselves are also tied together with ribbon in a complex fashion.
As you might expect, not every bouquet received by ballerinas is the same. Both the ballet and the role of the dancer are taken into consideration when constructing the bouquet. There are instances in which florists choose to get very creative with their design and incorporate different aspects of the ballet theme into the bouquet. If a ballet has a signature prop, such as a piece of jewelry, florists can mimic it to give the bouquet a more personalized and unique touch.
The personal preferences of the ballerina can also be taken into consideration. If a dancer prefers a certain flower or assortment of colors, the florists may adhere to their suggestions, especially if they design bouquets for that particular dancer frequently.
One of the biggest rules of the ballet in terms of flower giving is that if the lead ballerina does not have a bouquet to be presented with, then none of the other soloists or company ballet dancers can receive their bouquets on stage. If there are a number of soloists with bouquets after a particular performance, then it is made sure that all the soloists receive a bouquet so as to not leave anyone noticeably without.
Also, note that the ballerinas never receive the flowers before the performance. This is done purposely because it is seen as bad luck to give a dancer flowers before they actually perform, whereas it is good luck if they receive them after.
The best types of flowers to give dancers after their performance
Given the many different types of flowers, choosing the right flower for your dancer can seem overwhelming. Each flower conveys a different message, so it's best to cater your bouquet to fit their personality and performance.
To help you uncover the perfect flowers to give, here are a few popular flowers and their meanings.
Lilies
Lilies are known for conveying purity. The warmer colors also indicate energy, creativity, ambition, which will let a dancer know that you are appreciative of all their hard work.
Irises
According to Greek mythology, the iris became known as the linking factor between the divine and the earth. It is a great option because it is often used to show an appreciation for a dancer's artistry and creativity.
Carnations
Carnations are a great choice for dancers because they often symbolize pride and admiration. Available in many different colors, carnations allow you to express the joy and pleasure that watching your dancer brought you.
Roses
You can never go wrong with roses. Given the different meanings revolving around the different types of roses, you can surely find the right one to give to your dancer.
Pink: Pink roses are indicative of elegance, grace, and admiration. These are an especially good option for youthful or younger dancers.
Lavender: Though hard to find, lavender roses represent creativity, openness, and enchantment.
Yellow: Yellow roses convey joy and affection, and are a great tribute to friendship.
Red: A classic red rose symbolizes love and beauty, and will remind your dancer how much you love them.