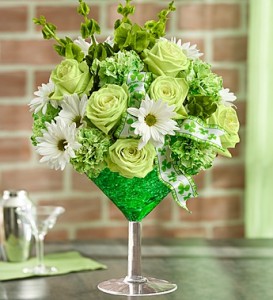 The color green represents growth, harmony, and balance. A reoccurring hue in nature, this calming color is commonly associated with spring and growth. From the tiniest blades of grass to stunning green flowers, this versatile color has flooded the earth in shades that vary in color, not beauty.
Here are several types of green flowers that can be found in nature – use them for your St. Patrick's Day decorations, spring themed centerpieces, or even for wedding flowers!
Types of Green Flowers
Button Flower
The green button pom flower, sometimes referred to as the Yoko Ono pom, is a green variety of chrysanthemum that sports a bright color and unique shape. This fragrant flower is sure to add a touch of energy and fun to any room or arrangement.
Anastasia Spider Mum
With its one-of-a-kind look, the green spider mum is a sure to turn any floral arrangement into a show stopper. Just like its namesake, this green flower will send chills up your spine.
Bells of Ireland
Cultivated since the 1500s, this flower variety is a stunning addition to any bouquet or garden. Although these green flowers originated in Turkey, the combination of color and its association with luck led to the Irish-inspired nickname.
Green Cymbidium Orchid
This decorative plant blooms from spring to fall, producing beautiful lime green flowers for the perfect contrasting touch to your garden. Orchids make for the perfect addition to a centerpiece or corsage, so stock up and decorate with fresh flowers!
"Green Star" Gladiolus
Uniquely colored with petals blooming along a tall stem, this green flower is slowly regaining popularity and popping up in gardens across the world. Plant in early spring for the most impressive blooms.
Anthurium
One of the most popular tropical plants, the anthurium plant blooms into a stunning flower with unique heart shaped petals.
Stinking Hellebore
The stinking hellebore, also known as the Christmas Rose, sprouts bell shaped flowers from late winter into the beginning of spring. This plant is known for its toxicity to both humans (when ingested) and deer.