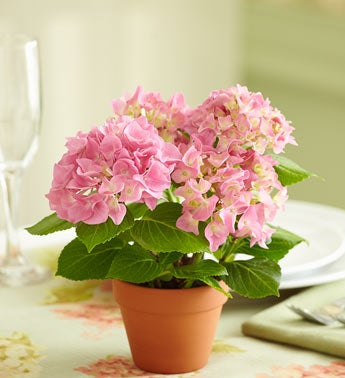 Shrubs are often garden workhorses, planted to provide privacy, conceal unattractive but necessary equipment, or to furnish a backdrop for more colorful plants. They can provide plenty of color themselves, however, if you choose wisely. In fact, they can provide flowers for at least three seasons, and if you live where the climate is mild, you can have blooming shrubs all year-round.
Spring, of course, offers the greatest variety of flowering shrubs—lilacs, ceonothus, rhododendrons, forsythia, tree peonies…the options are many. Lilacs, with their heavenly fragrance and colors ranging from white to deep purple, are among the most beloved of all spring flowers. Ceonothus, sometimes called wild lilac, grows wild throughout North America, and gardeners cherish it for its blue blossoms—blue being the rarest of all flower colors—though some varieties offer white and pink blossoms also. Its foliage is generally a glossy dark green, and it tolerates a wide range of conditions, thriving where less hardy plants fail. Forsythia's lovely, airy yellow blooms signal spring all over the East Coast. The tree peony has large, showy flowers, even more spectacular than its herbaceous cousin's, and grows into a medium-size shrub that makes a handsome statement in a border of irises and other tall spring bloomers.

Summer brings hibiscus, gardenias, buddleias, hydrangeas, and mock orange, among a raft of others. Two shrubs are called mock orange, Philadelphus and Pittosporum tobira. Both have a strong fragrance reminiscent of orange blossom, but that's about the end of the similarities. Philadelphus is a tall, open shrub that covers itself with lovely, large white flowers. Pittosporum has small, leathery leaves and clusters of small, inconspicuous flowers. A group of gardenias and mock oranges, either variety, will perfume the air for weeks.
For fall fragrance, it's hard to top brugmansia or witch hazel. Brugmansia gets its common name, angel's trumpet, from the trumpetlike shape of its blossoms. These days it is possible to get varieties that do not self-sow all over the yard, and the aroma is heavenly. Witch hazel is hardy in cool climates, unlike brugmansia, and is generally the last thing to bloom in a northern clime. The yellow or bronze flowers may bring scent to your garden clear into December if the weather cooperates.
What would winter be without poinsettia? Forced in hothouses for Christmas, in a southern garden it generally colors up in late January. Flowering quince also provides a pretty red to brighten the dark season, and azaleas and camellias always offer a reliable bloom period in mild climates. You could choose to plant a group of shrubs that like the same soil and light. Azaleas, mountain laurel and dwarf fothergilla all require acidic soil and shade. Dwarf fothergilla's white blossoms are wonderfully fragrant and will more than compensate for azaleas' lack of scent.
None of these season designations are immutable. Many bloom from spring into summer or summer into fall, or fall into winter. That's the lovely thing about a shrub—it can have a very long bloom season. Some shrubs do double duty, providing color with flowers and then, in the fall, color with foliage. Oakleaf hydrangea, for instance, has showy white heads in spring and summer, then graces the garden with a spectacular display of fall foliage.
Of course, if you want a single shrub to bloom steadily from spring through fall, plant shrub roses. You just can't top a rose like 'Ballerina', which covers itself with pale pink blooms for months on end, for garden color.
Choose the shrubs that suit your climate and tastes and then prepare to breathe deeply every time you step into your garden. Flowering shrubs will welcome you with heavenly scent.