Whether or not and where to have their gift registries are two of the thousands of decisions that engaged couples need to make before their big day. There are some rather amazing gift-registry choices for couples today. Everything from mutual funds to island honeymoons can be tagged as gift possibilities. But what's appropriate and how should guests be made aware of your gift suggestions?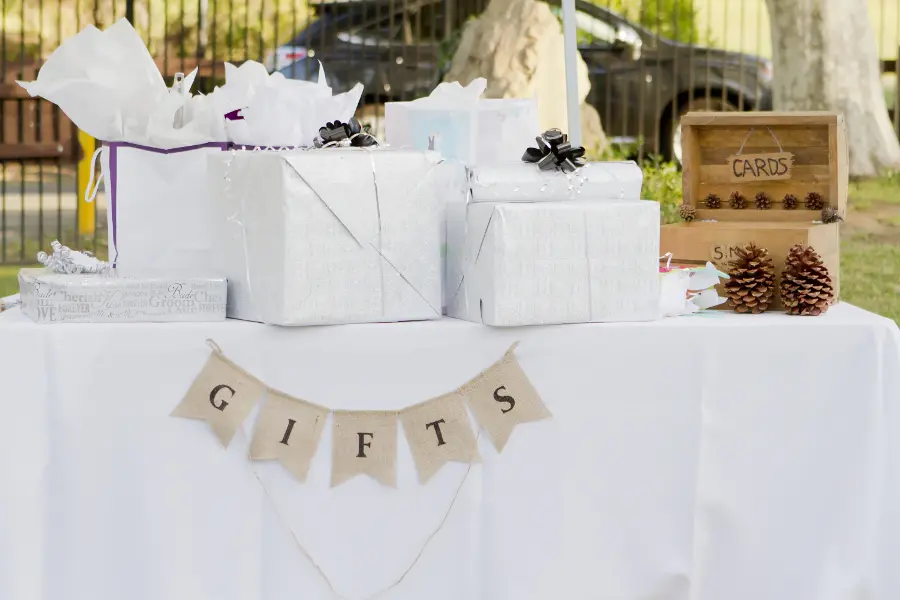 The whole point of registries is to make gift selection convenient for guests, especially those who have little time for shopping or don't know a couple's tastes. Note the following:
No guest is obligated to select a gift from a registry – it's up to the guest to decide what to choose. While many guests enjoy coming up with their own ideas for gifts and take pleasure in selecting "just the right thing," most guests are thrilled to have some guidance – and a guarantee that comes with a registry gift that they're getting the lovebirds something they'll love.
Just as guests have varying budgets, the registry should have a range of prices. Listing only expensive gifts is a discourtesy; it's up to the guests to decide what they'll spend.
Non-traditional registries are a great new option, but registering at more traditional locations for a few household items should be considered. This allows guests who may not be comfortable with these more modern opportunities to still select a gift they know you'll love.
Guests should be informed politely about registries. The bride, groom, their families and the bridal party should wait until someone asks about a wish list. If asked directly, a courteous response would be something like this: "We would be thrilled with anything you gave us. But, you can find our registries at xyz and abc stores if you'd like. Thanks for thinking of us!" Discreet links to registries on the wedding web site are also appropriate and are one of the best ways to "inform" guests without compromising etiquette.
Registry information should never be part of the wedding invitation. Although it might seem practical, including registry information may offend. Wedding invitations that include "what to buy us" lists turn people off because the emphasis on gifts seems more important than the invitation to join a couple on their special day. Don't include registry lists in engagement party invitations or wedding announcements either. However, it's okay for shower hosts to include registry information in invitations because gift-giving is the purpose of the shower.
Write thoughtful, hand-written thank-you notes to each guest who gives you a gift. Do it as soon as you possibly can – at the very latest, within three months of receipt of the gift. (Having a year to write thank you notes is a myth.)
Honeymoon Registry
What is it?
This type of registry allows guests to contribute to a couple's honeymoon trip fund. They are easy to create on different wedding websites, and are also available through many travel companies and agencies. The bride and groom should work with a reputable company that will alert them to each cash gift (including the name of the gift giver), and one that will manage the honeymoon plans efficiently.
Is a Honeymoon Registry appropriate?
Yes, but don't expect all guests to choose that gift option. Some will be more comfortable selecting a traditional gift, or giving cash. A honeymoon registry is an acceptable choice, but it's probably safest to give guests alternate choices — so it's a good idea to still register for some traditional items, too.
How do you spread the word?
(See #4 above) Do so politely. Word of mouth is the traditional, but still most effective (and polite), way to go.
Charitable Registry
Some couples, often couples celebrating encore weddings, don't want to receive traditional gifts and suggest that guests donate to a non-profit organization that has a special place in their hearts.
How do you spread the word?
Almost all charities have established systems for tracking gifts and notifying the honored individuals. When guests ask about the gift wish list, they can be informed of the preference. If there is a wedding website, a link to the charity registry is fine.
Is a Charity Registry appropriate?
Yes, but try to avoid political or highly controversial causes. This type of registry provides a unique and special way for a couple (especially one with established households) to mark their union.
Should couples give their guests other registry options?
Some people may not hear about your desire or may prefer to give a more traditional gift, so it's a good idea to register at a traditional retailer too.
Should thank-you notes still be sent, or is that the responsibility of the charity?
While the charitable organization will send a thank you letter or tax receipt, it's the responsibility of the bride and groom to thank each guest for their gifts.
Alternative Retailer
Home improvement suppliers, sporting goods and furniture stores are all appropriate and interesting choices for gift registries.
Is it inappropriate to ask for these gifts because they fall more into the 'want' and not the 'need' category?
These types of registries are perfectly acceptable. Weddings are gift-giving occasions. The tradition of giving presents to the bride and groom is longstanding and not about to change. Couples who have established households are certainly welcome to suggest other appropriate items. Those targeted toward a couple's hobbies or interests are perfectly fitting.