Bird's Nest Themed Baby Shower
With so many baby shower ideas out there, my favorite one just had to be a bird nesting themed baby shower. At this point the new mom's nesting instinct is in over-drive so why not make "nesting" the theme for her baby shower. I did just that recently for my niece's shower, but also included pears, as they were a theme from her wedding, which my sister creatively incorporated into the baby shower invitations. And as luck would have it, I found these fabulous pear shaped glass votive candle-holders on clearance at one of my favorite home good stores. Instead of a candle, I filled the pear with a fresh cut rose "nesting" within a green hydrangea.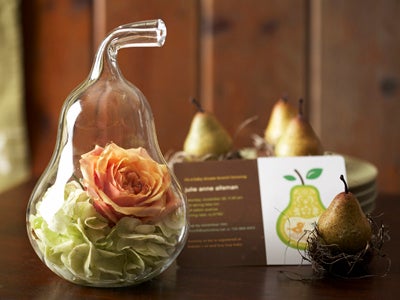 Décor
There are many nest themed home décor and entertaining pieces in the market right now. Think outside the box and incorporate flowers in containers that might originally be intended for other purposes such as this iron and twig dip dish. I think the addition of the faux egg really plays into the baby shower and nesting theme.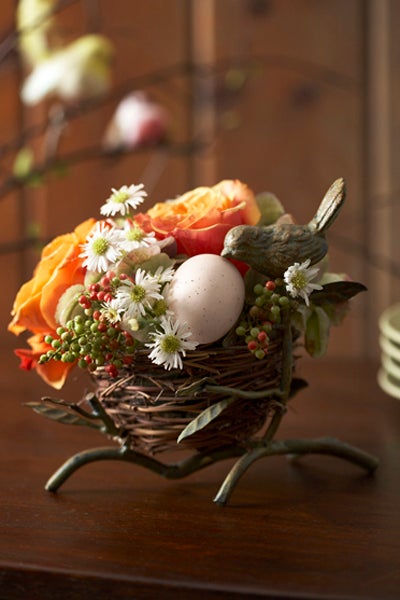 For the buffet table, I placed a fresh flower arrangement inside of a bird cage with birch branches "growing" through the cage where a motherly little bird built her nest of straw!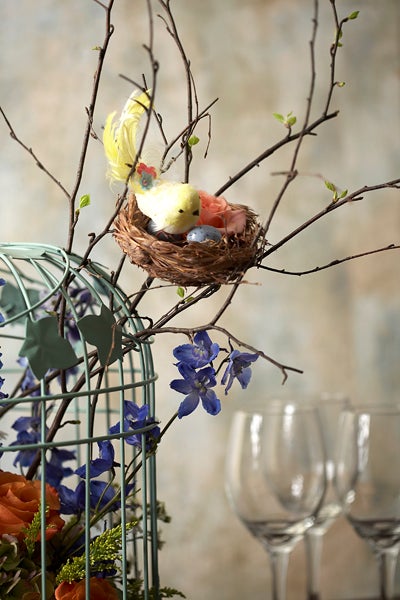 Favors
My niece and her husband gave each guest at their wedding a fresh orchid nestled in a ceramic pear vase by ceramist Barbara Eigen with a tag that said "Julie Anne and Tom – The Perfect Pear". For her shower, each guest received a miniature pear nestled in a tiny nest with a card that said, "The Perfect Pair is Nesting"!