Exciting things are happening at 1-800 Flowers.com and I have been so busy lately that I haven't had a chance to share all the exciting news with you! I have been working with the team at 1-800 Flowers Corporate and the crew at the 1-800 Flowers retail store in Carle Place to put together a calendar of Creative Workshops. We have done of number of floral and plant DIY classes over the last few months in Carle Place to much success.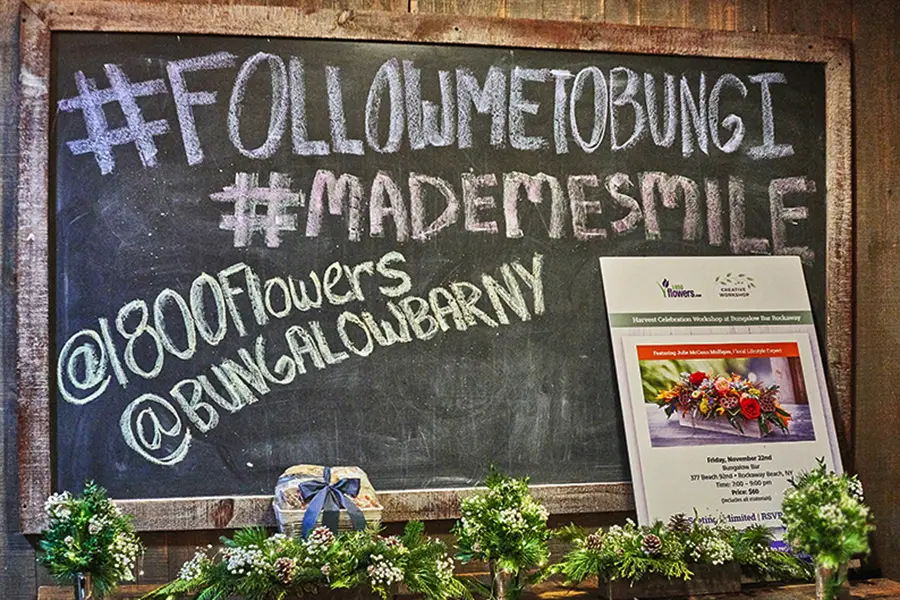 Last month we launched a collaboration with Bungalow Bar in Rockaway Beach for monthly Creative Workshops taught by experts in floral design and lifestyle, plant care, and related categories. All workshops take place in the picture perfect, private, waterfront event space at Bungalow Bar.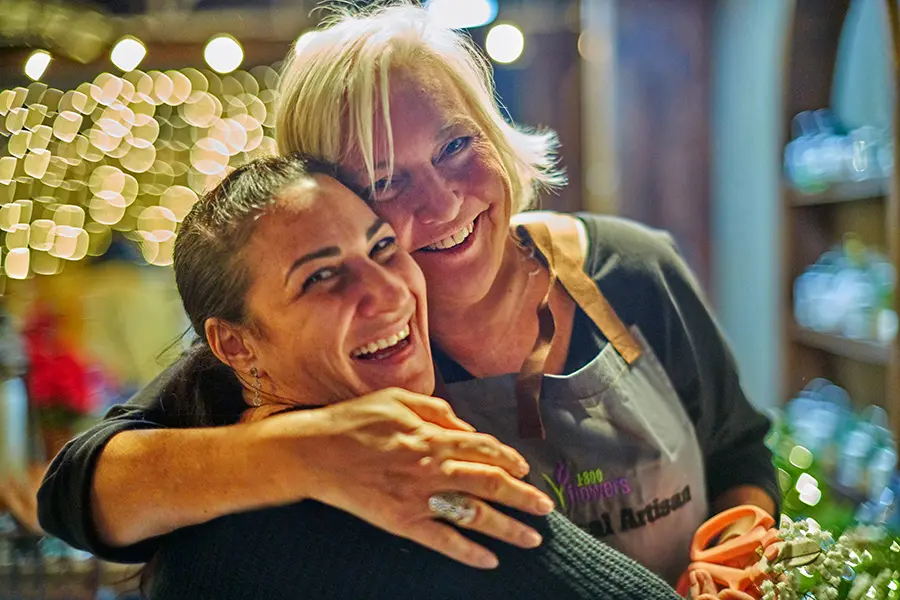 Thanks to Katy Bree, the General Manager at Bungalow Bar for bringing this collaboration to life!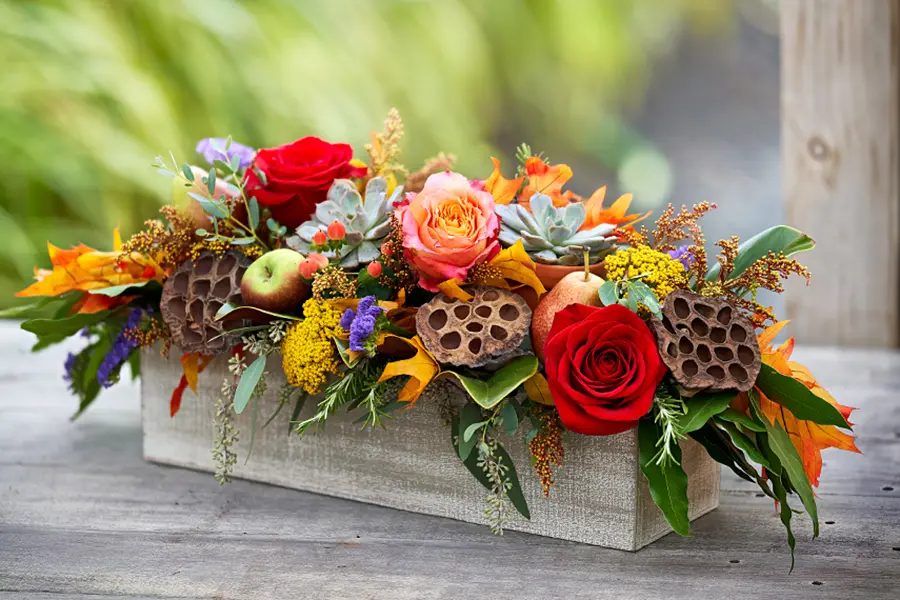 Our first workshop "Making an Autumn Harvest Centerpiece" sold out immediately with 62 attendees!
Here's a peek inside the happenings that night and I think it's obvious that we are giving the people what they want – a few hours spent with good people, learning a new skill, sharing laughs, having a cocktail or two, and perhaps a bite to eat before or after. (Bungalow even gives a 10% discount on all attendee's food bill!)
I included a few floral lifestyle tips before we started creating the centerpieces, such as how to incorporate seasonal vegetables into your designs.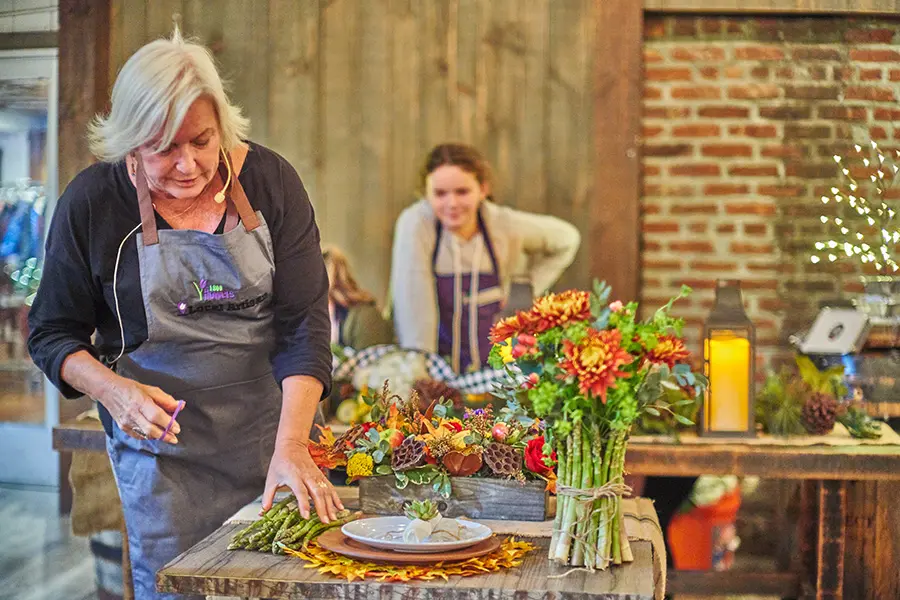 And that's my granddaughter Juliette, who keeps a close eye on Grammy to make sure I'm doing everything right!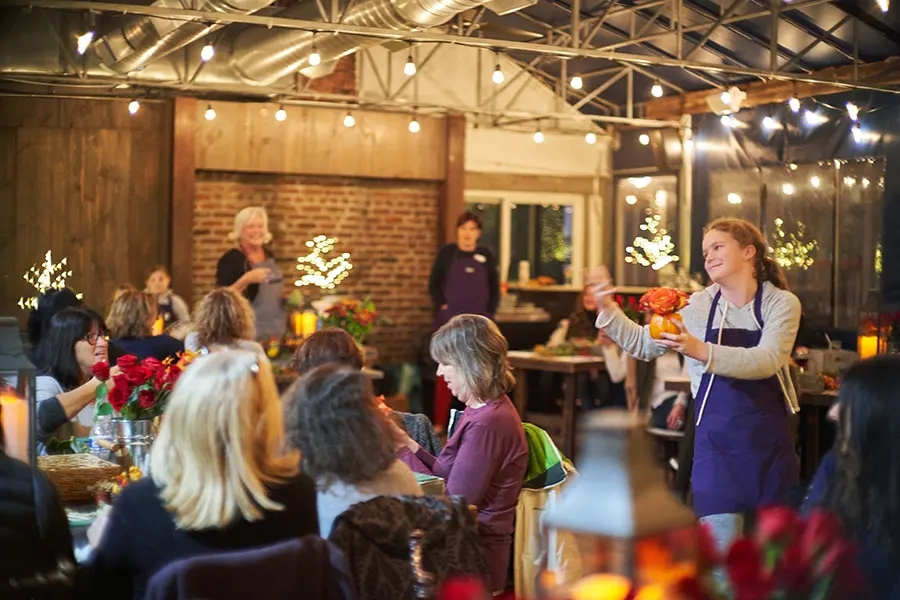 Or she was just anxiously waiting for her moment in the spotlight. The apple doesn't fall far from the tree!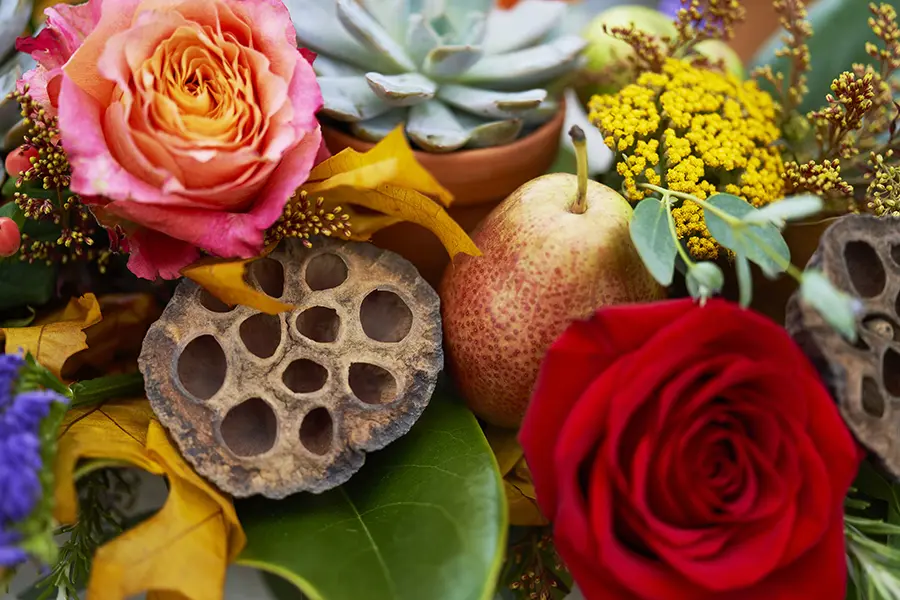 Sustainability was a big factor in choosing the ingredients. This centerpiece is built to last! Every element dries naturally while maintaining its' beauty, allowing you to enjoy this arrangement for weeks!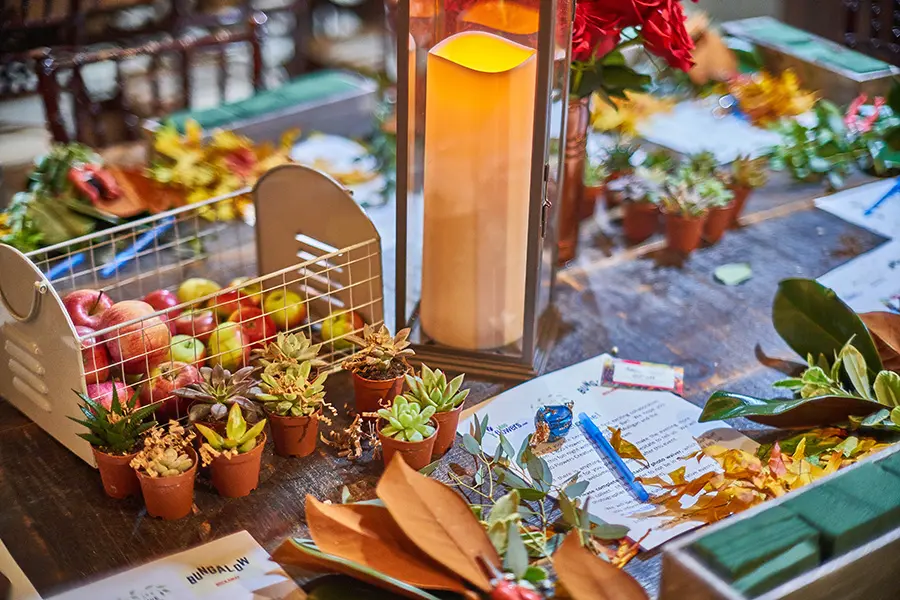 One of my favorite elements are the mini succulents, provided by Arizona East.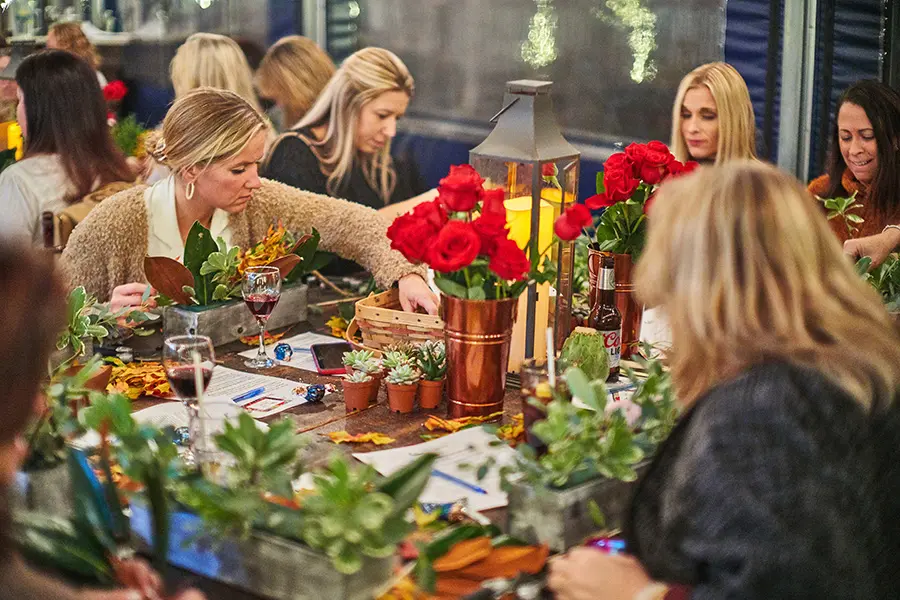 There was a bit of skepticism early in the class regarding most people's ability to manage a design with so many different ingredients.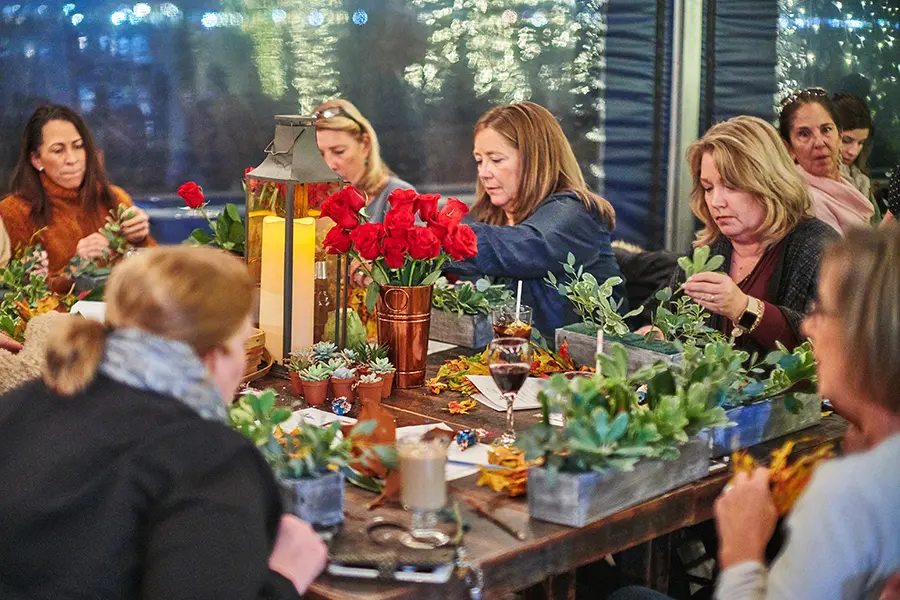 But I have to say everyone did an incredible drive. Even I was starting to wonder, could they…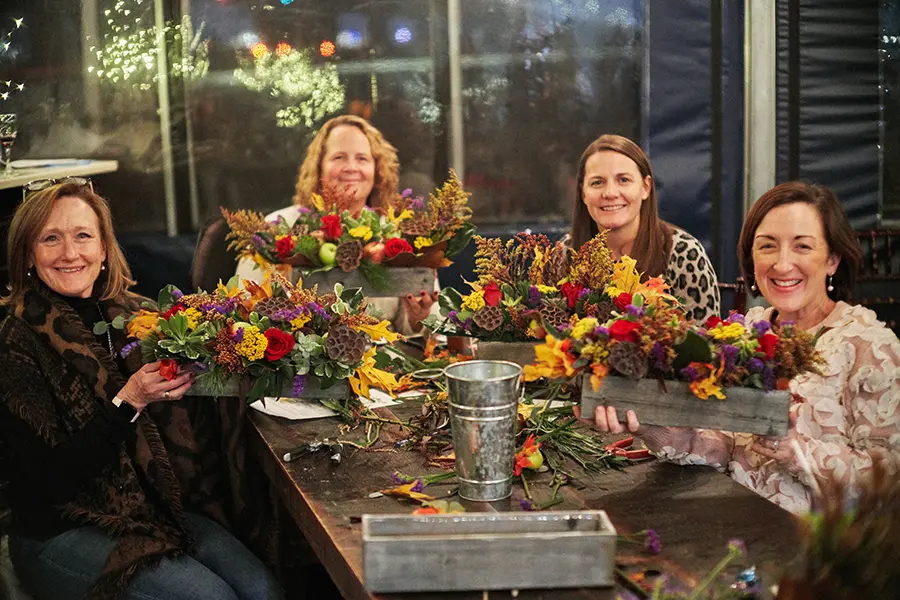 Well they sure did!
And I got so caught up in the moment that I promised everyone that I would do a special "exclusive" class in December just for the attendees of this class, where I would teach them how to take their newly designed Autumn Harvest Centerpiece and turn it into a beautiful evergreen arrangement that will last for another few weeks! It was an "Oprah Moment" for sure.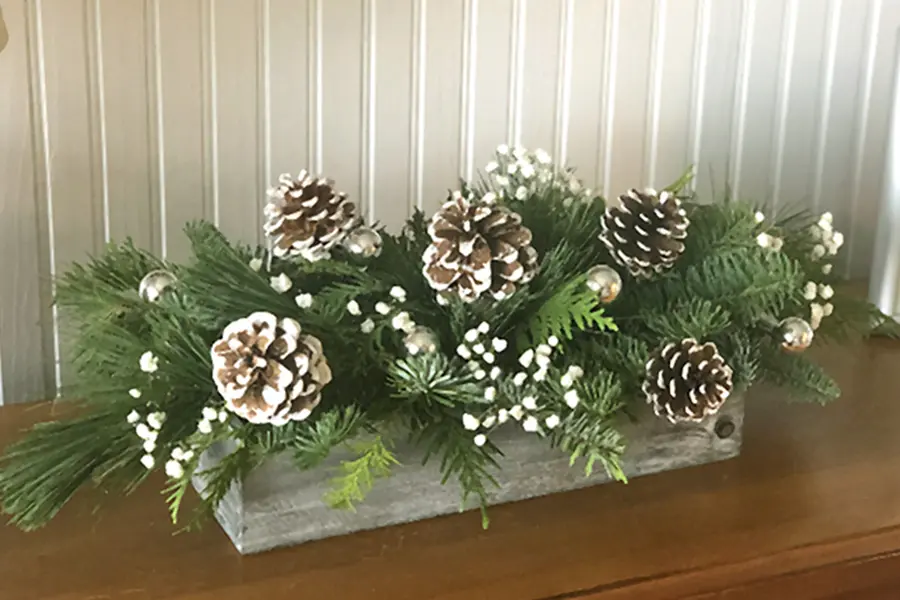 How do you think our second workshop went? You'll have to check back and see!