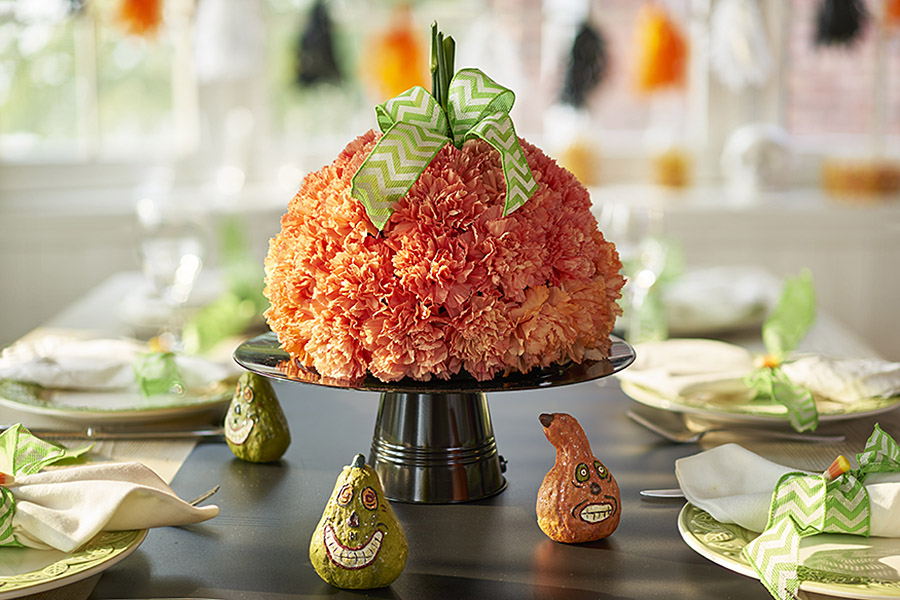 Pumpkins are popping up everywhere! I find these autumn gourds to be as versatile as Mason jars when it comes to the seemingly infinite DIY possibilities! From Halloween right through Thanksgiving you can use pumpkins for seasonal recipes and truly original decorating. You can carve them, paint them, stencil, and découpage them! You can even make your own "pumpkin" entirely out of fresh flowers, creating a beautiful statement piece for a dinner party or any autumn celebration or get-together!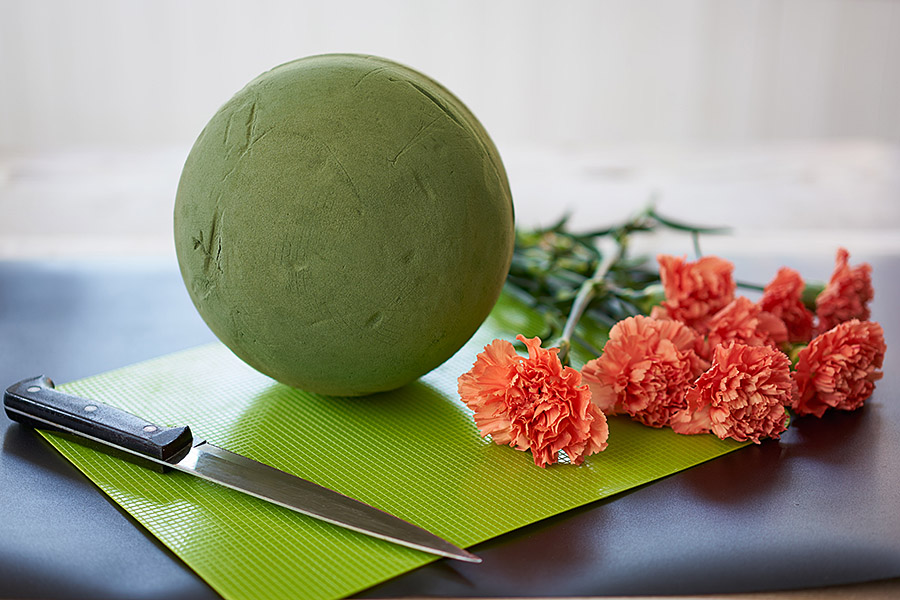 1800Flowers.com introduced the Fresh Flower Pumpkin a few years ago, and it immediately became one of our customers' favorites! Think you'd like to try to make one of your own? Follow these simple steps, and just have fun with it! You can adjust the basic instructions to create pumpkins in varying sizes to fit your needs.
What you need to create a large pumpkin (as shown):
• 6" floral foam sphere
• 24-30 orange carnations (You can use white carnations. Before making the arrangement, spray the white carnations using orange spray paint made specifically for flowers.)
• Dinner-size plate
• Salal leaves or decorating ribbon
Preparing the foam and flowers:
Using a large kitchen knife slice a small section of foam from the sphere to create a flat bottom.
Fill a sink or large bucket with water. Drop the sphere into the water and allow it to absorb the water slowly. Wait at least 10 minutes before removing the foam from the water, then place on a decorative plate/dish, ensuring that the entire foam sphere is thoroughly soaked through.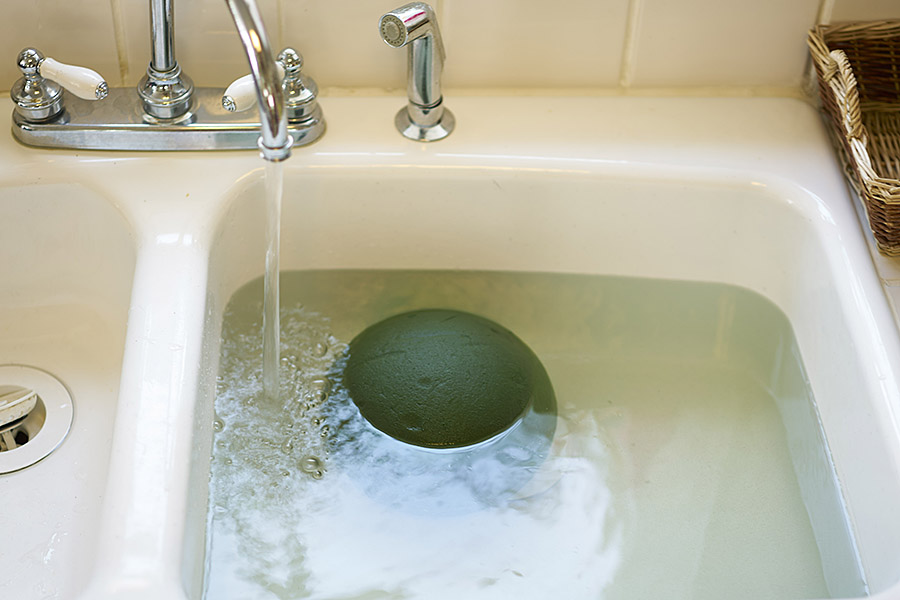 While the foam is soaking, cut the stems of the carnation short – about 2" – using a short cutting shears and cutting the stem on an angle. Save the bottom part of the carnation stems, as you will be creating the pumpkin's "stem" from these.
Creating the pumpkin:
Start by inserting carnations, one at a time, creating your first circle at the top of the sphere with the carnations facing up.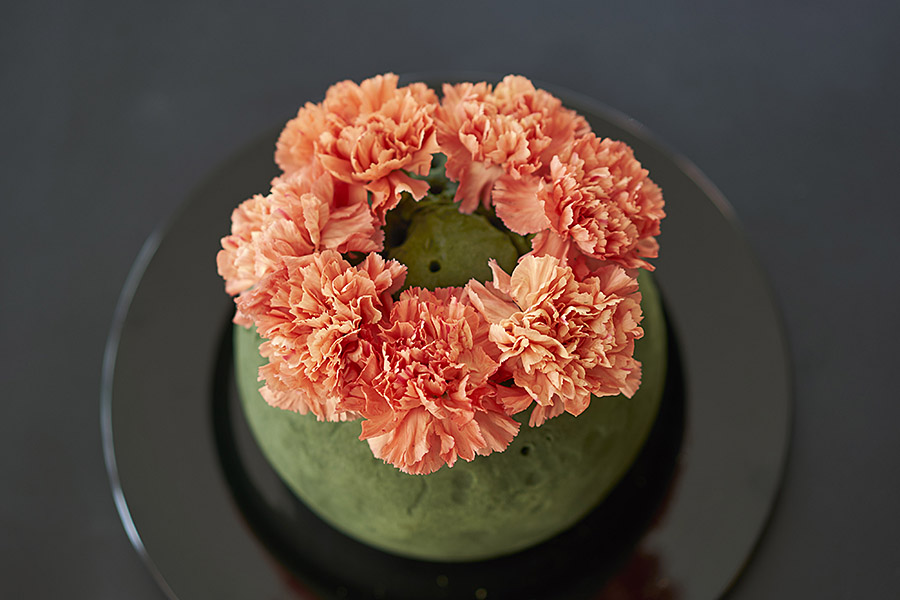 For the next row, insert the carnations at a slight angle, placing them close (but not too close) to the first row. You want the carnations to just touch each other and not overlap too much.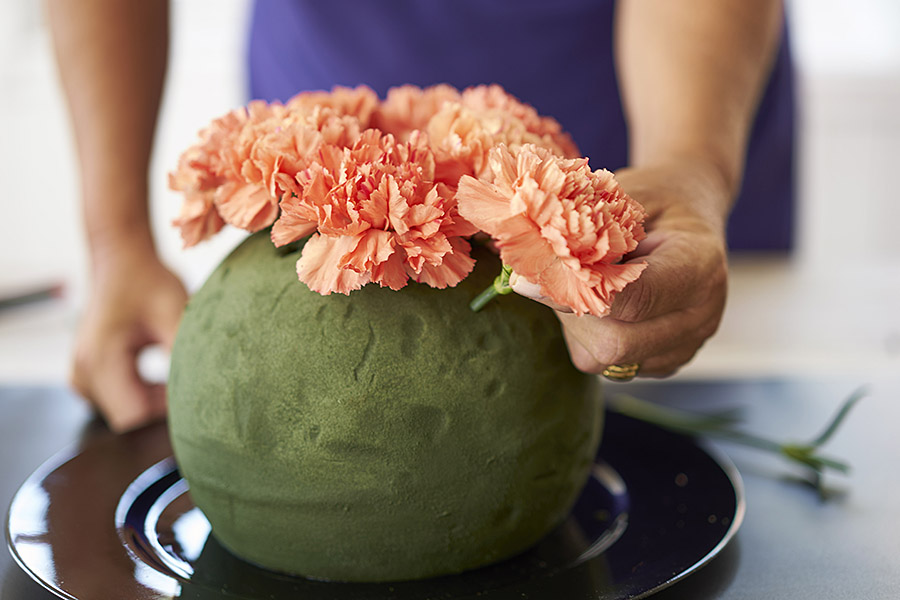 Continue adding rows of carnations until you have covered the entire sphere. Step back and look at your "pumpkin" as you are going along to be sure that you are getting your desired shape.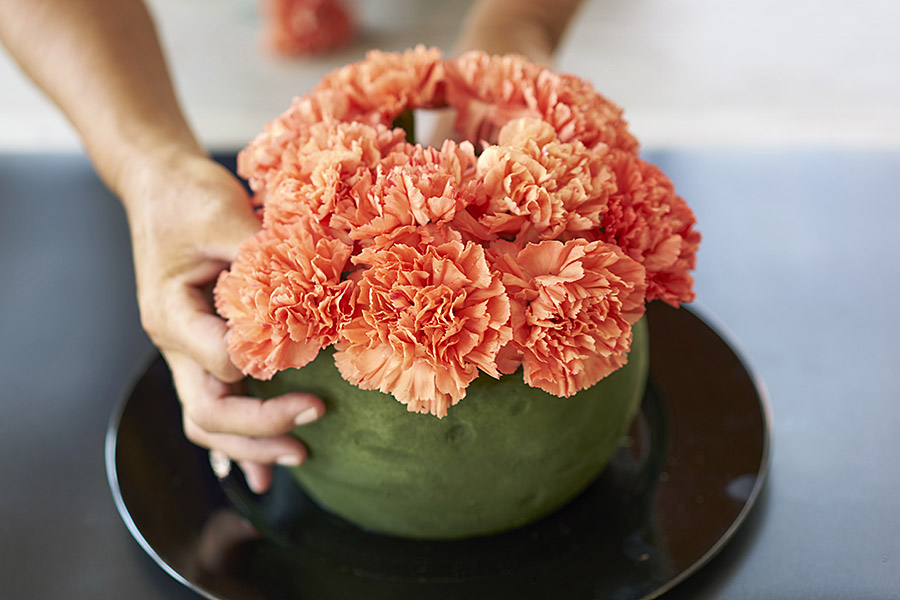 You can remove a flower after you have placed it to reposition; be careful not to do this too many times, though, or the foam could start to break apart.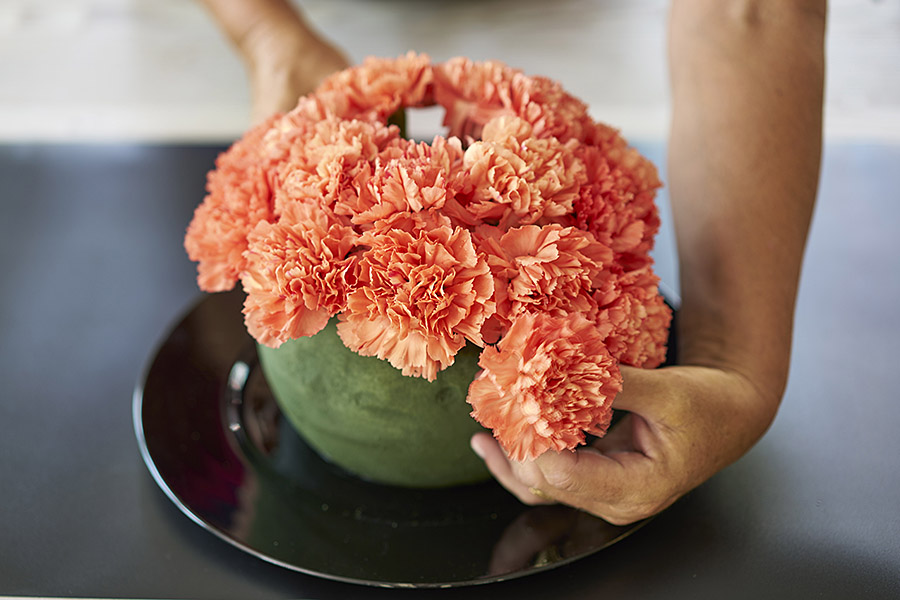 To make the pumpkin "stem" cut piece pieces from the bottom of the carnation stems (which you set aside earlier) into lengths approximately 4-5" long.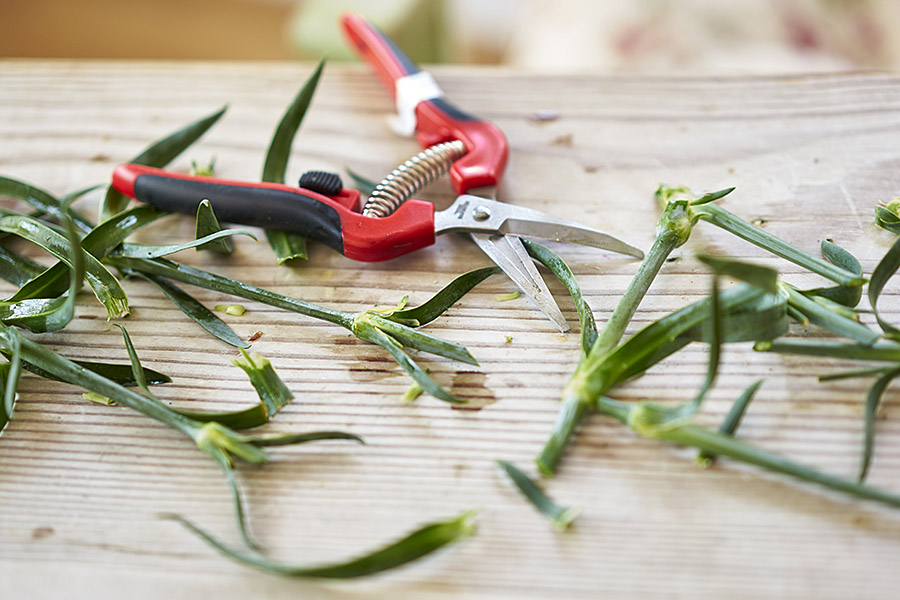 Gather 6 or 7 of these stem pieces together and secure with a wire or pipe cleaner. Insert this cluster into the foam at the very top, in the middle of the first row of carnations.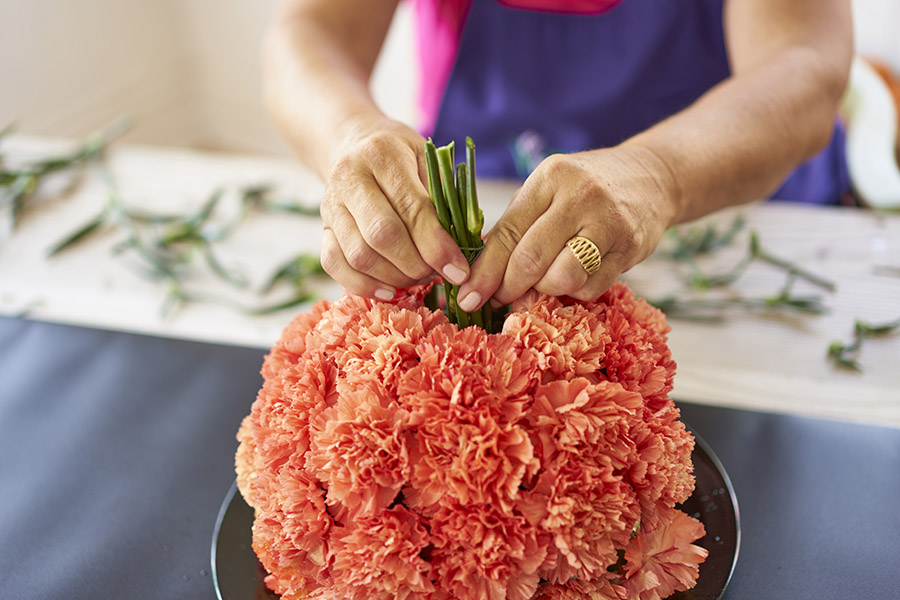 For a finishing touch add a small salal leaf or two into the foam at the base of the pumpkin stem.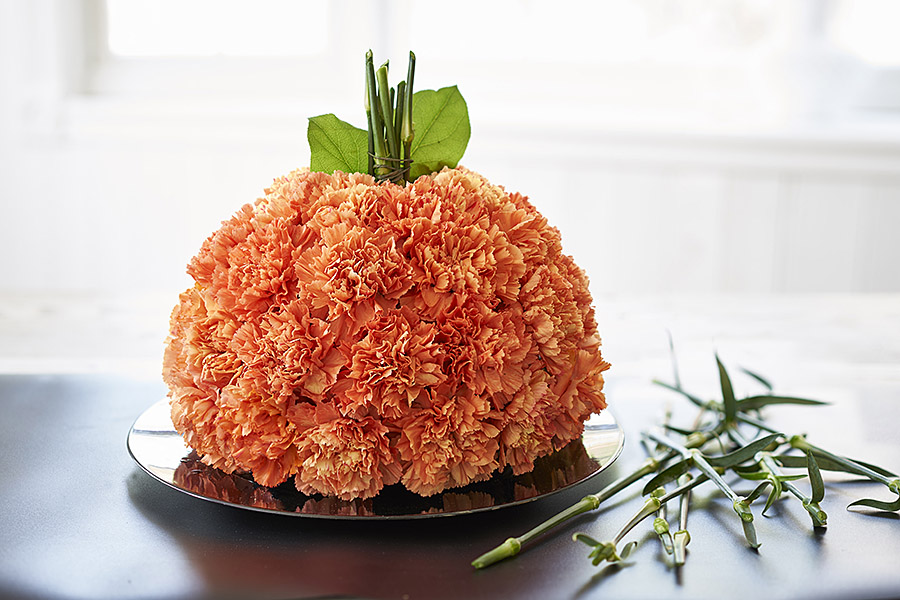 You can add additional salal leave around the bottom of the pumpkin as well. Simply cut individual leaves from a salal stem and slip them one at a time under the bottom carnations. These do not have to be inserted into the foam.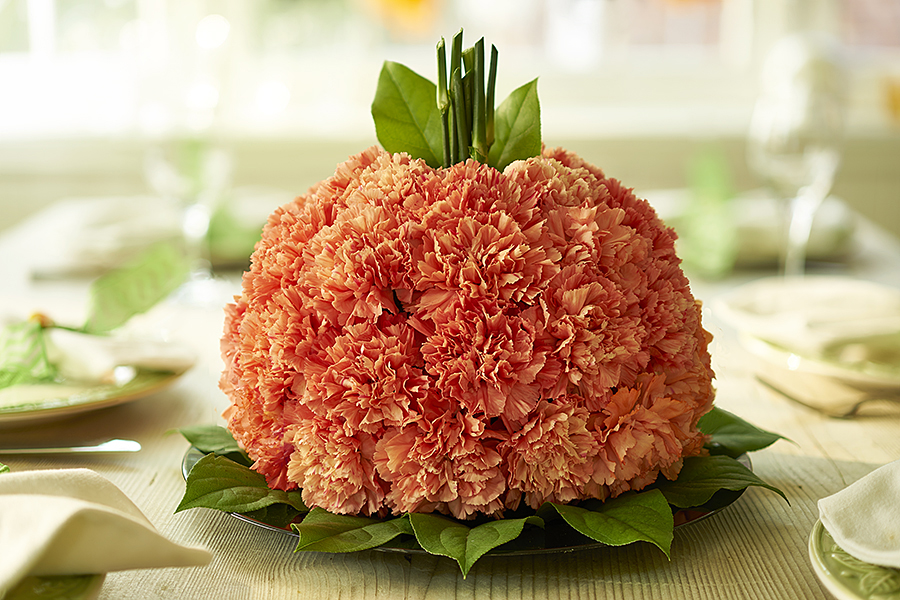 You can personalize and coordinate your pumpkin even further. Here I used a black plastic plate and tin pail that I picked up at Michael's Craft store to create a pedestal dish for my Fresh Flower Pumpkin centerpiece. I think it looks great with this chalkboard table runner.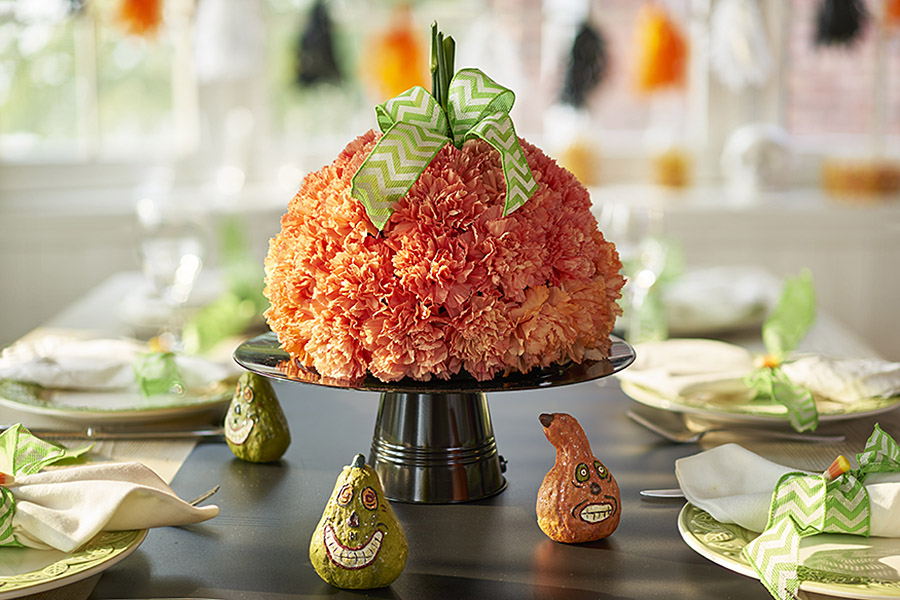 To add a bid of whimsy, I dressed up the top of the pumpkin with a green chevron ribbon instead of the leaves. I used the same ribbon tied around white napkins at each place setting and finished each one off with a piece of candy corn!