I really like to use seasonal elements when decorating for events and parties. When planning the décor for an event, you need to keep in mind the purpose of the gathering. You always want to make sure the décor "speaks" to the occasion.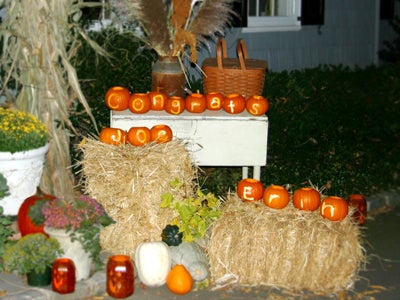 I recently created the decorations for an engagement party. The house had a beautiful front entrance, which gave me the opportunity to set-up an autumn vignette. The vignette set the tone for the evening and greeted the guests as they arrived.
To personalize the scene I created a "Congratulations" message to Erin and Joe, the engaged couple, with Jack O'Lanterns. I carved one letter into each pumpkin and lit all of the candles just before the guests arrived. Everyone loved it and the festive mood was set before anyone even walked through the front door!