Care for Cut Flowers In Order to Keep Them Fresh 
Step One: Always use clean vases or containers. Bacteria in the water will shorten the life span of your flowers. Household bleach is an excellent cleaning agent for your floral containers.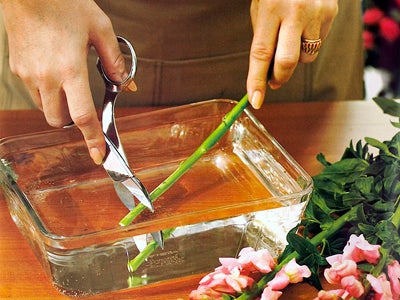 Step Two: Have your vase ready before working with the flowers. Fill the container about ¾ full with warm water and floral food (according to packet directions). Of course, I always have extra packets of floral food at my house, because I always have fresh flowers. If you buy flowers from a florist they will give you packets to use at home – why not ask for a few extra so that you have them on hand too. If you find yourself without a commercially prepared food click here for a version that you can make yourself.
Step Three: Remove all of the leaves that will be under the water while in the vase. Leaves that are submerged will rot, thus creating bacteria.
Step Four: Each stem should be given a fresh cut, on an angle and ideally while holding the stem under water. Cutting under water prevents air from getting into the stem which could block the flow of water from going all the way up the stem and to the actual flower. You can fill up a sink or a small bowl to do this. Cut at least an inch from the bottom of the stem. Of course you can cut it as short as you would like for your arrangement.
Step Five: Change the water and flower food every three to four days and re-cut the stems.