Ring In The New Year With Style!
Whether you are planning an intimate dinner for a few close friends or going all out to ring in the New Year you'll want to have party décor that will set the mood. If you are looking for great New Year's decor ideas, look no further. Two key elements for your New Year's decor are candles and a bit of sparkle. I've included these key elements along with natural elements, such as, evergreens, birch branches, and pinecones to create a few sophisticated styles. It's not too late to pull a few of these ideas together. Even though these styles look fabulous, they are all very easy to do. Not to mention you probably have most of the elements needed. Add a few fresh flowers and you're all set!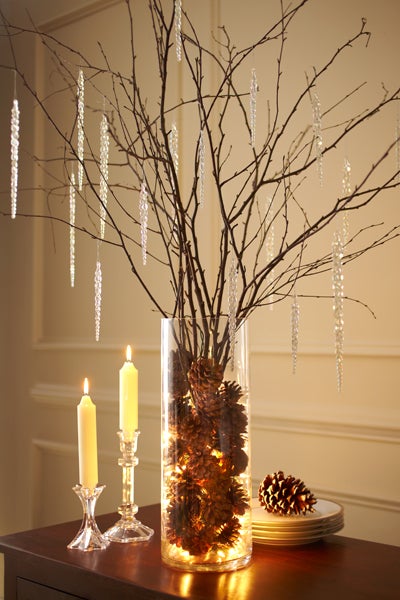 Icicle Splendor
I absolutely love the way it looks when the bare tree branches of winter become covered with ice. You can easily create that same dramatic look in your home using birch branches and acrylic icicles. First, I filled the cylinder with a strand of clear lights and pinecones, before I inserted the branches, which gives this arrangement even more impact.
New Year's Wishes
A nice touch for a New Year's party is to have small cards and a pen set up near a tree. During the night, encourage your guests to write down their wish for the New Year on one of the cards and hang it on the tree. At midnight gather around the tree and make a toast to all of your hopes and wishes for the New Year that lies ahead.
Up next, a few last minute ideas including using chandelier crystals and how to get a lot of sparkle from a little bit of glitter! Think "fire and ice".