Celebrate St. Patrick's Day!
A six-pack and a potato please! Whether you are celebrating St. Patrick's Day or throwing a fun Irish dinner party, I have the perfect touches to make it special.
Of course with a name like McCann-Mulligan I can get away with a joke like that! With that said, here's a creative twist on two Irish staples – beer and potatoes:
Beer Mug O' Blooms
This fun floral arrangement makes a great decoration and is a perfect gift to send to anyone on St. Patrick's Day – after all everyone is Irish on March 17th! The beer is actually acrylic crystal nuggets and the beer foam is white floral foam.
If you don't have the time to make a Beer Mug O'Blooms at home, 1-800-FLOWERS.COM has a version of their own. Check it out here!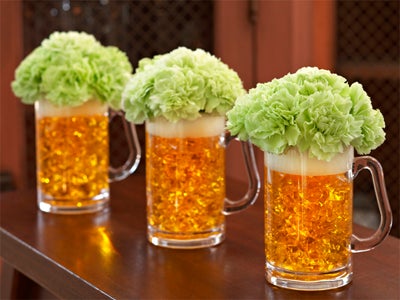 Irish Potato Appetizers
Salmon, another traditional Irish food, brings these potato appetizers up a notch. They're very easy to make, look pretty, and you don't need two hands to enjoy them which means you can hold onto your beer!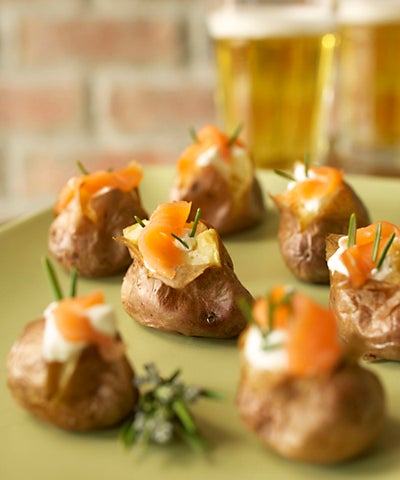 Directions:
Coat small red potatoes with olive oil and sea salt.
Roast in oven until fork tender (about 45 min).
Remove from oven and let cool slightly.
Cut a small cross in the top of each potato and press sides to open.
Put a dollop of sour cream in each potato.
Top with a slice of smoked salmon.
Garnish fresh a fresh herb such as rosemary.
Where's the (Corned) Beef?
Probably the most popular meal to serve on St. Patrick's Day is corned beef and cabbage. Think outside the box (or pot in this case). Leave out the corned beef and create a unique centerpiece with the cabbage, potatoes, and fresh cut Bells of Ireland. To create the "cabbage" vase simply remove a few outer leaves from a head of cabbage and place around a short beverage glass.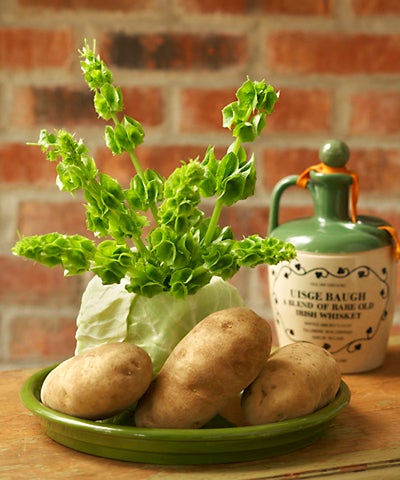 This Spud's for You!
OK, one final creative use of a potato! Scope out the center of a large baking potato and fill with 2-3 stems of green spider mums. Insert a nametag and place on each guest's dinner plate.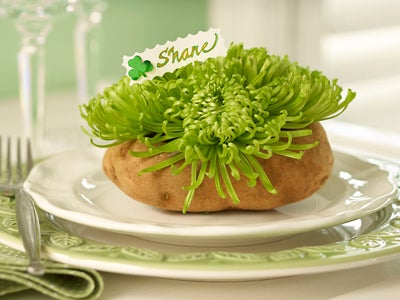 Remember what I always say, – "Just have fun with it" – and you can't go wrong!
Erin Go Bragh!