Fall is here, Thanksgiving is slowly approaching… What is better than an inexpensive, easy and creative autumn leaf table runner to bring the outside beauty of fall, inside your home? Your friends and family will feel as if they are sitting right in your backyard.
Try it out yourself and remember, just have fun with it!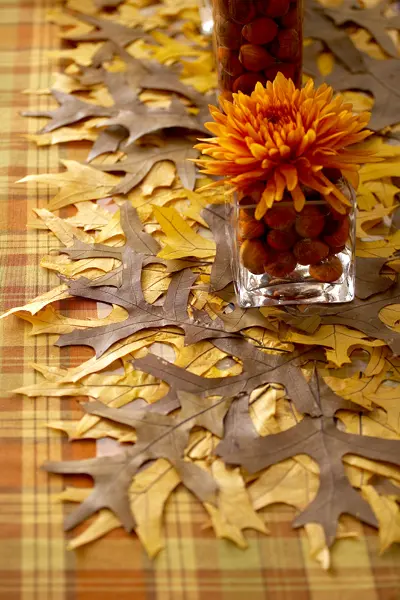 Materials Needed:
Clear cellophane cut to the size of your table.
Fall leaves from outside, or preserved leaves from a craft store.
Scissor for any trimming needed.
Tack 2000 spray adhesive.
Newspaper to cover your work surface.
Create a DIY Autumn Leaf Table Runner in 7 Easy Steps:
Start with a piece of clear cellophane cut to size.
Gather leaves from outside or buy preserved leaves at a craft store.
Cut the leaves off of the branches and trim the stem from the bottom of the leaf. If the leaves are a little wrinkled you can iron them – it looks better if the leaves lay flat.
Cover your work surface with newspaper and place your piece of cellophane on top.
Have your leaves ready and spray half of the cellophane with Tack 2000 spray adhesive.
Simply place the leaves onto the cellophane one at a time, starting at the edge and overlapping the previously placed leaves.
Spray the other half of the cellophane with the adhesive and finish adding leaves.