This Sunday—August 2nd—is both Sister's Day and Friendship Day. Peggy is my sister, and she's also my best friend… and I can't imagine my life without her. One of the things that I love most about Peggy is her laughter and how much we laugh when we are together. She's just like our mom was in that way.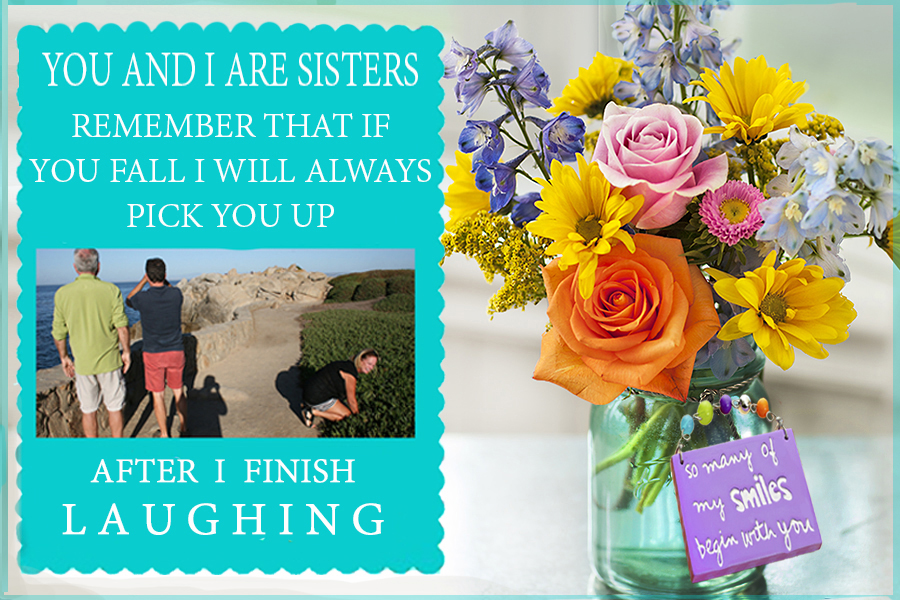 This post is in honor of my sister. The photo was taken on a recent road trip along the California coast. Our husbands are the two men in the picture who are oblivious to the fact that Peggy has fallen! Peggy and I were laughing so hard we could hardly breathe, but I did manage to capture the moment! The fresh cut flowers in a vintage blue mason jar and the Sandra Magsamen artisan plaque are the perfect way for me to send a smile to Peggy this Sister's Day!
Let your sister(s) and your very best girlfriends know how important they are to you.
1-800 Flowers.com makes it easy with a collection of gifts starting at as little as $10 including delivery! Here are a few of my favorites. Go to our Sister's Day or Friendship Day Collections to see these products and more!