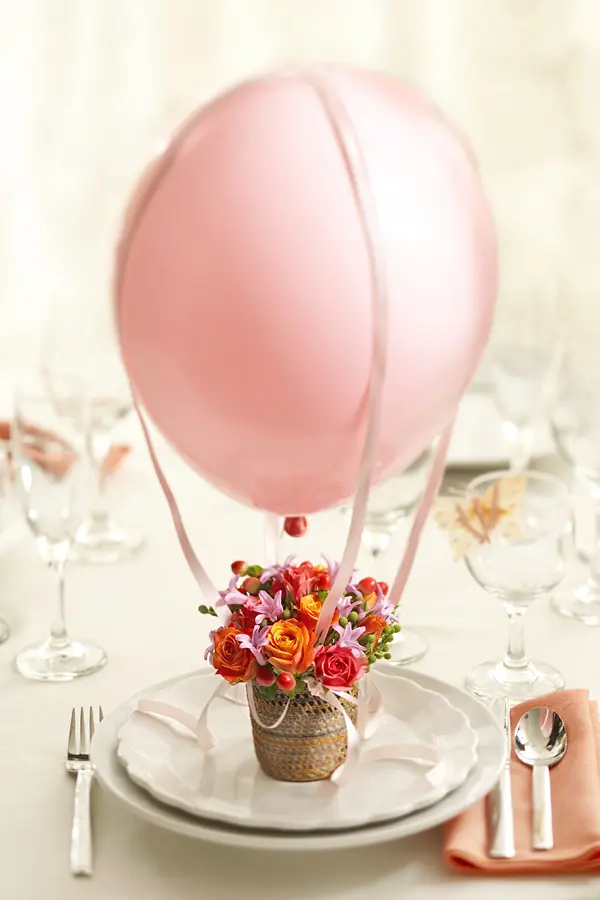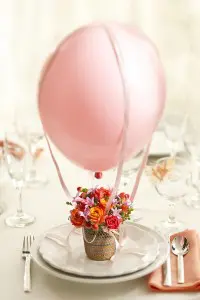 Mom does so much for the family throughout the year: No matter how long her to-do list is, you know you can always count on her for anything. Because she means so much, let her sit back and enjoy herself on Mother's Day, and show her how appreciated she is. Treating your mom to a nice brunch is the best way to make her feel like a queen bee: Since you've already taken care of everything, Mom doesn't have to lift a finger. To make her day even more special, pick a fun and truly original theme for your luncheon: DIY hot air balloon decorations!
This beautiful hot air balloon decoration adds a whimsical take-me-away touch to any Mother's Day table setting. As soon as she sits down, Mom will feel like she's floating among the clouds without a care in the world! This Mother's Day craft is really simple to make, so you can make a big, loving statement with minimal effort. Here's how to make a DIY hot air balloon decoration for Mom on Mother's Day!
Materials needed for DIY hot air balloon decoration
Basket or container
Plastic cup or glass votive
Petite flowers, berries, and/or foliage
Floral foam
Ribbon
Balloon
How to make a hot air balloon floral arrangement
First, choose a container that you'll use as the basket for your hot air balloon. A votive or a small can covered in fabric is a great option if you want to make a smaller place setting. For a centerpiece, a basket in the size of your choice works perfectly. For our place setting, we used a rattan votive holder.
If your container isn't already waterproof, line it with a plastic cup or a glass votive holder so the flowers won't leak when you water them.
Use a piece of floral foam to arrange some petite flowers, berries, or foliage in the container, or just arrange them right in the container filled with water. Because you're using a small container, lateral blooms are best to use: One stem has multiple bunches of tiny flowers that you can cut off to create a smaller arrangement. We used spray roses and hypericum berries for our arrangement, and we placed individual hyacinths in between for a fragrant accent.
There are two different ways you can make the hot air balloon:
With helium: Fill a balloon with helium and criss-cross some ribbon around the balloon in a netted pattern. Use some adhesive tape to keep the ribbon in place on the balloon. Take the loose ends of the ribbon at the bottom of the balloon and tie them onto the container or around some of the flowers.
With air: If you don't have access to helium, blow up the balloon with air and tie a clear straw around the base of the balloon. Anchor the straw into the arrangement, then tie the ribbon around the balloon and tuck the strings into the arrangement or the corners of the container.
Personalize the arrangement just for mom by adding your own unique touches. You can use our design as inspiration! We chose a pink balloon for Mother's Day because it's such a beautiful feminine color, and it's perfect for spring. For the flowers, we went with bold, trendy colors like orange, hot pink, and lavender. This mix of classic and modern hues gives the arrangement a look that's soft yet vibrant. But you can choose your own color palette, from blues and greens to reds and yellows. Decorating the balloon netting with small accents, such as butterflies or rhinestones, is also a great idea and gives your hot air balloon a sweet finishing touch.