Let's Go Mets!!
Or Yankees, or Marlins, or whoever your home team might be! It's easy to honor your favorite team with a few simple flower arrangements using branded items in unexpected ways. If you're having a few friends over to watch the game, set the mood with these team color coordinated bouquets and everyone will feel good – win or lose!
For these Mets themed arrangements, I used blue delphinium in a Mets galvanized bucket and orange gerbera daisies in commemorative Shea Stadium beer bottles that I got at a game last year. Of course, the only reason I bought the beer was for the commemorative bottle – a girl's got to do, what a girl's got to do!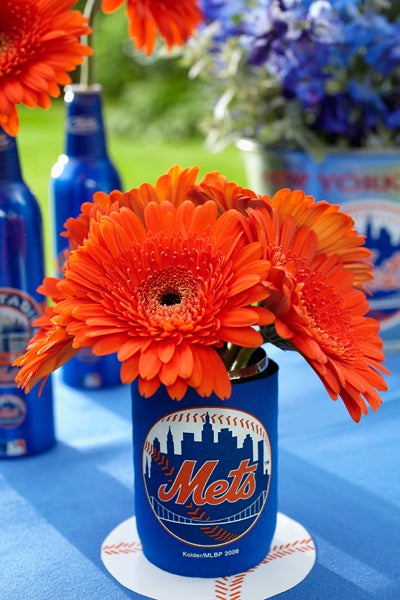 Koozie can holders, also make great little vases. Just line them with a short beverage glass or a vegetable or soup can to hold the water.