With everything else you need to buy when setting up a dorm room plants and flowers probably aren't on the top of your list, but they should be on the list! They naturally clean the air by removing toxins and can actually fight fatigue and colds. Tending to a plant or a small garden can be very relaxing and rewarding. Plants brighten up a room, add fresh air, and can also be very useful to have around if you grow vegetables, herbs, or medical plants, such as Aloe Vera. Cactus and succulents are a great option, because they are cool looking and require very minimal care, but are still a living thing.
And don't forget the flowers. Remember all of the benefits of having flowers in a room that I mentioned in the previous post. A dorm room can use all of those benefits in a big way.
Here are some small and simple ideas for bringing the beauty and benefits of plants and flowers into a dorm room.
SUCCULENTS AND CACTUS
Sempervivums (hen & chicks) are a hardy succulent alpine plant. The name sempervivum means "live-forever". They are well adapted to survive in some of the poorest soil and drought conditions. They usually come already planted in terra cotta pots, which are a great natural look and are small in size, so they fit nicely on a windowsill.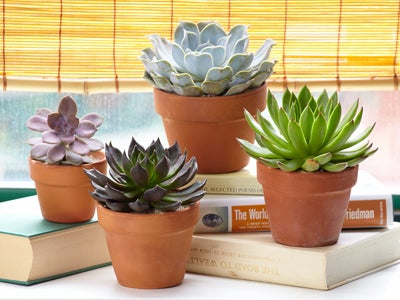 ALOE VERA
As we all know accidents do happen. Having an aloe vera plant in your room has an added benefit of being medicinal in nature. As soon as you suffer a burn, break or cut off an outer leaf of an aloe vera plant, split it open with your fingernails, and squeeze the leaf gel onto the burn.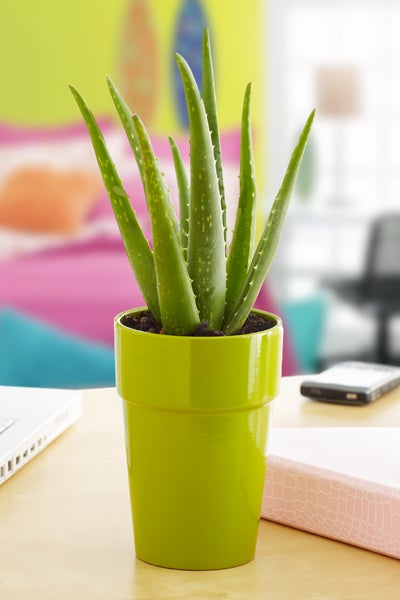 HERBS
Herbs are easy to grow and smell terrific. They can also be used as seasoning, which can make even the blandest college food taste a little better. Parsley, sage, rosemary, thyme, mint, and oregano are just a few you can try. The grey green leaves of the oregano give a delicate appearance while the tiny pink flowers nestle in showy pale green bracts.