Carrots and bunnies go together like peanut butter and chocolate, which was my inspiration for these four fantastic DIY Easter decorations. Whether you're attending an Easter celebration or hosting one, these creative ways to keep all of your bunnies happy this Easter season are sure to WOW!
Bloomin' Carrot Bouquet with Orange Tulips
Tulips are one of my favorite flowers, and we are in prime tulip season! They are so easy to arrange. Just give each stem a fresh cut to the length you need for your container and remove the excess leaves. Make sure that the container is totally clean and filled with fresh, cool water before arranging your tulips.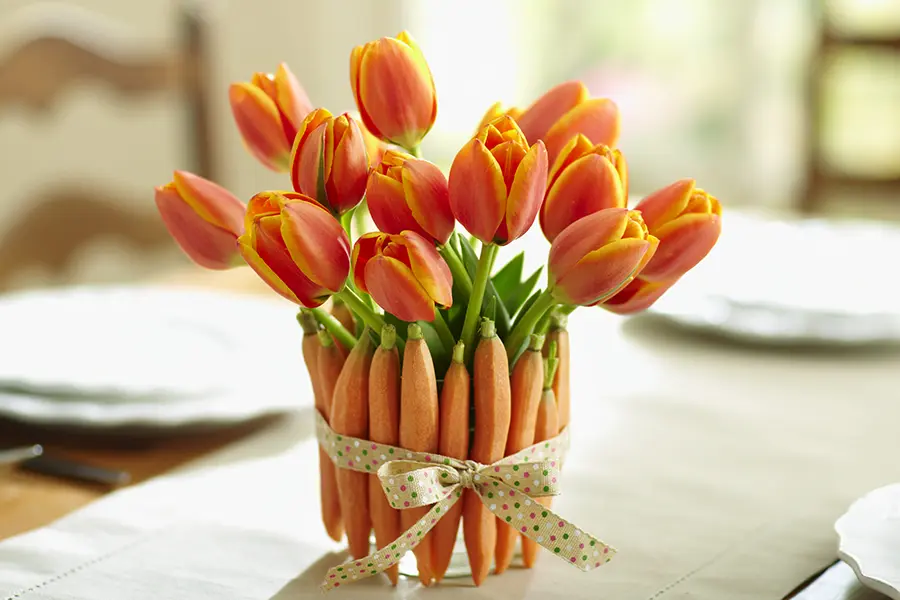 Speaking of the vessel you use to display your tulips – what bunny wouldn't love this carrot vase! For this carrot vase I used one bag of pre-peeled mini carrots, a rubber band, and a lowball glass.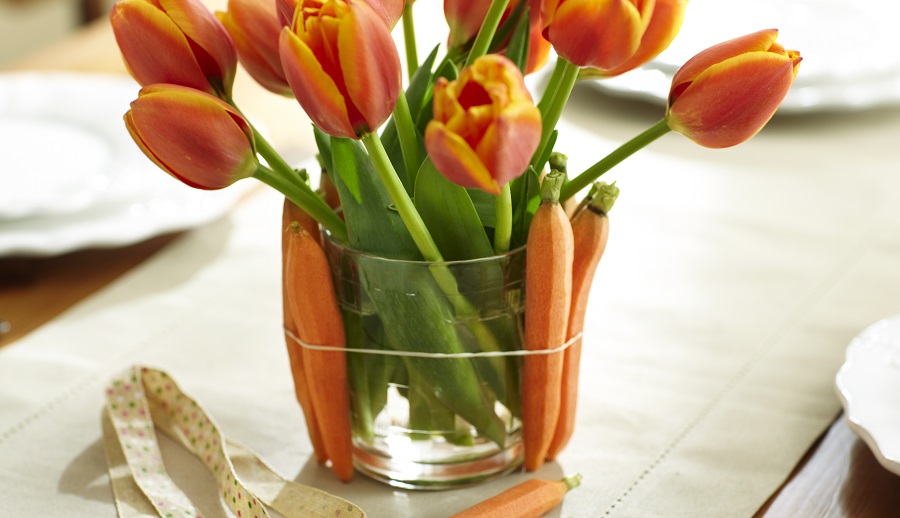 Carrots For Dessert?!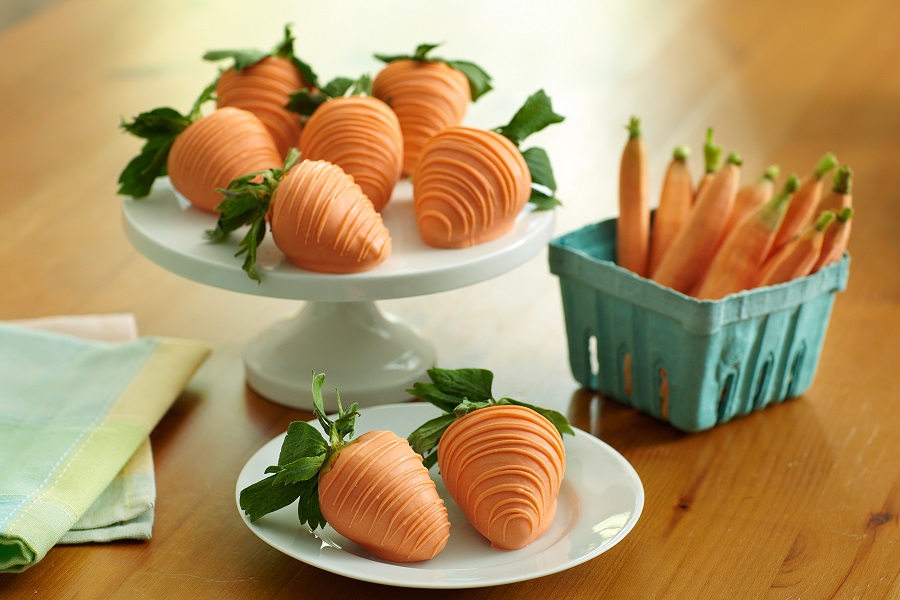 Is it a fruit or is it a vegetable? Is it a side dish or is it a dessert? Whatever the answer, this treat is both delicious and delightful. And of course, easy to make!
What you need:
• White chocolate candy melts
• Orange food coloring
• Strawberries
What you do:
• Melt candy melts
• Stir in orange food coloring
• Rinse and dry strawberries leaving on the green stem
• Dip each strawberry into the melted chocolate
• Place on parchment or wax paper to cool
Carrot Cocktail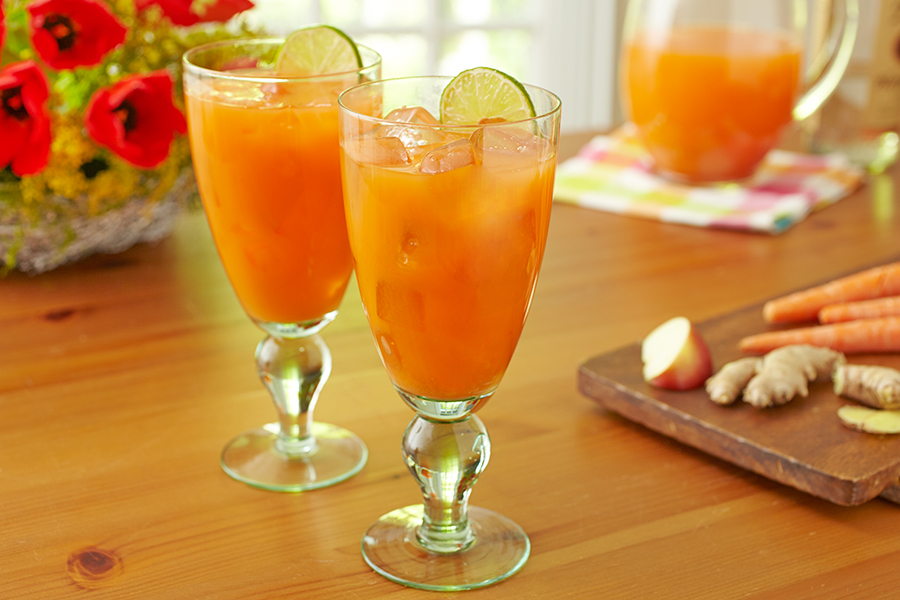 Move over Bloody Mary – Carrot Top Carol is here!
Follow the recipe below to create a perfect and healthy cocktail for an Easter brunch. To prepare, first muddle the ginger slices in the bottom of a cocktail shaker before adding the rest of the ingredients. Shake well and pour over ice. Or make a pitcher full and let your guests serve themselves!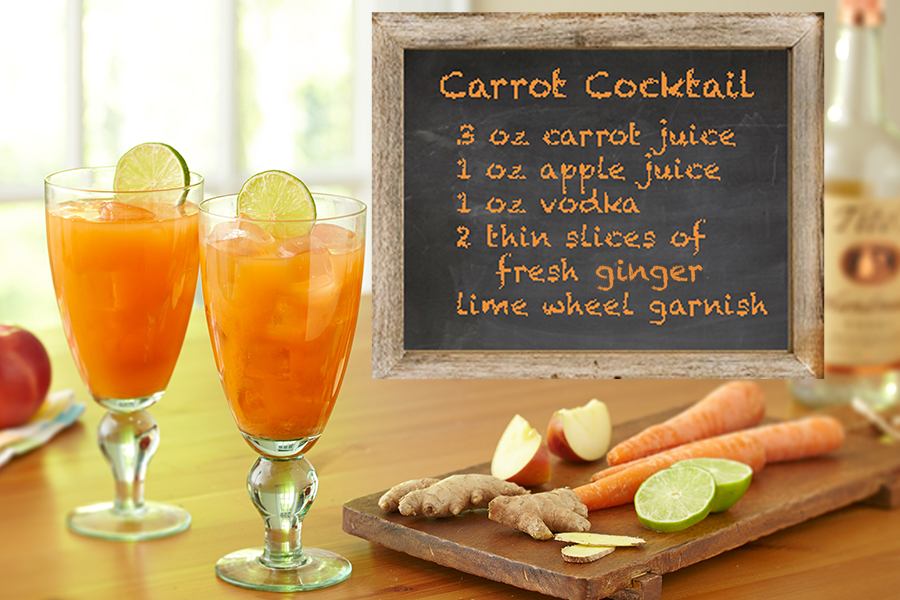 Bunny Flowers & Carrot Decorations for Easter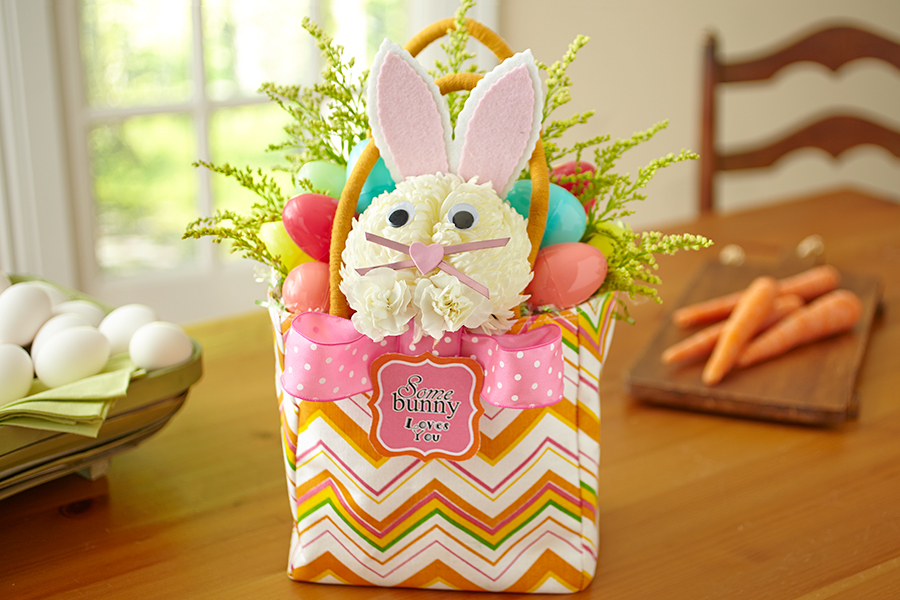 How adorable is this floral bunny peeking out from a tote full of Easter eggs?! It's so easy to make and would be a wonderful surprise for your little ones on Easter morning.
Here's how to make it:
• Put a piece of floral foam in a waterproof container inside of the tote or whatever container you are using.
• The bunny's face is made from one white football mum and two white mini carnations taped together and inserted into the foam.
• The ears are made of felt, attached to a stick and inserted in the foam behind the mum. Glue the eyes, felt nose and wire whiskers directly to the mum using a hot glue gun.
• Add plastic colored eggs to fill up the rest of the tote and insert pieces of solidaster or other filler flowers into the foam between the eggs.
• Add a bow tie ribbon.
• Print a "Some bunny loves you" that you create, or download one from the Internet, and use a glue dot or glue gun to attach to the ribbon.