One of the best parts about metro-Atlanta is how neighborhood focused it is. Looking for ritz? Head to Buckhead. Want to enjoy a huge range of ethnic foods? Try Buford Highway. Looking for a hip neighborhood? Check out East Atlanta Village. Want more of a small-town vibe? Head to Decatur or Marietta. Then there's the Virginia Highlands, midtown, downtown, leafy Grant Park, soul food on the west side, on and on the list goes.
The many different neighborhoods and their unique vibes also makes Atlanta a great place for romantic nights out on the town. Flowers, candle-lit dinners, strolls through the park, there are so many options. If anything, there are so many choices that it can be overwhelming. That's why we're going to dig into some of the best date options in Atlanta!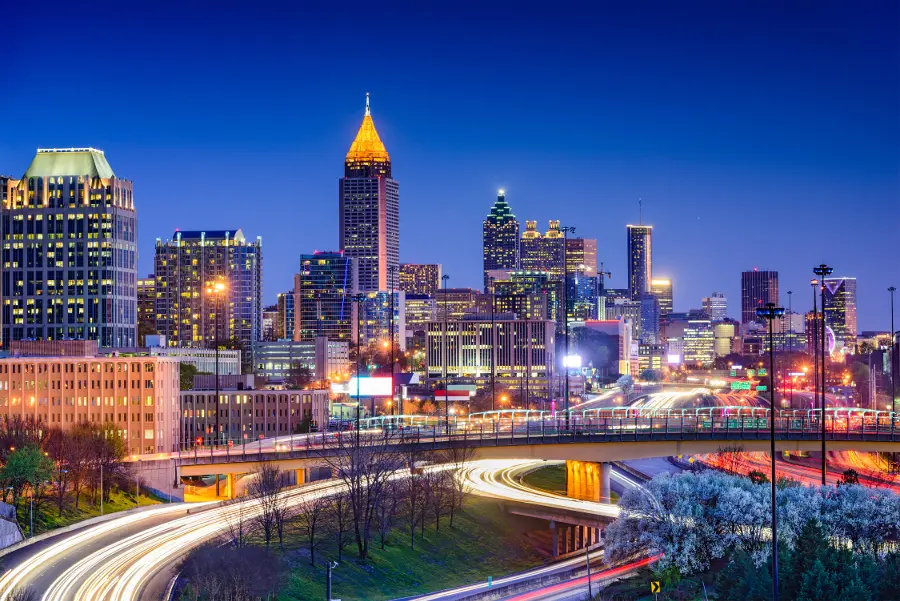 Head To Brazil For A High Class Dinner
If you're looking to really wow your date with a place that's both chic and high-class, the Fogo de Chão Brazilian Steakhouse should be at the top of your list. However, be prepared to spend big because class comes at a cost!
Brazilian steakhouses are basically like high-end all-you-can-eat buffets. When you sit down, you're given a card that's green on one side, red on the other. Green means "go." Red means "no thanks." Once you flip the card green, chefs will start showing up at your table with skewers of meat, and you'll be able to pick and choose what you'd like including steak, lamb, pork, & chicken. If you're vegetarian, check out the "Market Table", which features a huge range of salads, cheeses, and other delicacies.
Can't get a reservation at Fogo de Chão? Try another top-notch Brazilian steakhouses in Atlanta such as Chama Gaucha. If you're on a tighter budget but still want to enjoy some Brazilian fare, consider Minas Grill or Porto Brasil Restaurant, both of which offer Brazilian food in more traditional buffet settings.
Polaris, See the City Spin
If you're looking a great, romantic place to grab a drink, Polaris is among the best choices. This spinning bar rests atop the Hyatt Residency in downtown Atlanta and providers arguably the best views of the city.
Polaris's food can be a bit hit or miss, but grab your date some Valentine's Day flowers, and take him or her up for a drink at the top, and you're sure to impress. Comfortable couches and a great view make Polaris a great choice for some quiet romance.
As the restaurant rotates you'll be able to take in the entire city. Atlanta's rapidly expanding skyline is becoming quite the sight!
The Glenn Hotel Sky Lounge, located near the CNN Center, is another great option for rooftop drinks. While the Glenn doesn't spin, it does provide comfortable seating, great drinks, and a beautiful view.
The Georgia Aquarium
Looking for something more interactive? The Georgia Aquarium is arguably the best aquarium in the United States, if not the world, and it's a great place to take a date. Bring some flowers, see some fish, perhaps even swim with sharks!
You absolutely have to visit the Ocean Voyager exhibit, a 6.3 million gallon tank that is home to thousands of fish and sea creatures. You'll also get a chance to see the world's largest fish, the whale shark. The Georgia Aquarium is one of only a few aquariums to house these magnificent creatures.
There are also many interactive opportunities, such as swimming with the aforementioned whale sharks, or meeting dolphins, penguins, and various other animals.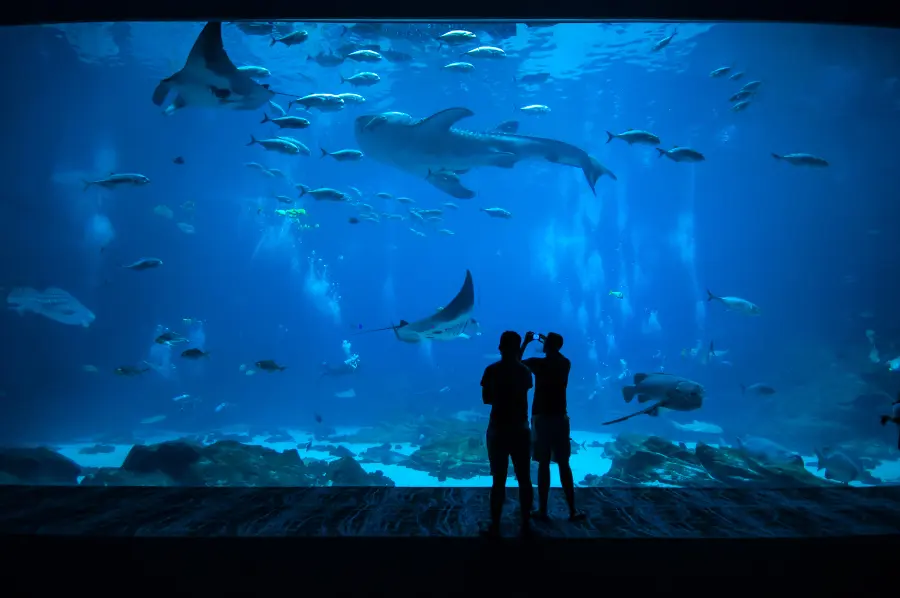 Take a Stroll Through The Parks
They don't call Atlanta a "City in a Forest" for nothing. Atlanta is one of the greenest, most lush cities in the world. There are plenty of opportunities to take a walk in the park, and the weather is often quite temperate in the winter!
First, there's Piedmont Park located in midtown. This nearly 200-acre park features plenty of paths, gazebos, ponds, and other sites & sights. Nearby, there are some famous local haunts, such as the Flying Biscuit Cafe, and South City Kitchen, which offers up some delicious southern food.
Second, there's the Beltline, a sprawling pathway that cuts through much of Atlanta. Lined with bars and restaurants, there are plenty of eats, although your best bet might be to head to the hip Ponce City Market.
There are countless other parks and outdoor spaces in Atlanta, so if you're looking for some green, you'll have plenty of options.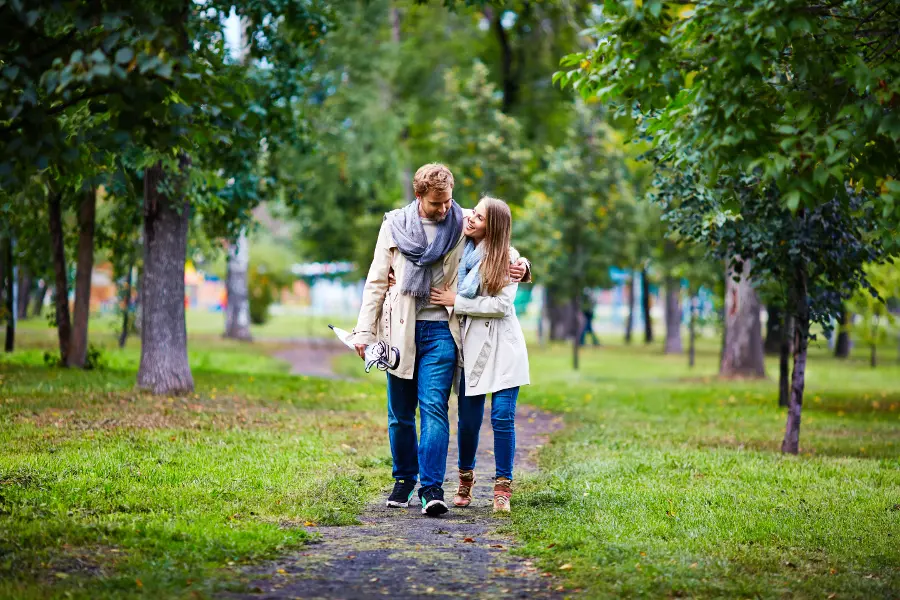 Buford Highway- Take a Trip Around the World
Buford Highway is a sprawling road filled with authentic ethnic restaurants. Indian, Latin America, Korean barbecue, Thai, Chinese, Japanese, Malaysian, Ethiopian and various other African foods. You can literally take a trip around the world while only taking a drive down the road.
There are so many choices that it's best to first figure out what your date likes. Then you can find the best restaurant for his or her tastes, order up some flowers to take along, and you'll already have a great night planned out.
Don't know where to get started? Check out Mamak, an award winning but affordable Malaysian restaurant. Malaysian food is interesting because it's influenced by both Indian and Chinese cuisines, meaning there are plenty of options as far as tastes go.
Hip Hipster Burgers in East Atlanta Village
Most people won't call the Earl "romantic". But some dates would rather skip all the pomp and go somewhere more laid back and casual. Atlanta has countless hip bars, but the Earl in East Atlanta Village may be the hippest of them all.
First, its food sets the high bar for pub grub. Second, it's just a cool place to hang out. Third, there's often live music in the back. Finally, if the Earl isn't cutting it, you'll be in East Atlanta Village, where there are plenty of other options your date is sure to enjoy!
Cheap, Authentic, & Off the Beaten Path
When you walk through the doors of El Progreso #14, it's like stepping through a portal into Mexico. This place is as authentic as authentic gets.
Now, let's be clear, this is a cheap, "off the beaten path" date idea. El Progreso doesn't ooze with romance, it's actually a Mexican grocery store with a simple restaurant in the back. It's not the best choice for every date night, but with the right date, it can be a hit.