Summer wedding plans are back on, and peak flower growing season offers a wide variety of options for beautifying your long-awaited event. This season's floral trends run the gamut, from bright and colorful midcentury modern bouquets to muted dried floral inclusions. So, which style is best for your summer wedding?
Lynn Mehl, founder of Good Old Days Eco-Florist in New Windsor, New York, has been creating wedding floral arrangements since 1977. She says the big trend she sees this summer is couples wanting to showcase their individuality. "Brides today are shying away from mainstream ideas or items. Instead, they are searching out one-of-a-kind, fresh items of quality, items with interest, and unusual vintage items, even if they cost more," Mehl says. "Their ultimate goal is to be unique and make their wedding stand apart."
Here are Mehl's four top tips for incorporating the hottest 2023 trends into your summer wedding flowers and making them your own.
1. Large freeform botanical displays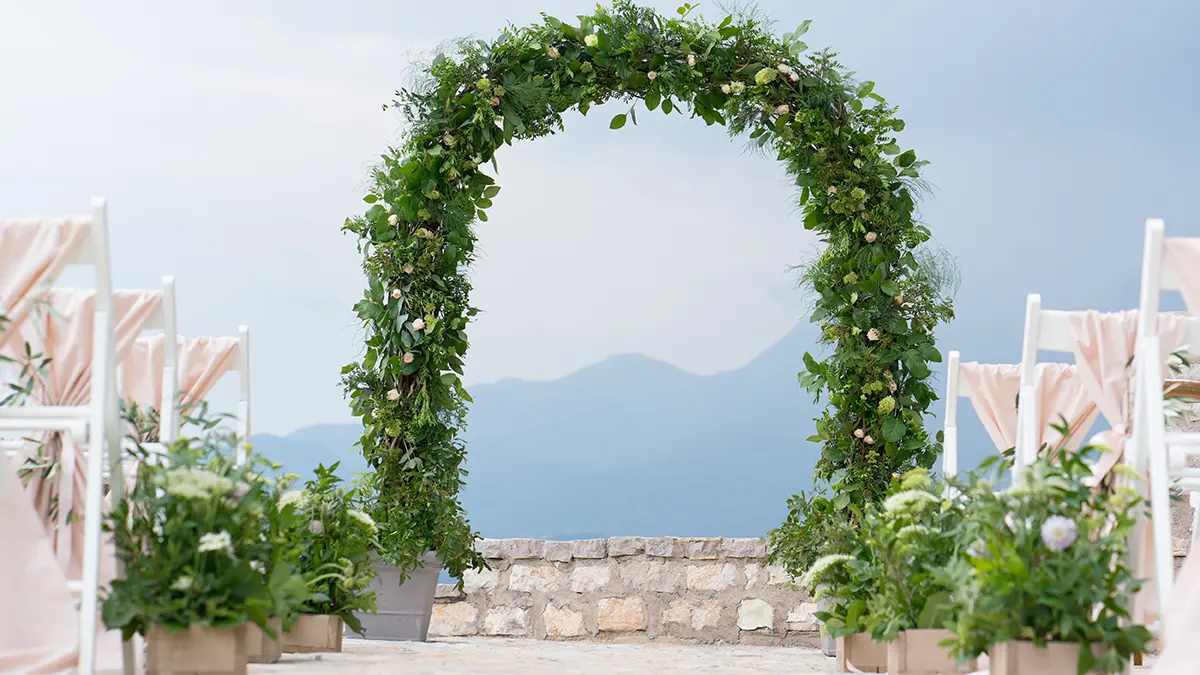 A popular trend this year is to create freeform floral décor and bouquets made from lush greens and botanicals. "Instead of the traditional '80% flowers and 20% accents,' it is popular now to have the reverse — arrangements that are 80% greenery and organic components accented with a few flowers," Mehl observes. This "overgrown" style is hugely popular for both bouquets and other decorations.
The best way to achieve this look? "Start with an overabundance of greenery, then add moss and twigs, and, finally, accent with wildflowers, blooms, and dried flowers," Mehl instructs. Once you have your "green" base, layer in a few colorful blooms for contrast to draw the eye.
Bonus tip: "Eucalyptus is always a favorite, not just for its scent but for the color, drape, and movement it gives. Ferns are also extremely popular and can be displayed in pots you can take home after the event and replant." Both provide great texture to the backdrop of the day.
2. Midcentury modern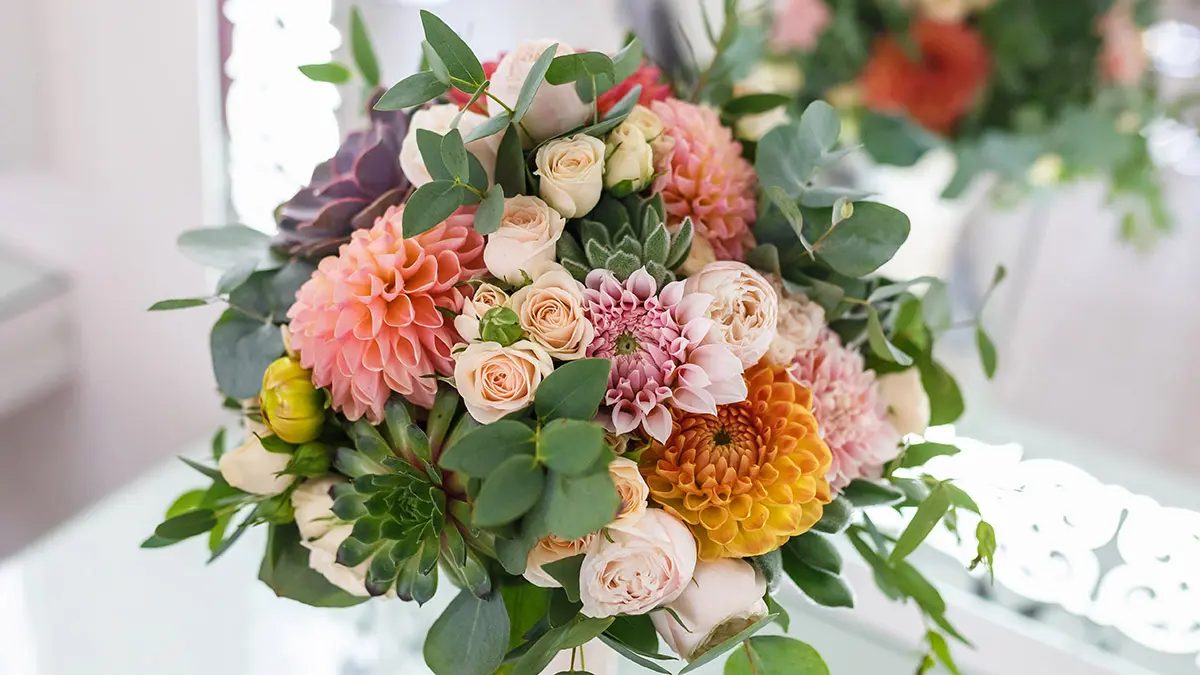 After two years of being inside, it is no wonder that bright colors associated with playfulness are back in style. "From bouquets to centerpieces, midcentury modern decor is back," Mehl notes. "This means structured and somewhat minimalistic bouquets using retro, styled designs, containers, and bright pop-art colors (think early Andy Warhol)." Where traditional wisdom previously advised wedding planners to start with a neutral pallet and add "pops of color" for dramatic effect, the opposite can help couples achieve an energetic and current look.
When it comes to flower selection in this genre, "summer is the best season to find bright, local flowers," Mehl notes. Choosing one brilliant monochromatic shade feels sophisticated and refined, or you can opt to make a bold statement with multiple bright colors. "The lush petal structure of peonies (available from late spring through mid-summer) makes them dreamy and romantic. Dahlias are another popular summer flower that can offer rich color and texture to any bouquet."
The containers you use to display your arrangements are another great place to add pops of color. "Search out vintage containers. These props can add a fun retro look."
Bonus tip: "For extra bright color, consider incorporating fruits that can easily be eaten the next day or donated later," Mehl suggests.
3. Dried flowers
"Dried flowers are back in style with a vengeance," Mehl notes. In contrast to the colorful midcentury modern trend, "delicate dried and preserved flowers are being sought after for their muted tones. Couples are using them in everything from bouquets to corsages by themselves, or mixing them into fresh floral designs." Some popular choices include dried lavender, billy balls, and mums.
The best part about featuring dried flowers in a summer wedding is that you do not have to worry about them wilting. "Dried petals are perfect for scattering down the aisle or on a tabletop," Mehl adds. Just make sure you ask for only naturally dried and colored flowers and not bleached or dyed ones, as those contain chemicals that are harmful to the environment.
Bonus tip: Don't forget dried grasses. "The 'bunny tails' and pampas plumes of the '60s are on everyone's list again," Mehl notes. These fluffy pieces can add rustic charm to any setting.
4. Sentimental flowers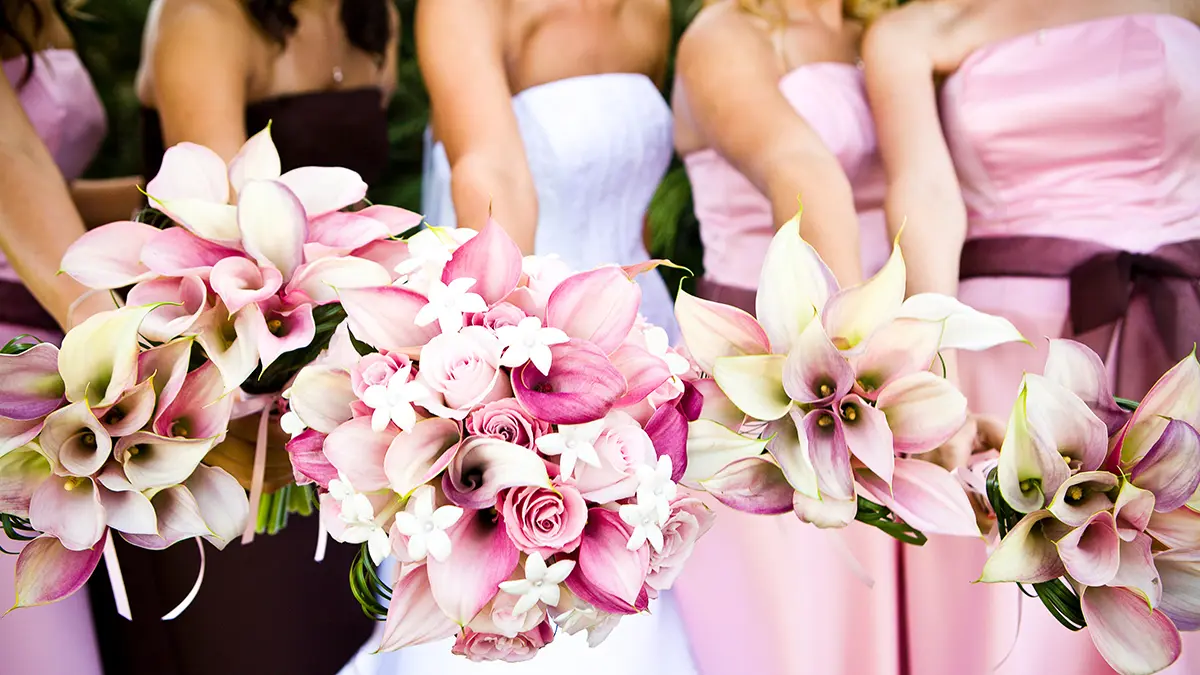 The past couple of years have brought an increased focus on family, and many couples see their celebration as a chance to honor those who came before them. "Lots of couples are planning sentimental weddings with some or all of the flowers being meaningful in some way (e.g., using the Language of Flowers, recreating grandmother's bouquet, using the state/country flowers of the couple in the centerpiece, etc.)," Mehl says. "Think of the Texas gal carrying a bouquet of yellow roses or a California bride replicating a 1930's bouquet of her grandmother's calla lilies." The best part is that the sentiment does not have to dictate style. "Meaningful and sentimental flowers can be melded with any theme in a freeform design," Mehl notes.
Bonus tip: Trying to match sentiments to the season can be tricky. Mehl's solution? "If the flowers you want are not in season, I suggest substituting dried or paper versions of those flowers with other seasonally appropriate blooms."