Hosting a birthday dinner party at home is a great way to show a loved one how much you care. While entertaining friends and family can be incredibly enjoyable and rewarding, hosting can also be a bit stressful, especially if it's for an extra special occasion, such as a milestone birthday.
As host, having to plan all the décor and food options for the big night can feel overwhelming. If you're ever in this situation, remember: Your No. 1 goal to make sure your guests have fun and enjoy the company, and the guest of honor feels properly feted.
With that in mind, here are six tips for hosting an elegant birthday dinner party without the stress.
1. Prepare early
Invite your guests at least two weeks in advance. Make sure to pin down those "maybe" responses and check on dietary restrictions so you know how many people you need to prepare for and whether you need to make any extra accommodations. Check that you have enough dishware to go around and order any supplies you may need ahead of time.
If ordering products online, confirm shipping dates so everything arrives in time for the party. If you need to pick anything up, get it the day before. Do a deep cleaning the night before too, especially in areas where guests will congregate. In short, getting as much done as you can ahead of time will reduce stress on the day of the event.
2. Set the mood with a well-themed table
Creating a tablescape makes an at-home birthday feel even more special. You don't have to go crazy: An elegant, blush-toned palette with floral details will set a sophisticated and luxurious mood. Flowers are a great centerpiece, or you could even use succulents (which can double as a take-home gift at the end of the night!).
Keep the interests of the birthday boy or girl, and the time of year of the party, in mind when decorating. For instance, if he or she likes rabbits and plants, pick up porcelain bunnies and cute succulents to decorate. If the event is in the spring, use pink and purple roses for accents, and set it all on a white tablecloth. It creates a lively spring atmosphere!
3. Coordinate a playlist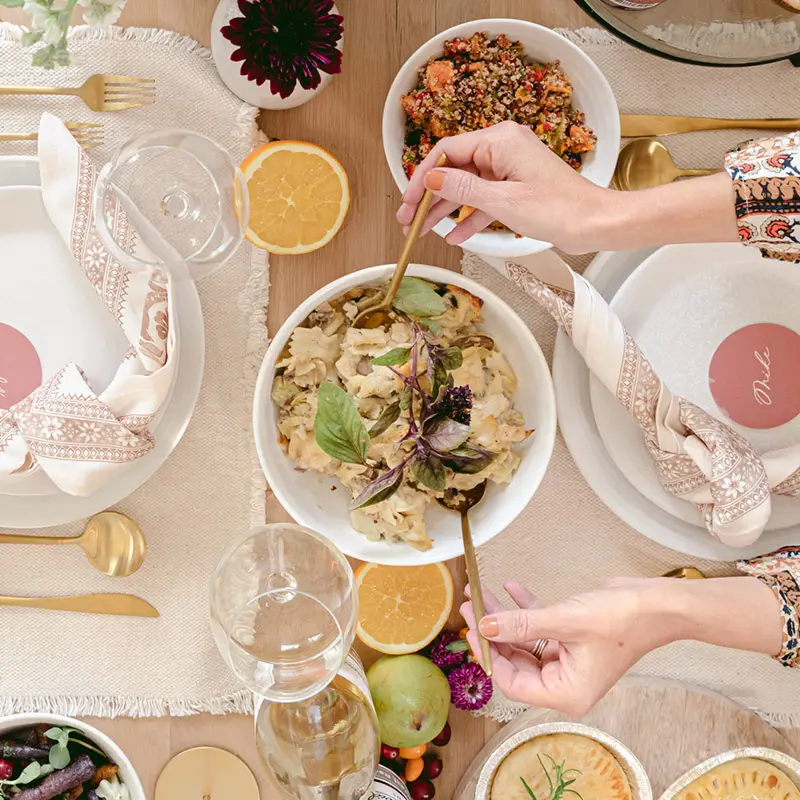 Make sure the playlist matches the mood for the night. Choose low-tempo, mellow tunes so the music doesn't interrupt the conversations. A playlist consisting of a well-curated blend of contemporary and soulful tracks is perfect for background ambiance. If you're feeling especially creative, try building your own playlist with your guest of honor's favorite songs.
4. Keep the food simple
For a truly stress-free night, have the dinner catered. Instead of doing all the cooking yourself, just order and heat up tortellini with spinach and sun-dried tomatoes. Pair it with a fresh side or radish salad for a well-rounded offering.
For after dinner, a cheesecake party wheel lets your guests enjoy four varieties of a classic dessert. Another slightly more whimsical — but no less decadent — option are cheesecake pops.
To snack on either before or after dinner, set out cheese and fresh fruit. Or bring a touch of elegance to the proceedings with a platter of hot hors d'eurves.
5. Consider wine and food pairings
Wine is a classy touch for birthdays and is easy to pair with most food options (and it allows for toasts!). Ellen Sorensen, merchandising manager for wine at Harry & David, suggests pairing the tortellini with chardonnay, and the salad and fruit with sauvignon blanc. Sparkling wine is the perfect match for the cheesecake dessert, since "the bubble will cut through the richness," Sorensen says.
Not everyone drinks the same thing, though. Offering a few wine options, along with some non-alcoholic choices like sparkling juices or creative mocktails, shows you've gone the extra mile in customizing the night.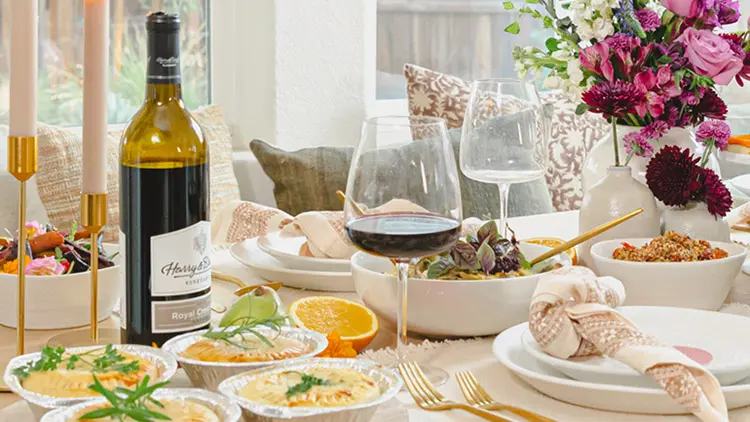 6. Plan after-dinner activities
Even though so much work is put into the meal, dinner usually lasts only about 30 minutes. Once everyone's finished, leave the plates and suggest a move to a new room.
If the weather is nice, take the party outside for some casual after-dinner drinks and merriment. Or keep guests entertained by suggesting playing a board game, singing karaoke, or going on a walk through your neighborhood.