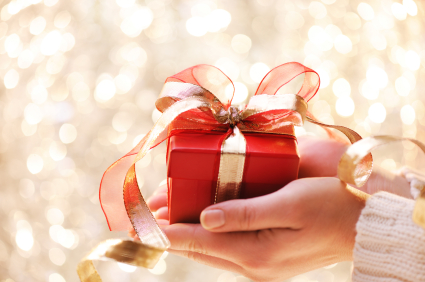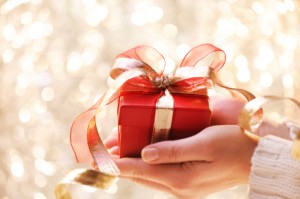 The 2014 holiday season is almost underway, and you know what that means: Your mailbox will soon be overflowing with dinner party invitations! With so many holiday get-togethers penned on your calendar, it's important to get a head start on finding the perfect hospitality gift for your host and/or hostess. Hit the ground running with these festive hostess gift ideas for each holiday of the season, from Thanksgiving to Kwanzaa.
Hostess Gifts for Thanksgiving
Show your hostess how thankful you are to share the holiday with her: Give her a pretty centerpiece to complete her Thanksgiving feast. The a-DOG-able® for Fall is cute as a button and sits in a basket filled with colorful fall leaves, pumpkins and gourds. Your hostess can reuse the basket long after the holiday is over! Speaking of reusable centerpieces, the Pumpkin n' Posies arrangement is a fun, practical gift that your hostess will enjoy for many fall seasons to come. The ceramic pumpkin can be used as a wow-worthy serving dish for desserts and is sure to add a festive touch to any room.
Hostess Gifts for Hanukkah
What better way to celebrate the Festival of Lights than by presenting your hostess with a shimmering Vintage Holiday Wreath? This eye-catching collection of faux pinecones, bronze-colored rosettes, white pine and glittering ornament balls will bring holiday flair to your host's door, which she so graciously opened to her guests! Giving your hostess flowers dressed in the traditional colors of Hanukkah is also a fail-safe way to show her gratitude for thinking of you during the holidays. The All Wrapped Up arrangement of white lilies, blue delphinium, gypophilia and variegated pittosporum—all swathed in a decorative blue ribbon—will bring festive charm to your host's home throughout all eight nights of Hanukkah.
Hostess Gifts for Christmas
Show appreciation to your hostess by helping her set the merry mood! This Fragrant Rosemary and Bright Tree will fill the air with the fresh scent of Christmas, and its sprigs can be used to garnish any Yuletide dish. Deck your gift with multicolored ornaments and you have a mini Christmas tree that your host can display anywhere in her home. Or, bring the soft, Christmas-y glow of candles to your host's table with the Seasonal Woodwick Candle personalized with a special message or your hosts's surname. Whichever gift you choose, she'll be sure to get the message that she's the perfect ho- ho- hostess!
Hostess Gifts for Kwanzaa
This Kwanzaa, honor your host's African heritage with a symbolic gift that harks back to their roots. A living work of art, the Green Mound Juniper Bonsai inspires creativity—one of the seven principles of the holiday—all year long. Or,
add to your hostess's bounty with Harry & David's Orchard Gift Basket. This basket holds Royal Riviera® Pears, seasonal apples, roasted almonds, a dried fruit mix and double nut granola—delectable essentials for your host's weeklong festivities!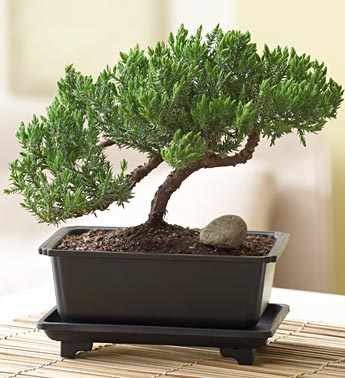 How have your hosts gone above and beyond to make you feel at home during holiday seasons past? How did you thank them?