Our series "Get Crafty" gives you the inspiration for creating inventive DIY projects during the holidays and year-round. Flower expert Jerry Rosalia shows how to make a DIY Mother's Day floral arrangement using a watering can, flowers, and a few other basic materials.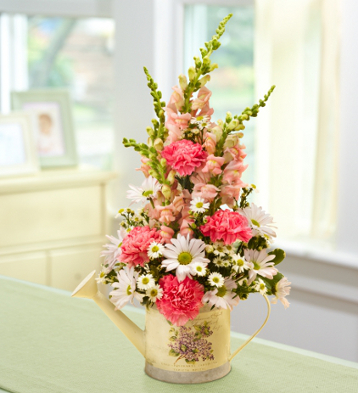 Buying Mother's Day flowers is always a winning gesture, but maybe you want to go the extra mile and attempt to make a beautiful and memorable flower arrangement for mom. If so, you're in luck.
With just a watering can and some of mom's favorite flowers, I will show you how to make an easy, unique, and stunning Mother's Day floral arrangement that any mother will love.
Materials for DIY Mother's Day floral arrangement:
Watering can
Floral foam
Knife or clippers
Water
Mother's Day flowers

We used the following types and quantities:

8 light lavender daisy poms
4 snap dragons
4 carnations
Monte Casino
Variegated pittosporum
Instructions for DIY Mother's Day floral arrangement: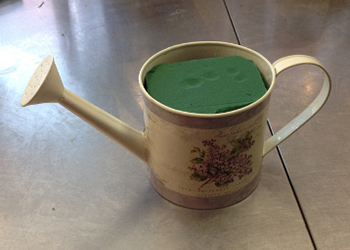 Cut the floral foam to fit in the watering can. Make sure to leave a small space around the edges to add the water.
Pre-soak the floral foam. The best way to do this is to fill a large pot or sink with water and place the foam on the surface until it sinks. This ensures it is saturated with water. Do not push the foam down in the water, as this creates air bubbles.
Carefully place the soaked floral foam in the container.
Place the flowers in the floral foam.
Here's a helpful tip for measuring flowers. Start by placing your container on a counter. Hold the flowers on the counter against the container to help you determine the desired height. Remember: You can always cut stems shorter but NOT grow them longer, so cut carefully! A good rule of thumb for one-sided floral arrangements is to make the height 2 to 2.5 times the height of the container. And don't forget: If you are working with children, you should always provide adult supervision when using sharp objects.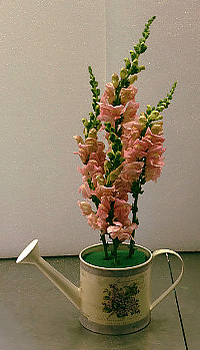 For our floral arrangement, we started with the snapdragons. Place your cut snapdragon into the floral foam. Continue to add the rest of your snapdragons in a diamond or triangle shape.
Next, cut each stem of the carnations (or another flower you choose to use) and add them one by one to the middle of the arrangement in the shape of a diamond. Creating these triangular and diamond shapes helps add density and fullness to your floral arrangement.
Add your daisy poms throughout the design, continuing to keep the triangular shape of your arrangement.
Add the Monte Casino throughout the arrangement to fill any bare areas.
Add your filler, continuing to fill bare areas with your greens.
Give your Mother's Day floral masterpiece to mom and watch her face light up at your thoughtful and beautiful handmade gift!