Create a Mother's Day Gift Using Flowers & A Reusable Watering Can!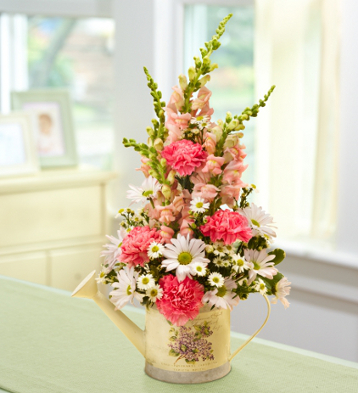 Mother's Day 2014 is Sunday, May 11th!
Buying Mother's Day flowers is always a winning gift, but if you're interested in attempting to make a flower arrangement for mom, you're in luck because I'm going to show you how!
With just a watering can and some of mom's favorite flowers, you can make an easy, unique and beautiful Mother's Day floral arrangement that any mother will love!
Materials Needed for DIY Mother's Day Floral Arrangement:
Watering can
Floral foam
Knife or clippers to cut flower stems and floral foam
Water
Mother's Day flowers from your local florist.

Flowers we used for our floral arrangement includes:

8 Light lavender daisy poms
4 snap dragons
4 carnations
Monte casino
Variegated pittosporum
8 Easy Steps on How to Make a DIY Mother's Day Floral Arrangement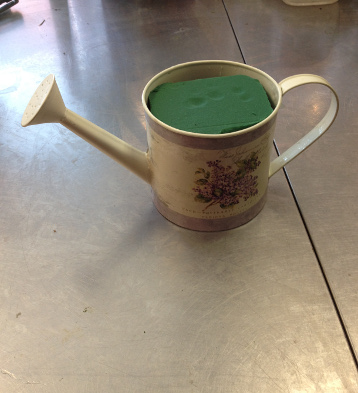 Cut the floral foam to fit in the watering can.  Make sure to leave a small space in the back, so you're able to add water.
Pre-soak the floral foam next and carefully place the resized pre-soaked foam into the container. The best way to soak floral foam is to fill a large pot or sink with water and let the foam float until it sinks to ensure it is saturated with water. Do not push the floral foam down in the water as this creates air bubbles.
Now it's time to start placing the flowers in the floral foam!
(a) Helpful Flower Measuring Tip: To measure the height of your flowers, place your container on a counter. Hold up the flower stem using the counter as a guideline to help you determine the desired height. It's important to remember that there are no "stem stretchers," you can always cut stems shorter but NOT grow them longer so cut carefully! A good rule of thumb for one sided floral arrangements is to make the height 2 to 2-1/2 times the height of the container. All children should have parental supervision while using sharp objects.
(b) For our floral arrangement, we started with the snapdragons. Place your cut snapdragon into the floral foam. Continue to add the rest of your snapdragons in a diamond or triangle shape.

Next add your carnations. After cutting each stem, add the carnations or other flowers, one-by-one in the middle of the arrangement in the shape of a diamond. Creating these triangular and diamond shapes helps add density and fullness to your floral arrangement.
Continue to keep the triangular shape of your arrangement and add your daisy poms throughout the design.
Next we added the monte casino by scattering them throughout the arrangement to fill any bare flower areas.
Lastly we added our filler. Continue to fill bare areas with your greens.  We used variegated pittosporum.
Give your Mother's Day floral masterpiece to mom and watch her face light up at your thoughtful and beautiful handmade gift!
I would love to hear your feedback if you were able to try this arrangement and would be happy to answer any questions you may have!
Happy Mother's Day and Happy Flower Designing!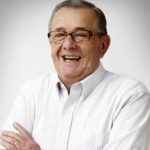 If you liked this article, you may also be interested in some of our other Petal Talk articles from 1-800-FLOWERS.COM Expert Jerry Rosalia: