Throughout the years, Dad has graciously given you some of the best gifts in existence. He sacrificed early weekend mornings teaching you how to ride a bicycle. He took on the responsibility of family camera man to make sure he captured life's most precious moments and memories. Though intangible, the gifts dear ol' Dad has given you throughout the years are unforgettable, irreplaceable, and proof of Dad's unrelenting affection.
This year, pair your Father's Day gifts with an activity or sentiment that can't quite fit in a box, but will make his Father's Day one he'll never forget.
Outside-the-Box Father's Day Gift Ideas:
Cook a Homemade Dinner:
Cater the Father's Day menu to Dad's unique tastes and personality. Is he known for his love of lobster or steak? Or, if your father grew up in a foreign country, why not put together a meal filled with his favorite childhood dishes, for the perfect blend of food, fun, and nostalgia.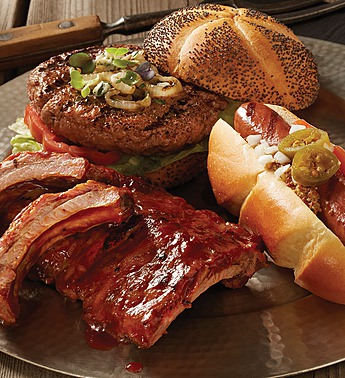 Take Him to a Sporting Event:
Pack a picnic basket full of snacks and take Dad to a local sporting event! Pick up a foam finger or two and really get into the spirit as Dad enjoys this unique family outing.

Reminisce with Home Videos:
Set up a table filled with Dad's favorite snacks and invite the whole family for a home video viewing session. You can play old family videos or just videos of Dad's childhood if they are readily available. Keep in mind the format in which these videos are on, and be sure to have the appropriate tools or cables to allow for streaming. If you really want to make it an extra special gift, why not convert all old videos to DVD or Blu-ray? A gift that will last a lifetime!

Make Multi-Generational Memories:
Invite Dad's own father, brothers, and uncles to mark this occasion with a celebration that includes the whole extended family! Be sure to take a photo of this family reunion, especially one of all of the Dads posing together. Then, use that photo to create your own photo card to share with the whole family.

Plant a Tree in Dad's Honor:
Immortalize Dad's memory by planting a tree in his name. Whether in the yard or in a local park (make sure you receive the proper permits), the tree will grow from a seedling to a towering symbol of Dad's achievements for future generations to enjoy.