We all know that wine pairs wonderfully with chocolate, fruit, and a lot of other things that taste delicious. But have you ever thought about pairing wine with flowers? The scents, colors, and texture of certain flowers perfectly complement a bottle of wine. And, when combined, the two make a splendid, personalized housewarming, anniversary, or birthday gift.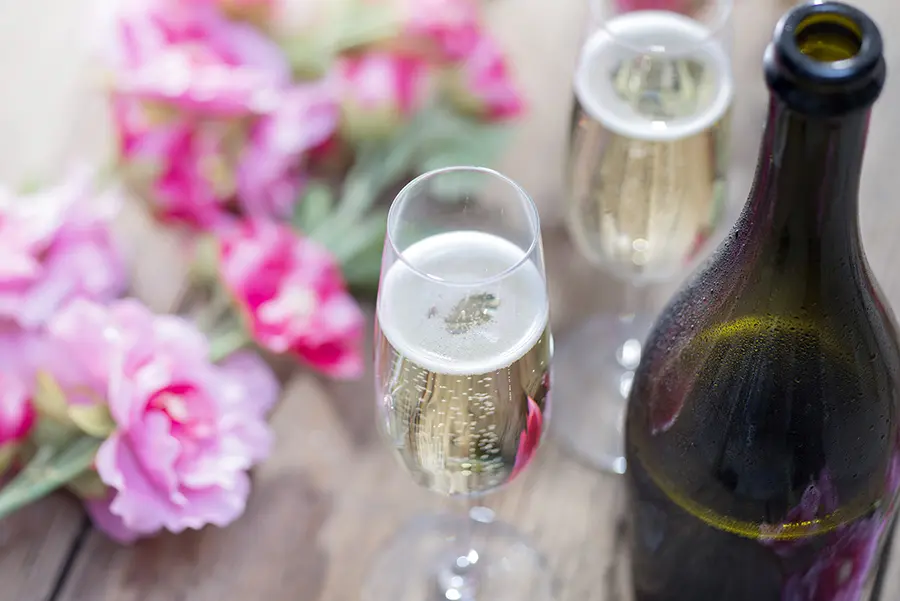 Blanc du Bois: Complement the delicate taste and yellow coloring of Blanc du Bois with a sunny bouquet of yellow daisies.
Cabernet sauvignon: These traditionally dark red bottles look beautiful alongside a bouquet of deep red roses. Or, contrast their saturated coloring with a bouquet of white roses.
Champagne: Known for their elegant nature, white lilies perfectly complement a sophisticated and celebratory glass of champagne.
Chardonnay: The exquisite shape of white orchids brings out the simple elegance of chardonnay.
Chenin blanc: Add a pop of color to this traditionally white wine by combining it with a mixed bouquet.
Merlot: For a truly show-stopping look, pair a dark red bottle of merlot with any of these popular black flowers.
Orange muscat: No choice is more perfect for orange muscat than dazzling orange lilies and roses.
Pinot noir: Match the red coloring of pinot noir with flowers of another complementary color, such as blue hydrangeas.
Port: Complement the deep red hues of this wine with poinsettias.
Riesling: Both classics, riesling and tulips are a timeless, effortless pairing.
Sauvignon blanc: White will always remain cool, crisp, and elegant. Match your favorite bottle of sauvignon blanc with an exquisite bouquet of white roses.
Syrah: Made from red grapes, this wine matches the intensity of deep red carnations beautifully.
Viognier: Dazzle viognier lovers with their favorite bottle and a bouquet of luminous sunflowers.
Zinfandel: An arrangement of mixed red flowers visually represents the many unique flavors of Zinfandel.