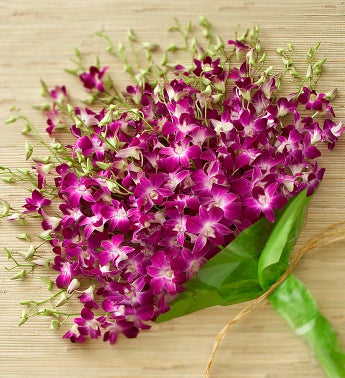 In the past few years we've seen the popularity of orchids, both potted and cut, skyrocket! It's now one of the most popular flowers that we carry at 1-800 Flowers. Orchids are simple and pure with an air of sophistication and elegance. And because of their long shelf life as a cut flower, they're also a very good value.
The dendrobium and the cymbidium orchids are two of the more widely recognized varieties. Growing in popularity are the Vandas and Mokaras. Each has its own special qualities and can be displayed and enjoyed in so many different and exciting ways!

DENDROBIUM ORCHIDS
A symbol of wisdom and beauty, the dendrobium is native to Asia, Australia and the Pacific Islands. On the beautiful islands of Hawaii, they're often used to make leis, which people wear as a symbol of love, friendship, celebration, honor—or as a way to greet visitors.
Making a floral lei from dendrobium orchids is extremely easy and is a wonderful and unexpected way to honor someone for a special achievement or just to let them know how special they are.  Watch my video to see just how easy it is to do.
CYMBIDIUM ORCHIDS
A symbol of strength and nobility.
VANDA ORCHIDS
The Vanda is considered to be the most highly evolved of all orchids and is very highly prized for its showy, fragrant, long-lasting and intensely colorful flowers.
MOKARA ORCHIDS
The Mokara orchid is a hybrid orchid, a cross between the Arachnis, Ascocentrum and Vanda families. Like their parents, Mokara orchids come in a variety of vibrant colors.