Amongst the chaos of the COVID-19 pandemic, there is still room for celebration. All across the country, the class of 2020 is graduating! Many graduations have been moved to online platforms so that the accomplishments of high school and college graduates can be recognized – even if it is from your own living room. If it's a daughter, son, cousin, or friend graduating, join in on the fun with these tips for a virtual graduation extravaganza!

Zoom Party
Zoom isn't just for business meetings! Spend some time holding a Zoom Party for your graduate with all your friends and family. It is a great way to be able to get some social interaction into the day while in quarantine, and a great surprise for your graduate! It has been trendy to also include some sort of dress code or background for the zoom party so it feels like a real occasion. Some themes we've been loving are Roaring Twenties, Throwback Thursday, and Black Tie! It's a party fitting for the tech-savvy Gen Z.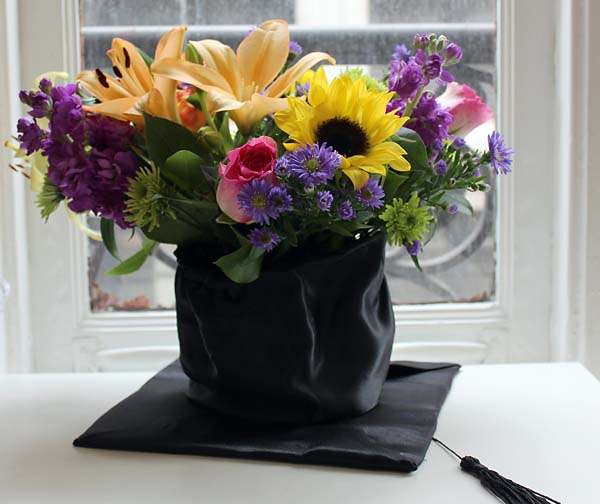 Send A Gift
As year-end traditions are being challenged, send a classic congratulations gift for the grad like! Simply send a gift straight to their door to let them know that you are proud of their momentous occasion. Deliveries are contactless so it is a great option to adhere to social distancing measures while still putting a smile on their face. These are some of our favorite gifts:
Vibrant Floral Medley™ for Graduation
Celebrate your grad with a bright, beautiful bouquet fitting for the spring season! The Vibrant Floral Medley showcases an arrangement of blooms in cheerful pops of orange, pink and yellow, with plenty of lush greenery mixed in. It is the perfect graduation bouquet to show them how proud you are of their big achievement.
Star Graduate™ Dipped Strawberries
Know a grad with a sweet tooth? These graduation themed chocolate-dipped strawberries say congratulations in the most delicious way. Our scrumptious strawberries are dipped in rich chocolate and hand-decorated in a white chocolate drizzle, four of them displaying the numbers 2-0-2-0. The only thing wrong with these is they look too good to eat!
Way To Go Grad™ Fruit Bouquet
Stand out with a unique bouquet for your grad with the Way To Go Grad Fruit Bouquet. Fresh strawberries, pineapple, oranges, grapes, and melon dipped in decadent milk chocolate and white chocolate drizzle – our mouth is watering just thinking about it! Decorated with specially cut fruits that say "#2020" and a Congrats Grad balloon, it's a gift they'll never forget.
Brunch at Home
Normally you get to go out to eat to celebrate after graduation, but you can still make the day special with a showstopper meal at home or delivered from your favorite local restaurant! Eggs, pancakes, fruits, mimosas we can go on and on! Making a special meal for your grad with their favorite foods is a personal way to celebrate their big day with them specifically in mind.
Virtual graduations don't have to be dull – make it unique instead! You may even want to keep some of these events as a new tradition for graduations.
Congratulations to the Class of 2020!