Believe it or not, autumn is already here, and that means it's time to start getting into the spirit of the season. In addition to partaking in traditional fall activities, such as apple and pumpkin picking, a popular thing to do is spice up the home with fall decor. However, pumpkin-scented candles, garland-like leaves, and spooky lights aren't the only items you can use to spread your love for the season in your home — flowers can be, too!
Here are some of the best fall colors and schemes to use when choosing flowers as your fall home decor of choice.
Orange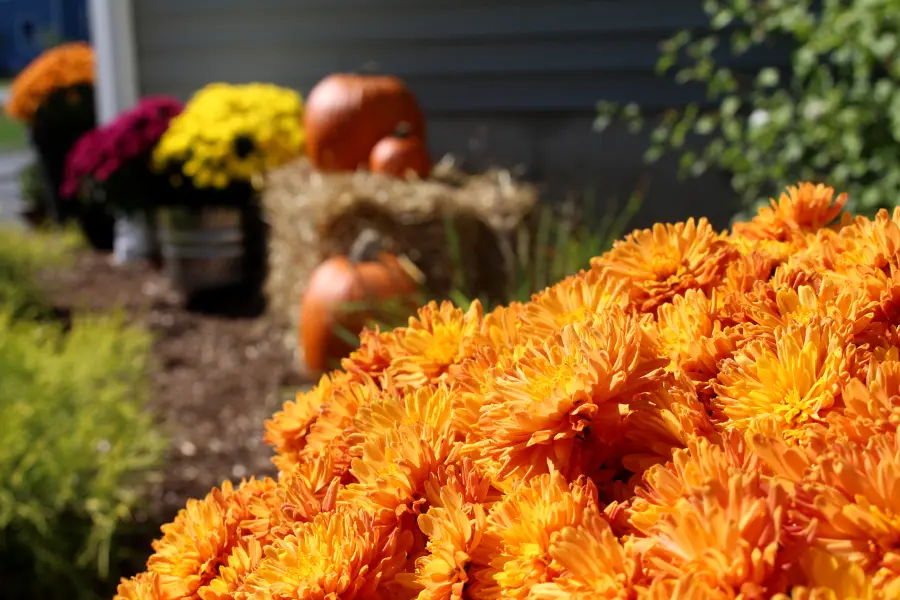 Though autumn leaves come in various shades of yellows, reds, and even the occasional browns, the best color to use when decorating for fall with flowers is orange. From light to dark and everything in between, you can't go wrong with this color in a floral arrangement. Here are some top shades of orange:
'Pumpkin' orange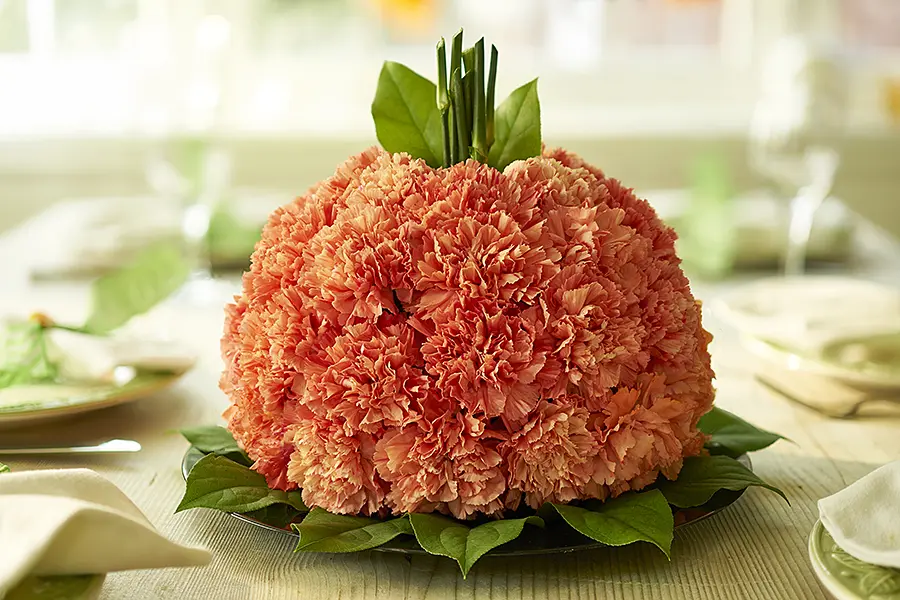 One of the first things that comes to mind when we think of autumn and the color orange is a pumpkin. After all, it is one of the primary symbols of the season — and an orange one at that! If you're not sure which shade of orange to choose for your fall decor, rest assured that anything resembling a pumpkin's natural color is sure to work well.
Butternut orange
Looking for something just a tad darker? Then you may benefit from flowers that are butternut orange in color. While they may not be as vibrant as an orange autumn rose or pot of mums, flowers in this shade can still fulfill the "orange" portion of your decor without straying too far from the desired color scheme.
Burnt orange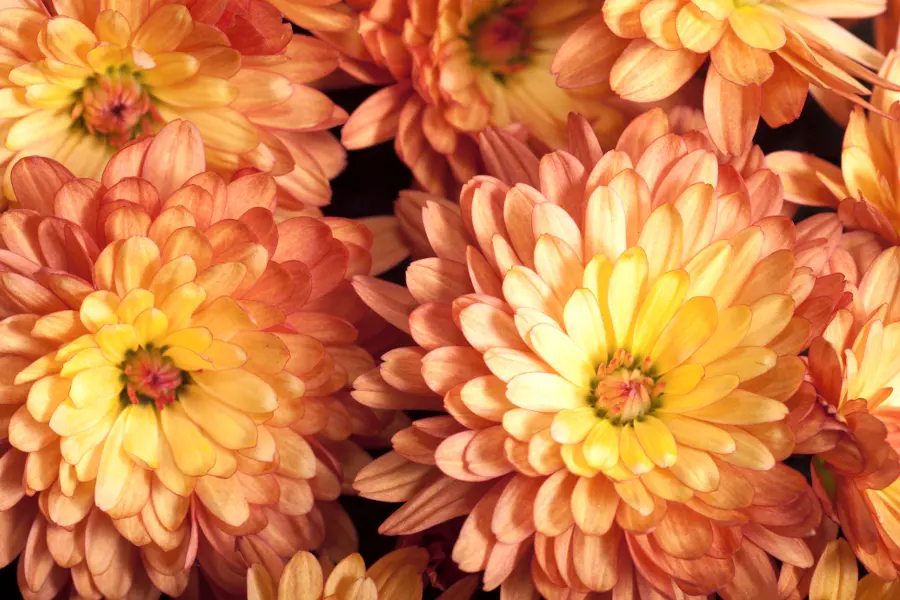 Hoping to add a bit of a rustic feel to your home this fall? If so, consider flowers that come in one of the darkest shades of orange — burnt orange. But don't worry, using this color won't make your home seem dreary; in fact, it can even make your brighter yellows and reds pop more than they already do.
---

---
If you're looking outside the orange spectrum, consider choosing from the following colors.
Rust
Can't decide between more red or more orange? Try rust! A color that conveys a little of both, this is a great choice for any fall floral decor. Tip: You may find it mixes with golds and browns best.
Bronze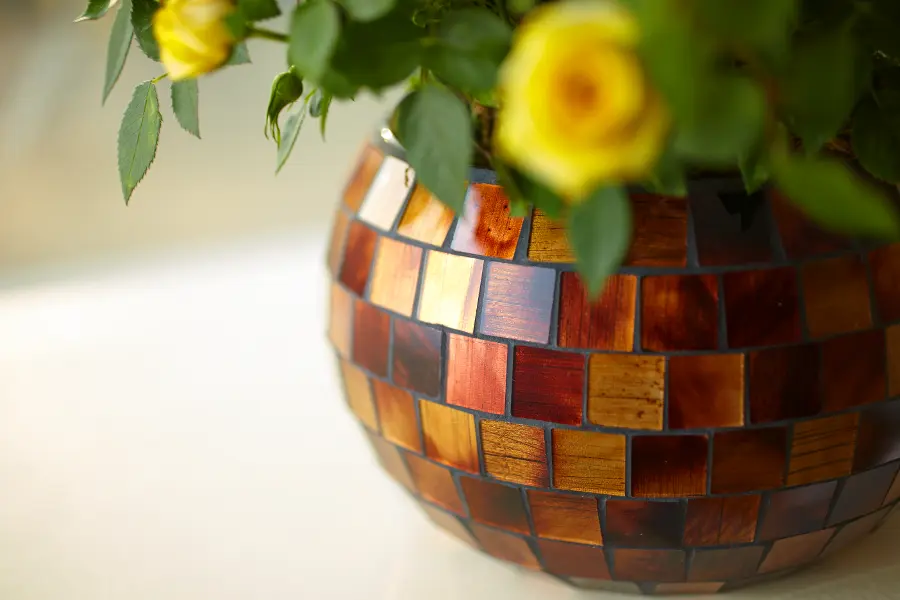 Bronze is the perfect color if you want to make your home appear calm. And the best part is, this color isn't too bright or too dark, so it's an excellent happy medium that can complement the rest of your floral arrangements.
Burgundy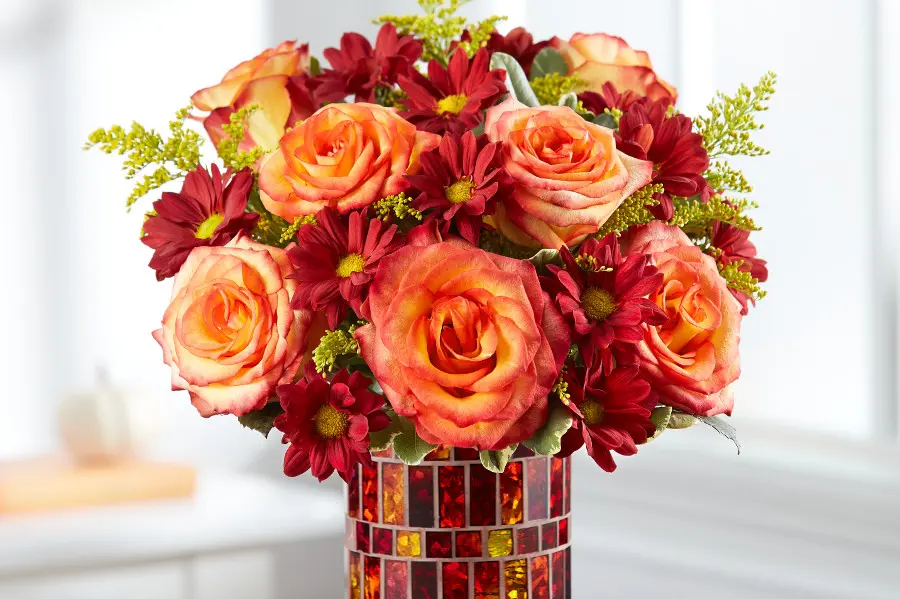 On the border of red and purple, burgundy is an awesome color to add to your floral decor. Although it is a bit darker than the bright red roses you may be considering, it can add a soothing touch to your home.
Plum
Straying from the typical oranges, reds, and yellows is plum. Although this may not be an obvious fall color, you'd be surprised at how good it looks when paired with other autumn hues. Peep this arrangement and see for yourself!
We've covered the recommended colors and color combos for fall, but which ones should be avoided this time of year? While pink is the perfect choice for an anniversary arrangement or the welcoming of a new baby girl, your best bet when it comes to fall home decor is to stick with traditional autumn colors. However, if you do have the need for an anniversary gift or another special occasion this season where pink is usually the top pick, you could find success with one of the above fall colors, too.
Fall colors bonus tip
If you have yet to decide which flowers you'll use to make your home cozy and warm this fall, keep in mind that the best flowers to use are mums, lilies, roses, and wheat. And just like you should try to avoid using spring colors to make your fall decor stand out, stay away from spring flowers such as tulips, irises, and peonies when putting together a floral arrangement to decorate your home.