Graduation is a joyous event of hope and celebration. It is marked by caps and gowns, colorful tassels, and an armful of fresh flowers for graduation that symbolize achievement and optimism. Acknowledging a college or high school graduate for this wonderful accomplishment with a special gift is a gesture that he or she will truly appreciate.
You'll want your gift to be both meaningful and personal to your favorite grad, and for this you have many options. Whether you plan to say "Congratulations!" before, during, or after the graduation ceremony will help determine which bouquet or gift might be best. Here are four questions to consider.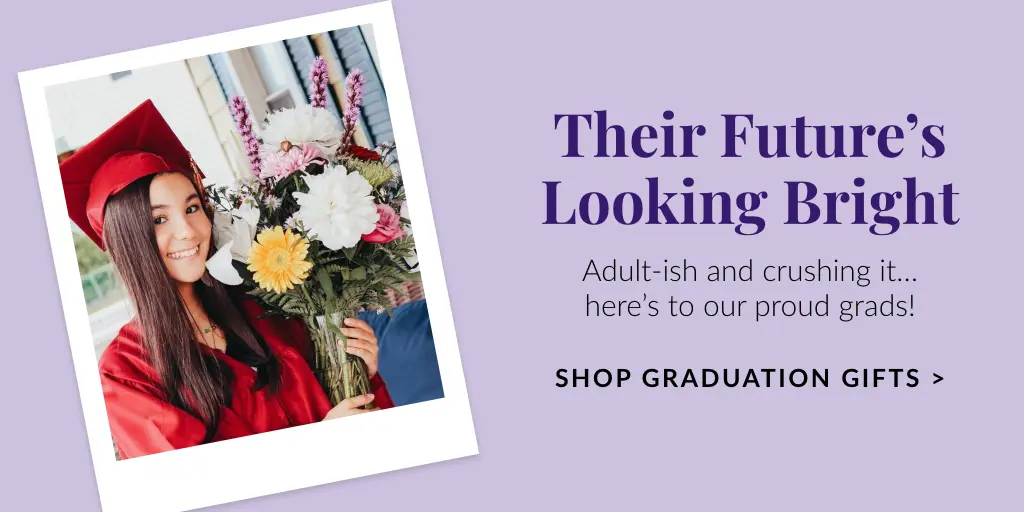 1. Will you be attending the graduation?
If you will be greeting the graduate after the ceremony, be prepared with anything from a spray of white roses to a sunny mixed bouquet of sunflowers, delphinium, and yellow daisy poms. "Bright and cheerful is always a good choice for congrats," says Jackie Lacey, past president of the American Institute of Floral Designers and director of education and industry relations at the Floriology Institute. "This is a message to both the recipient as well as the season. Sunflowers, field flowers (gerbera daisy, mums, flowers traditionally found in the 'grab and go') are easy to find in so many places."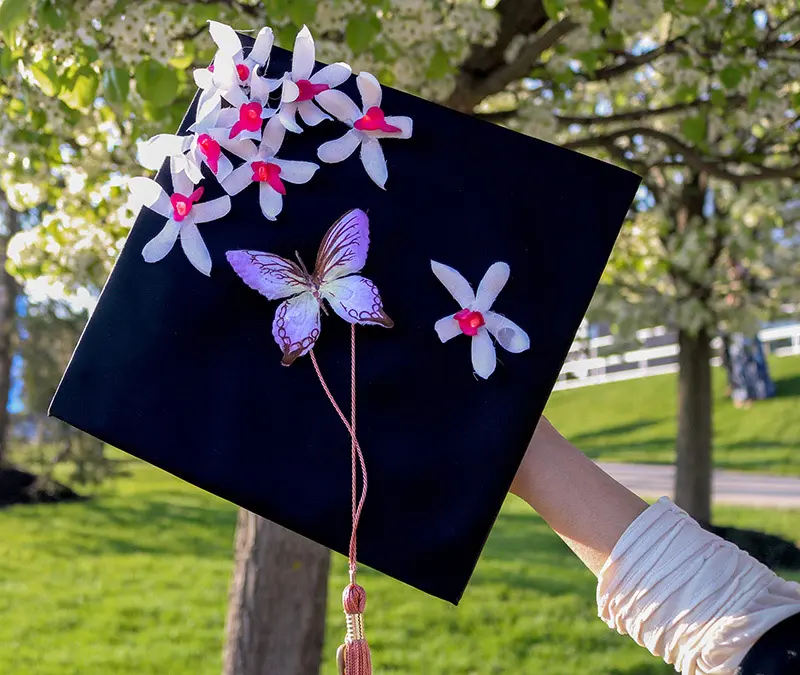 2. What is your relationship to the graduate?
If you are a close friend or family member of the graduate and can prepare a gift ahead of time, consider helping to decorate the cap. This is a popular trend, as it allows graduates to express their joy and creativity to their graduating class and all in attendance. Flower garlands, paper flowers, special messages, comical observations…the possibilities are endless!
3. Is this a college or high school ceremony?
Select your flowers and gifts appropriately for your graduate's age. For instance, a classic bunch of roses, in yellow, red, or sterling, commemorates the college grad with flair, while orchid leis are very popular among high schoolers (and you can make your own for a personal touch).
Is your college graduate a member of a fraternity or sorority? Find out if the Greek organization with which they're affiliated is associated with a particular flower, and include that in your bouquet. You can also add a cute animal gift that reflects the school mascot, such as a bear, tiger, or bulldog.
4. What special message do you want to convey?
Graduation is a life event that is steeped in tradition, and your gift to the graduate can reflect that. Obtaining a bachelor's degree at many universities is marked by special types of flowers with historic meaning. (See the section below titled "Special meanings of plants and flowers.")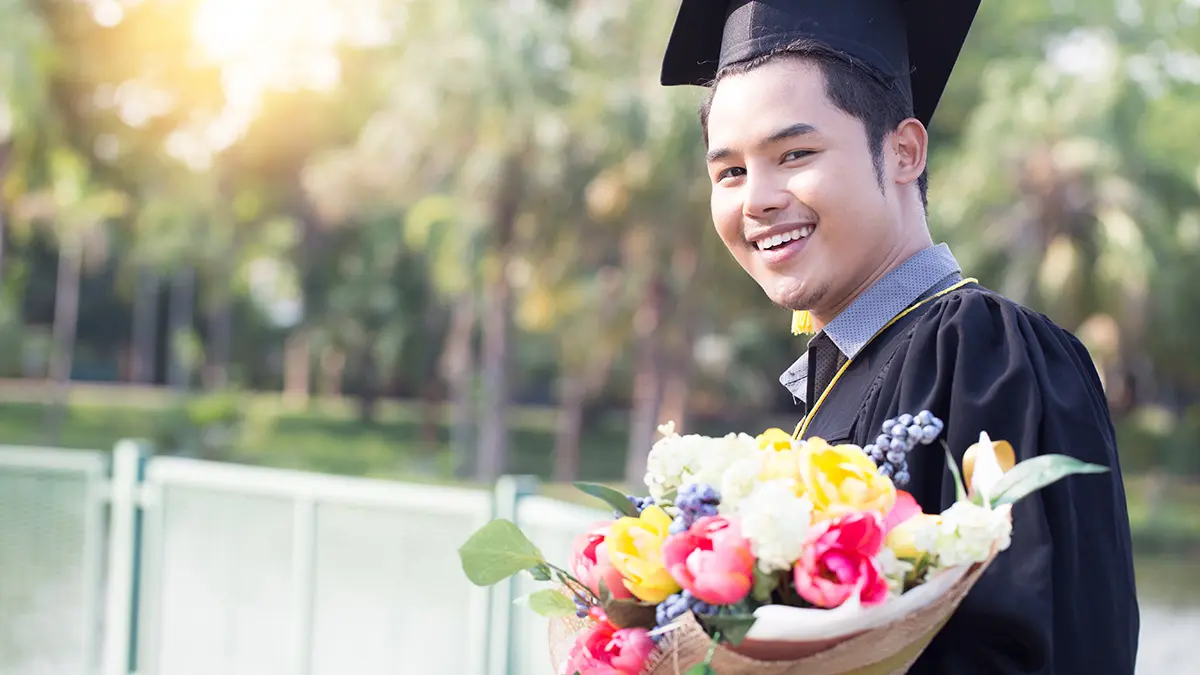 Like many other traditions, however, the rules bend, and even disappear, when it comes to today's grads. "Today's generation is more accepting of the act of giving and not so caught up in the hidden message," Lacey says. "Taking their personal likes, hobbies, career choice, and style into the decision process will let the recipient know some thought was put into the gift."
Your graduate — whether they're going from college to the "real world" or high school to college — is facing a new phase of life. That likely means moving to a new apartment or house, or into a dorm. Consider gifting this person a meaningful lily plant or box of easy-to-maintain succulents that will last.
Ideas for the graduation party
Another way to infuse this special day with flowers is through decorations at the after-party. This event should be relaxed and colorful, and your flower choices should reflect that.
Consider florals for both the tables and as gifts for guests. "Themed centerpieces are a big hit, and flowers to wear means everyone gets a takeaway," Lacey says. Make boutonnieres for each guest using gerbera daisies or carnations, and add a little paper graduation cap.
Create a vignette that is reminiscent of the school experience: books, chalkboards, pencil boxes, cap tassels, and replicas of the school logo are some elements you could incorporate. Then, for each table, create a centerpiece that has a school theme. Here's one idea: Gather vintage books and stack three or four on each table, and then tie them with ribbon, like a present. Place a mason jar on top filled with blooms like hydrangea or sunflowers.
Another idea centers around old-fashioned slates, which evoke the iconic one-room schoolhouse. Glue a dowel on a small chalkboard with the words "You Did It!" or "School's Out," and then place it in a moss-filled basket with floral foam underneath to hold the dowel up. Adorn with greens like ivy and eucalyptus, and stud with carnations.
Of course, food and cake are important to get just right, too. Be sure to include the graduate's favorite foods, and make everything easy to serve and eat — you want fun, not fussy, at this party. A few pretty flowers studding the cake is a nice touch — or serve graduation-themed cookies or cake pops on a raised platter.
Special meanings of plants and flowers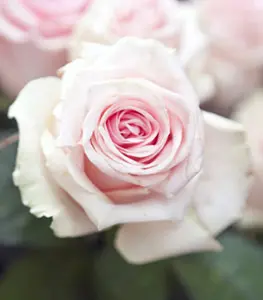 "The Language of Flowers" was promulgated in Victorian times to help people convey meanings in a beautiful way that did not require words. Here are four flowers with assigned meanings that are particularly pertinent at graduation time.
Carnation = Admiration
Bay laurel = Success, personal achievement
Pink rose = Reward of virtue
Clematis = Ingenuity, mental excellence
An arrangement containing one or two of these flowers is a perfect way to say "Congratulations on your remarkable achievement." And, perhaps, you can explain the significance of the flowers in your accompanying card.