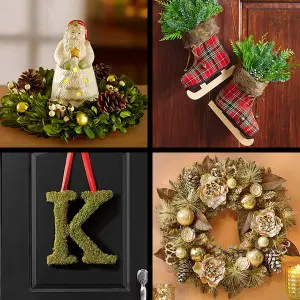 If you're looking for some home décor ideas for the holidays, you've come to the right place! Moving clockwise from the top left, we have:
Santa's Sparkle Centerpiece by Lenox®
This sparkling Lenox® Santa Claus centerpiece glows from an LED light featuring color-changing and pure white light effects to help set a festive holiday mood. Santa is surrounded by a classic boxwood candle ring, adorned with snowberries, pinecones, and shining ornaments adding a charming touch.
Vintage Holiday Skates
We've put a modern spin on a nostalgic holiday classic. Our charming pair of vintage decorative ice skates is decked in plaid, trimmed with fur and filled with two fresh, fragrant evergreen bunches—noble fir, juniper & Western red cedar—for a truly original surprise sure to melt a few hearts (and maybe even break the ice) when delivered to their door or displayed on yours.
Vintage Holiday Faux Wreath – 24"
Bring a golden glow to the holiday décor! This shimmering wreath is crafted from heirloom bronze-colored rosettes, faux pinecones, white pine and glittering ornament balls. A unique keepsake gift that combines vintage style with modern accents, it calls to mind memories of holidays gone by and celebrations yet to come.
Real Simple® Moss Letters
Start a new holiday tradition this year with our personalized fresh moss letters. Each one comes decorated with a festive red ribbon, ready to put a custom touch on your seasonal décor. Available as a single letter, to be used as an initial, or sets of two or three to create a monogram or simple greeting, these unique accents are perfect for displaying on the front door or mantelpiece display, and make wonderful keepsake gifts for housewarmings or a special couple's first Christmas together.
You can check out more holiday gift ideas here!