It's known as the winter rut – the days pass and you realize it's been weeks of going to work, coming home, eating dinner and heading to bed. We know it's hard to plan a fun date night when the thermostat is reading 20 degrees outside, so if you're running out of Valentine's Day date ideas, have no fear! Whether you're the kind of couple that likes to stay in and cuddle or go out and explore the snow covered town, we've got the ultimate guide to keeping that spark lit this season.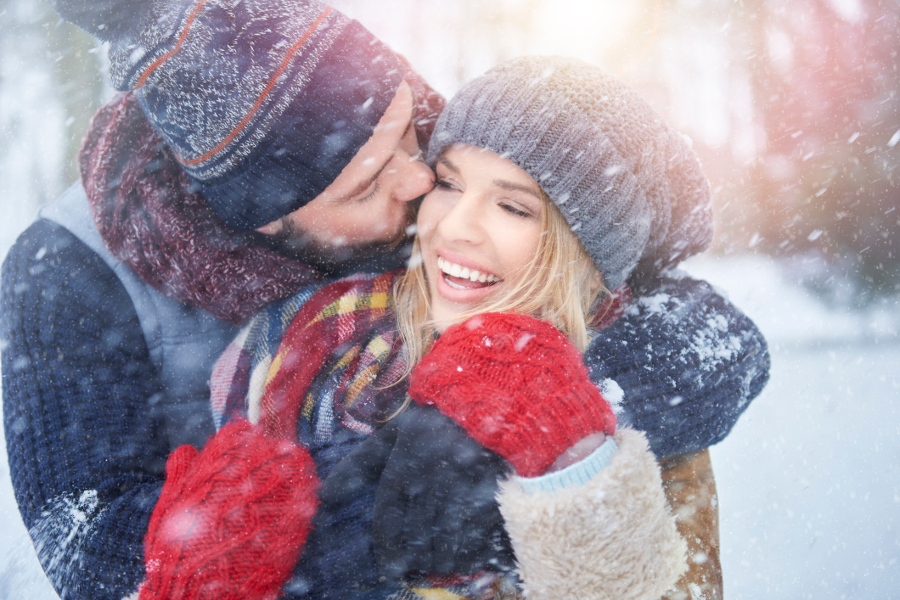 1. Forget 'Fun in the Sun' – Choose 'Fun in the Snow'
Whether you're building a snowman, making a snow angel, or having an old fashioned snowball fight, there are SO many ways to enjoy a snow day date! If you're feeling super adventurous, head to the mountain for some skiing or snowboarding. Or, if that's a little too hardcore for you, grab a sled and spend the day sledding.
2. Stay Warm Cuddled by the Fire
Ditch the couches tonight and throw a blanket on the floor. Spend the night talking about your future together next to a crackling fire. If weather permits, make it an outdoor fire pit complete with s'mores for dessert under the stars!
3. Create Your Own Hot Chocolate Recipes
Whether you go all out and make it from scratch or just throw a few cocoa packets into hot water, spend some electronics-free time together. And remember, the more marshmallows the better!
4. Stay Up Late Watching the Snowfall
Sit on your porch and watch the snow start to cover the ground. Or, keep warm inside and put your favorite music on in the background to help set the mood.
5. Impress Each Other With Your Culinary Skills
Is there a meal you two have been dying to try but just never got around to it? Then, tonight is the night. Find a meal you've always wanted to try and grab all the ingredients before the snow falls. (And remember not to forget the dessert). Check out some of our favorite recipes here! (link to "Make Your Stay at Home Valentine's Special post)
6. Outdoor Photoshoot
You only have a few months to wear all those cute hats, scarves and coats, so you might as well document it. Bonus points if you have a snowy white background! And don't worry about the PDA, these are some of the best moments you have together, so make them count!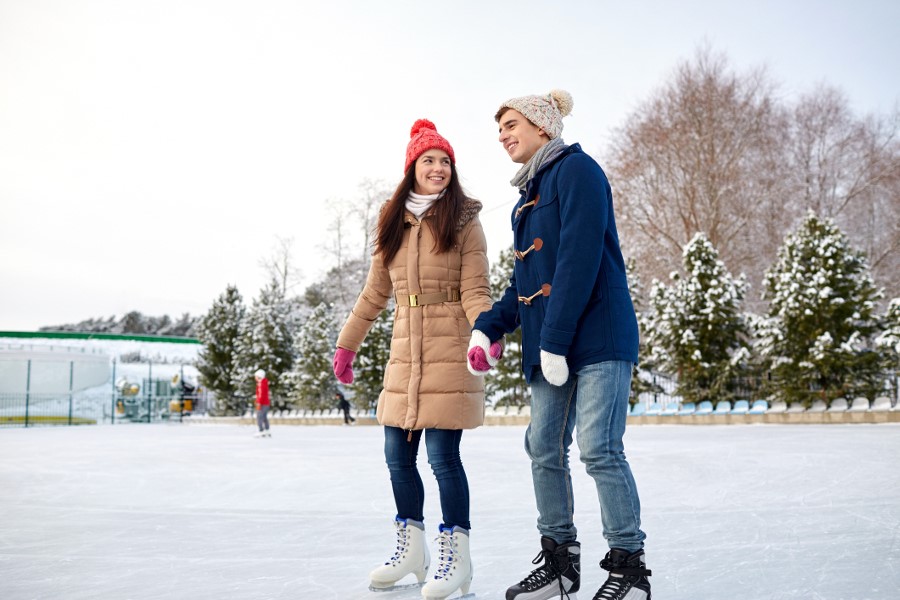 7. Take to the Ice
Embrace the cold by going ice skating. While there are plenty of indoor rinks around, outdoor ones are the best – did someone say "Rockefeller Plaza?" (And what better place to go if you're a little nervous about holding hands for the first time!)
8. Have a Spa Day – Even if you don't go to the Spa
There's no better feeling than slipping into a warm hot tub on a cold winter night. Plus, when was the last time you got to put your bathing suit on in the middle of the winter?
9. Have Some Fun Under the Sun
Got a few vacation days burning a hole in your pocket? It is always going to feel too hectic to leave work, so just go for it and spend a week somewhere under the sun!
10.  Adventures in Snowshoeing
Strap on a few pairs of snowshoes and learn a new activity together! Try walking through nearby parks and explore your town in a whole new light.