Valentine's Day Plants for Him
Have you ever wondered if getting flowers for your guy is acceptable? Well, I'm here to tell you that it is! Here are a few simple tips for choosing the right flowers:
1. For the Sensitive Guy (They DO Exist!): If you're really stuck on the idea of sending flowers, choose a plant instead. It's Valentine's Day, it is okay to get a little sappy, which is why this heart-shaped lucky bamboo will show him that he has your heart. And as an added bonus, it will bring him extra luck, too!
2. For the Modern Man – Why Should Only Ladies Get Flowers?: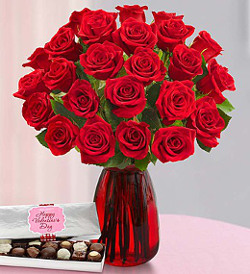 Flowers have been the perfect gift for women, but why not for the modern man!? Just follow some of these manly flower tips: (1) Avoid pastels- Go for bright, bold colors (2) A bright red rose is a symbol of love, respect, and courage and will certainly let your feelings show. Couple it with his favorite sweets and it makes the perfect pair, just like you two! (3) A simple and classic arrangement with no frills is a safe way to go.  (4) "Spruce up" the packaging- Choose a more masculine vase with his favorite sport on it or include some golf balls on the side.
3. For the Exotic Guy- Because your man isn't like any other!: It doesn't matter where your guy is from around the world, it's his personality that makes him exotic. If your man is one of a kind, give him a Cactus Dish Garden to proudly display on his desk. This plant is anything but feminine and shows off his tough side (but you know he's a softie on the inside).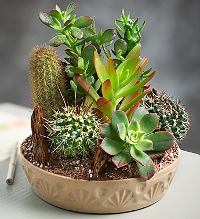 Valentine's Day Flowers For Her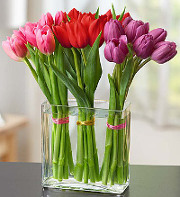 The possibilities are endless when it comes to sending flowers to your love on Valentine's Day. Depending on her personality, you can mix it up this year and surprise her with something she'll really enjoy!
For the modern girl: The tulip symbolizes a perfect lover and comes in many different colors, including romantic red!
For the classic girl: Red roses are the classic symbol of love and are the perfect gift to send to your lover for Valentine's Day.
For the exotic girl: Send an orchid to the beautiful woman in your life as a representation of the love and beauty you see in her every day. Include shimmering jewelry for a dazzling surprise that she'll proudly show off to her friends.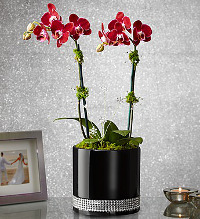 Valentine's Day Flowers For Friends
It was once said that friends are the flowers in the garden of life, beginning with a seed of trust, nurtured with laughter and tears, and growing into loyalty and love. The chrysanthemum is the perfect flower to send to your friends for any occasion- or just because! Representing friendship, respect, and honor, the chrysanthemum flower will remind your friends how important they are to you.
Valentine's Day Flowers For Kids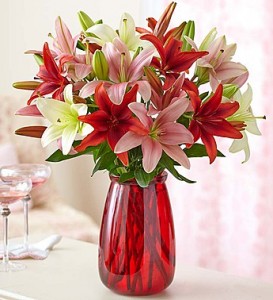 Children are seen as purer versions of ourselves, innocently discovering the world around them, and the lily clearly represents these characteristics. White lilies especially embody the symbolism of purity and chastity. The color white is clean and represents new beginnings, which is also why it's used in weddings and baptisms. Aside from its symbolic representation, the lily is a beautiful flower that comes in a variety of colors and is sure to be a sweet surprise for a child on Valentine's Day!
Valentine's Day Flowers For Your Best Friend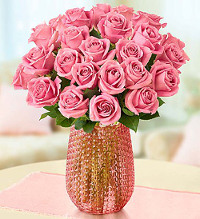 Best friends are there for you through thick and thin and therefore deserve a special kind of gift. Whether you're single or not, a best friend is there to listen to you, laugh with you, be crazy with you, and lend a shoulder to cry on. Pink roses are the symbol of gratitude, appreciation, and admiration- all of the things you want your best friend to know. Whether you're being silly or sweet, a bouquet of pink roses is a way to say "thank you for being there."
Valentine's Day Flowers For Coworkers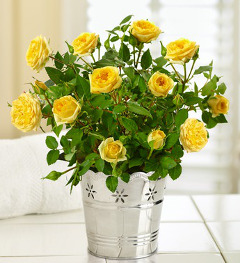 It's likely that you see your coworkers more often than your family and friends. If you want to share some kindness this Valentine's Day to thank them for all of the times you vented to them about your boss, borrowed their sweater when you forgot yours, or for simply being your lunch buddy, a bouquet of yellow roses is the way to go. Yellow roses represent, friendship, joy and good health and aren't overly romantic (because you wouldn't want to be starting office drama now, do you?). Not only do yellow roses represent all the good things in life, but they'll look amazing on your coworker's desk!
Valentine's Day Flowers For Your Spouse
Your spouse has seen you at your best and your worst, even before you said "I do." Whether you've been married for one year or fifty, Valentine's Day is a time to stop and appreciate each other, since we often get caught up in the day-to-day. You have probably realized by now that red roses are not the only acceptable Valentine's Day gift. If you are tired of the same routine and want to do something different, or if you have never been the conventional type to begin with, the primrose is a romantic over-the-top flower for your life-long companion. The primrose is a special flower that says "I can't live without you" which is why it's perfect for the one you truly love.
Valentine's Day Flowers For a New Relationship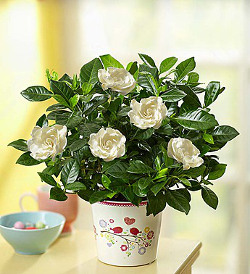 Whether you have read the book or not, everyone knows the story of the secret love between Romeo and Juliet. Whether you have been seeing each other in private or you're just starting to express interest, the gardenia is the flower to send. Not only is the gardenia a beautiful flower, but it smells lovely in any bouquet. Sending a gardenia flower to your crush is an alluring way to get a relationship blossoming without coming on too strong.