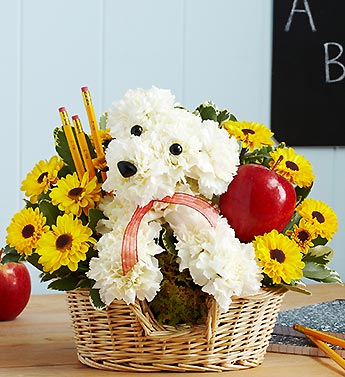 Each day for the past few months, your child's teacher has spent hours patiently instructing, guiding and assisting a classroom full of impressionable children. Whether it's Teacher Appreciation Day or not, you may wonder how to say thank you to your child's favorite teacher. Your gift should express the depth of gratitude that you feel for this teacher's hard work and joyful spirit.
Teachers have very important jobs. Each day they shape the future of our world as they mold the minds of children. Choose a teacher appreciation gift that will touch the heart of your child's teacher whether it is on the first day or last day of school, the teacher's birthday or just because.
Consider Personal Interests
Ask your child if he or she is aware of any of the teacher's personal interests. If a teacher demonstrates a special fondness for gardening, a gardening kit consisting of a pretty watering can, gloves and some seed packets would be appreciated. A teacher who loves to cook might enjoy a basket of unusual spices for use at home. A chocolate-loving teacher would likely savor a box of gourmet chocolates as a special treat. If your child's teacher has an affinity for special kinds of tea, you could create a basket containing a variety of herbal teas, a jar of honey and a CD of relaxing music.
Flowers
Any teacher would appreciate a lovely basket of flowers to dress up the classroom. You may want to buy your child's teacher a special Teacher's Pet flower basket from 1-800-Flowers.com. This basket features an adorable puppy-shaped flower sculpture created from lovely white carnations. The puppy is complete with eyes, a nose and a collar made from satin ribbon. This basket even includes a few bright, yellow pencils as a gift for the teacher. Teachers will love the fresh fragrance and cheerful colors of this playful gift basket.
Classroom Supplies
Most teachers spend at least some of their own money on classroom supplies, such as tissues, hand sanitizer, pens, tape and cleaning wipes. To express your appreciation for your child's teacher, you could give a box of supplies to restock the shelves of the classroom. This will show the teacher that you notice all of the small sacrifices that are made in educating your child.
Gift Certificates
Although gift cards may seem impersonal, your child's teacher would likely appreciate a gift card to a nearby restaurant for an evening out at no cost. A teacher on a tight budget would enjoy a gift certificate for a movie or bookstore as well. Even a five or ten dollar gift card would be welcome.
Scrapbooks
Teachers love gifts that help them bring to mind the memories that they made with their students. If you have access to classroom photographs from parties and field trips, you can use them to create a scrapbook to commemorate the school year. You can make a traditional scrapbook with paper, glue and stickers. Alternately, you can visit a photo website like Shutterfly and create a customized photobook for your child's favorite teacher.
Make a DIY Pencil Vase
A creative and super easy DIY gift if a flower arrangement in a pencil vase! All you need is a bunch of #2 pencils, a rubber band, ribbon, a vase, and some flowers! Put your rubber band around the vase and insert the pencils between the vase and rubber band until the vase is covered. Then, hide the rubber band with a fun ribbon. Add water & flowers to your vase and voila! You have yourself a unique flower arrangement made in less than 10 minutes!
Personal Notes
More than any tangible symbol of appreciation, most teachers just want to know that someone notices the work that they do. You may want to have your child create a small booklet of things that he or she loves about the teacher. You could write a personal note to the teacher detailing the things that he or she has done to help your child and the other children in the class. If you could bring some of the other parents into the plan, you could create a touching collection of keepsakes that a teacher would treasure for a lifetime.
What Not to Buy
Most teachers already have quite a collection of teacher-themed items. Many of these items feature apples, rulers and chalkboards. Although they are cute, most teachers receive plenty of these kinds of gifts. Even though most teachers are pleased and thankful whenever a student brings a gift, to really impress your child's teacher, you should try to choose something unusual and interesting.