Know someone special who is feeling under the weather and could use a pick-me-up?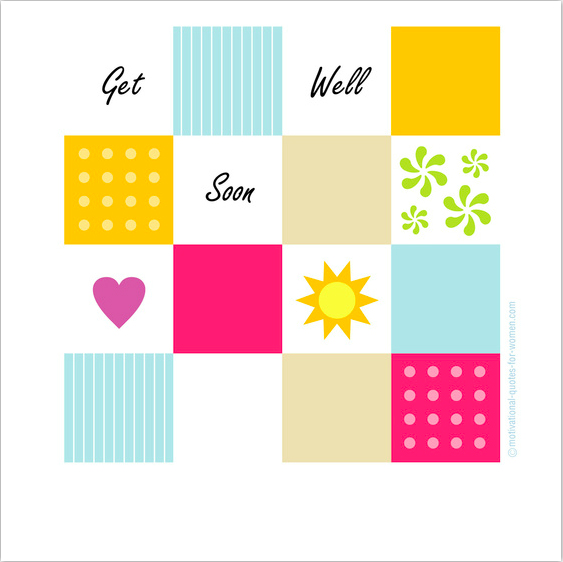 Put a smile on their face and let them know they are on your mind by surprising them with a get well gift. Here are some ideas to help get you started on your way to sending smiles to those who could use them.
Send a Smile Electronically with a Get Well E-Card
Send well wishes instantly to anywhere in the world with a get well e-card delivered straight to their inbox. Celebrations.com has a selection of both free and premium get well e-cards that are the perfect pairing to a bouquet of get well flowers or a batch of get well cookies.
Floral Get Well Gift Ideas
Get Well Bouquets
Flowers add a touch of cheer to any atmosphere, making them a great choice for a get well gift. Whether you know your recipient's favorite flower or not, there is always an appropriate arrangement for every personality.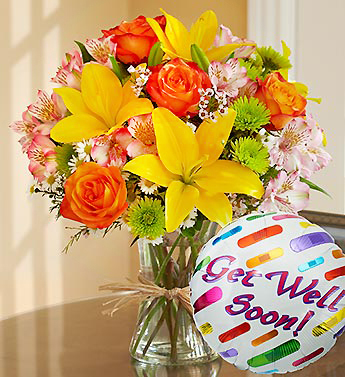 A Cheery Companion for Someone Having a Ruff Time
Alternatively, you can surprise them with a sweet floral pup from the 1-800-Flowers.com a-DOG-able collection. This arrangement is the perfect companion for someone having a ruff time.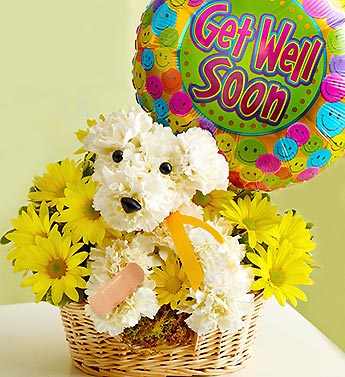 Get Well Food and Beverage Assortments
If you are considering sending food, be sure to read our tips for sending get well gifts below to make sure your surprise snack is appropriate for your recipient.
Warm Their Insides with Soup
Soup is the go-to get well food for many reasons – it warms you up, is simple to make and is easy going down. Since they may not be well enough to make themselves a batch of soup, they'll surely appreciate a ready-to-go meal such as the Soups on Basket from 1-800-Flowers.com.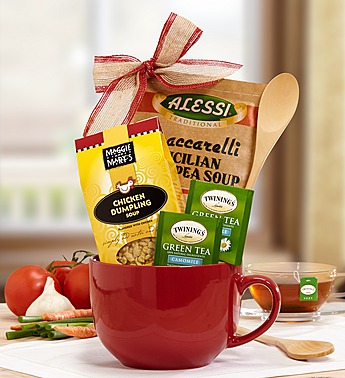 Tea For the Mind and Body
If you prefer to send warm beverages rather than food, tea is highly recommended. The Time to Relax Tea Basket from 1-800-Baskets.com is a great way to give them a reason to relax.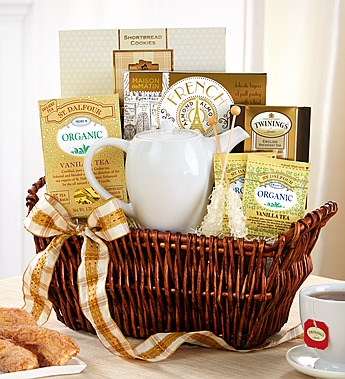 Don't Forget the Entertainment
If you're looking for an all-inclusive basket, the Friend on the Mend Basket from 1-800-Baskets.com is the way to go. This assortment includes not only both a can of classic Chicken Noodle Soup, cookies, and herbal tea, but also a word search puzzle to help occupy them while they are on the mend.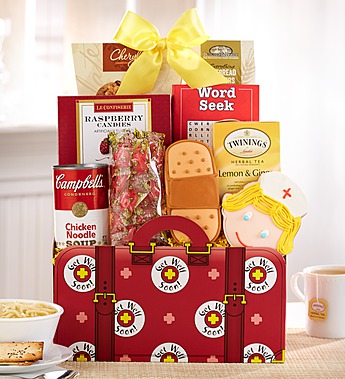 Get Well Gifts to Help Them Relax
Send a Sentiment with a Spa Basket
The stresses of being sick can really take a toll, so remind them to give their mind and body a break by surprising them with a spa basket filled with all they need for a relaxing afternoon. Keep in mind the benefits of certain scents and essential oils – such as lavender to soothe nerves and stomach – when choosing the perfect assortment for your recipient.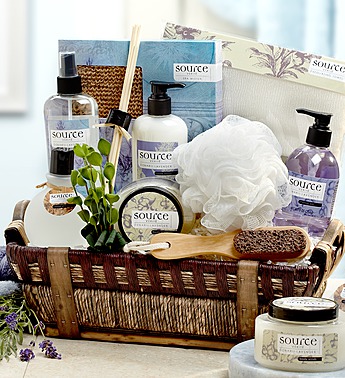 Where Should You Send Get Well Gifts?
If you know someone under the weather at home, of course their home address will suffice. However, there are several locations which may require some further information, such as floor, room number, or even building name. Here are some locations that may require further information:
Hospitals
Nursing Homes
College Dorms
Wellness Centers
Keep in Mind When Sending Get Well Gifts:
Sending Food? Check Dietary Restrictions
When choosing the right get well gift, keep in mind the needs and restrictions of the recipient. If you want to send foods and treats, be sure to take into account any dietary restrictions (such as dairy-free, gluten-free, vegan, etc).
Keep in Mind Supply Restrictions
For example, if you are interested in sending get well flowers to a hospital or nursing home, be aware that there may not be empty vases easily accessible to the recipient. Therefore, you are better off choosing an arrangement that already arrives in a vase. Similarly, if you are looking to send an entire cake, keep in mind that supplies such as cake knives or plates may not be readily available, so you may want to send products that require less prep work and/or maintenance.