Choosing a birthday gift for a best friend should be done with great thought and care. After all, this is your closest pal, your best bud in the whole wide world, so you want to get them something that is reflective of what they mean to you.
Whether you're searching for a classic gift or one that's as unique as they are, a meaningful birthday present — whether it's a bouquet of flowers or charming piece of home décor — will let them know just how much you care.
Why gifting to best friends is important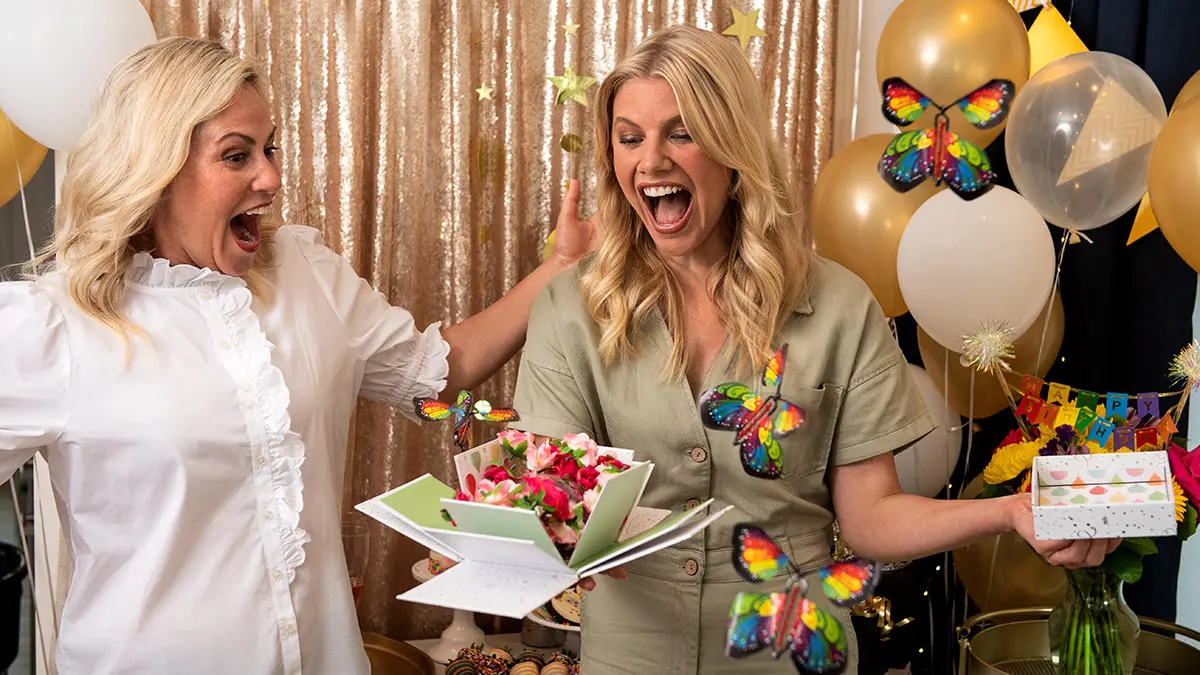 A birthday gift for a best friend is more than just a physical present — it is a symbol of appreciation, love, and friendship that transcends material value. Giving gifts to our dearest friends is a way of showing them that we care about their happiness, well-being, and presence in our lives.
The act of gifting is also a way to strengthen the bond between best friends. It is an opportunity to reminisce on past memories, share laughter and joy, and create new experiences together. Through gifting, we are reminded of the things that make our best friends unique, and are given the chance to show our gratitude for the light they bring into our world.
Furthermore, buying gifts for our best friends serves as an expression of our support and loyalty. It tells the person that we will always be there for them, no matter what life throws their way. Whether it's a small token of appreciation or a grand gesture of love, birthday gifts hold significant meaning and importance in our relationships.
Top 25 birthday gifts for your best friend
When celebrating your best friend's birthday, you want to make sure you get them the best gift possible. To help steer you in the right direction, we put together this list of the top 25 birthday gifts for your best friend that you can order and have delivered straight to their door.
Floral & plant gifts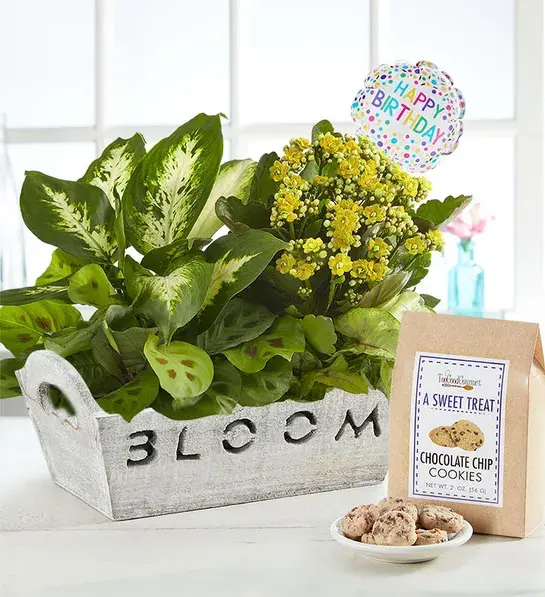 This charming planter is filled with a variety of green plants and comes with a "Happy Birthday" balloon. It's the perfect way to show your best friend how much you care and bring some greenery into their home.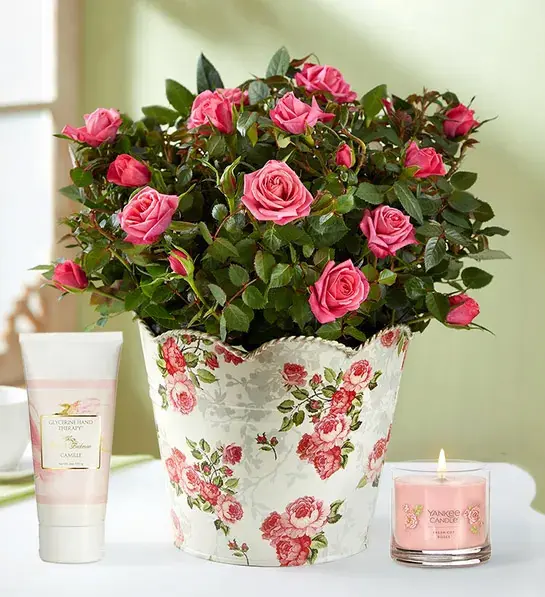 You can't go wrong with a classic rose plant. This elegant gift will last for months, and will remind your friend of your thoughtfulness every time they see it.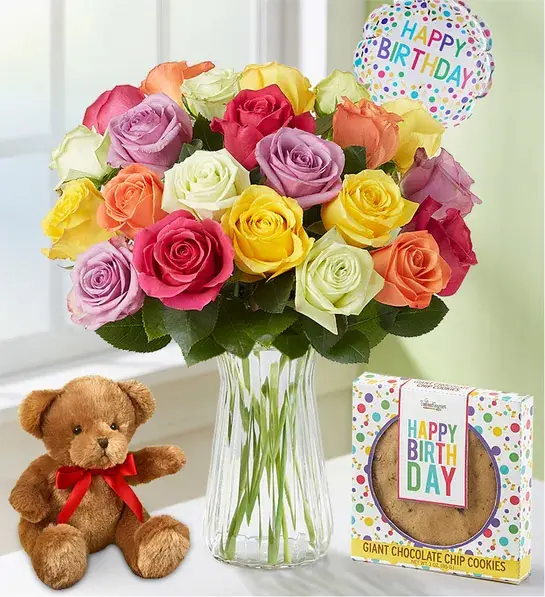 Brighten up your best friend's birthday with a beautiful bouquet of assorted roses. Each flower is hand selected and arranged to create a stunning display that is sure to put a smile on their face.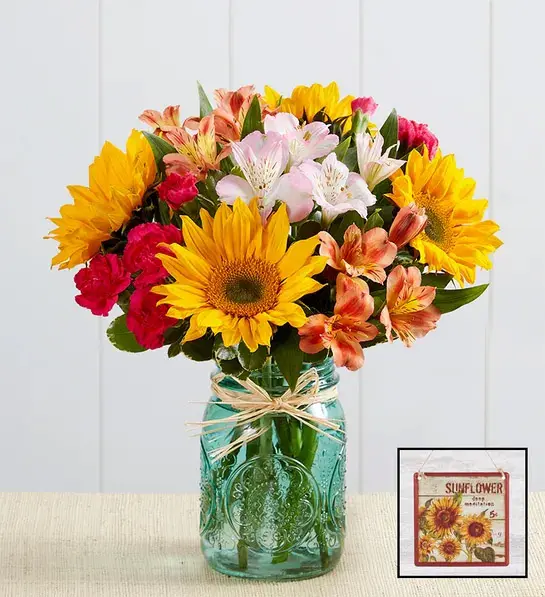 If your best friend loves warm and vibrant colors, this bouquet is the perfect birthday gift for them. With an assortment of orange and yellow blooms, it will conjure up images of a beautiful sunset whenever they look at it.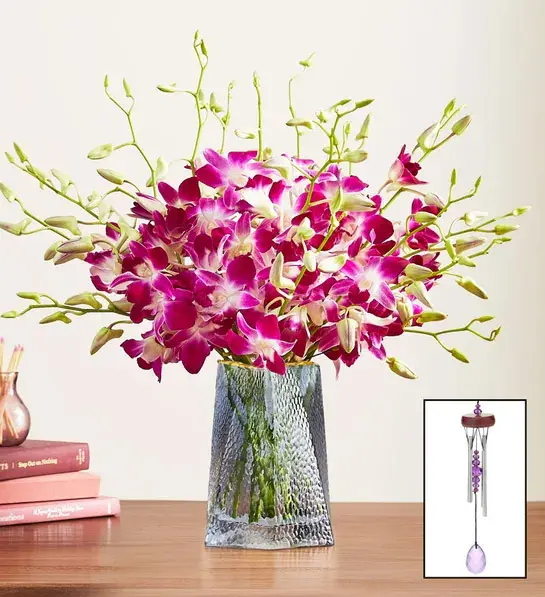 For a more exotic gift, consider a beautiful orchid. This stunning plant comes in a decorative pot and will add a touch of elegance to any space.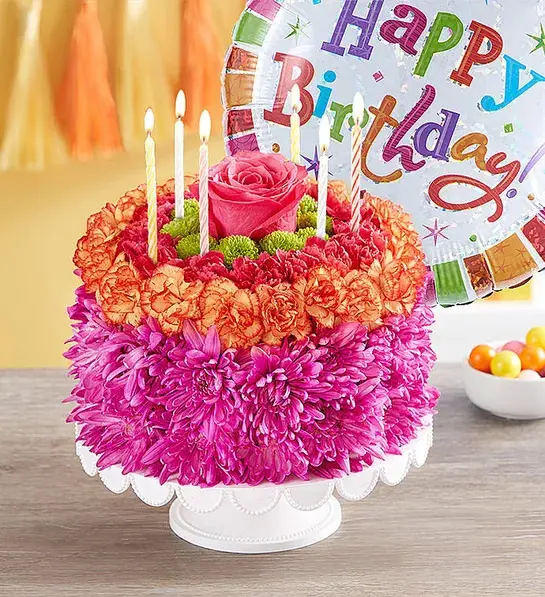 This beautiful flower cake is a unique gift for your best friend's birthday. It features a vibrant mix of colorful flowers arranged to look like a cake — it even has candles on top!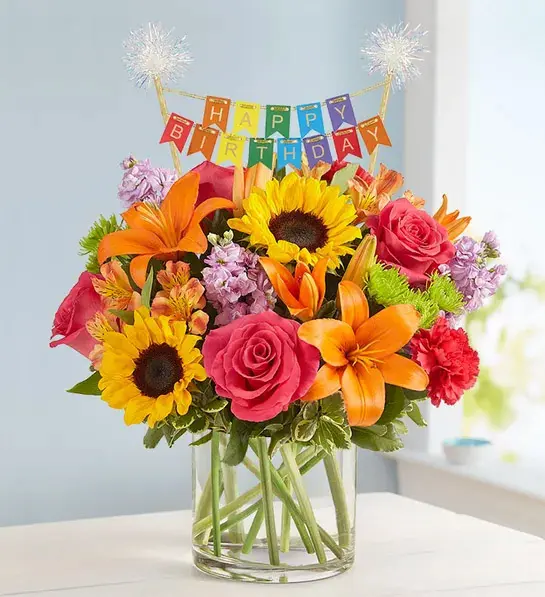 Surprise your best friend with this warm and vibrant flower bouquet. With its bright yellow and orange blooms and joyful banner, it is a great way to add color and sparkle to their birthday celebration.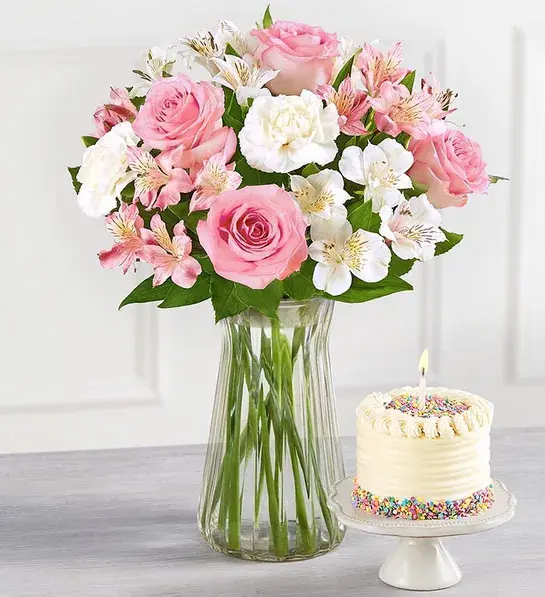 This gift is the perfect pairing of flowers and sweets! Send your bestie a pink and white bouquet, along with a delicious confetti cake, to celebrate their special day.
Fruit gifts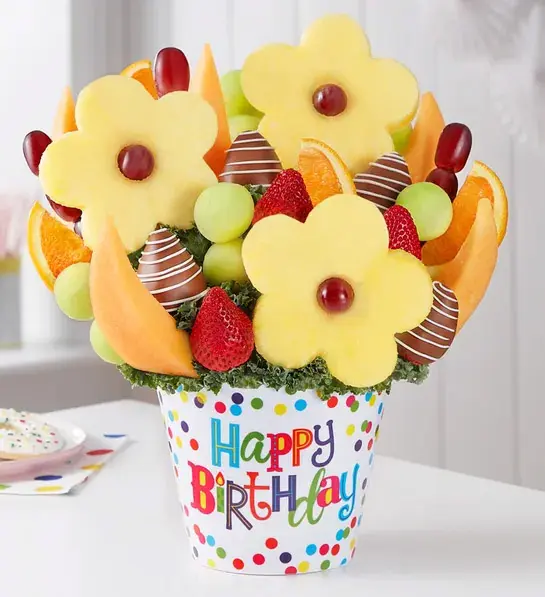 Celebrate your best friend's birthday in a sweet and delicious way with this delightful fruit bouquet. It features a mix of pineapple, strawberries, and juicy melons arranged in a colorful confetti container.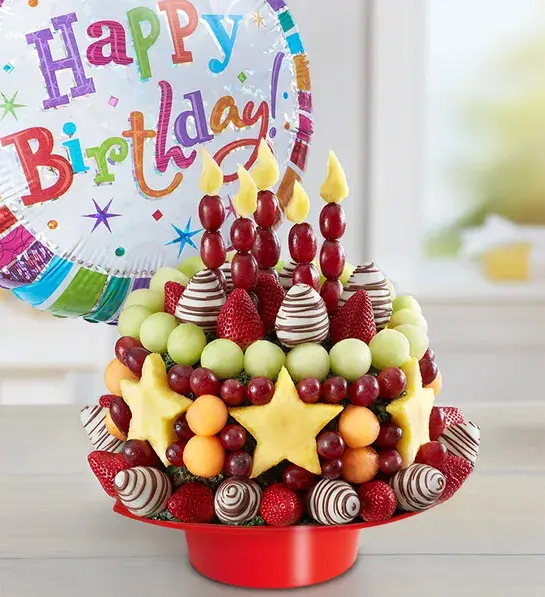 Give your best friend the ultimate birthday surprise with this indulgent cake crafted completely from fruits, including pineapple, honeydew, cantaloupe, strawberries, and more! It's the perfect treat for a friend who prefers their sweets to be of the natural variety.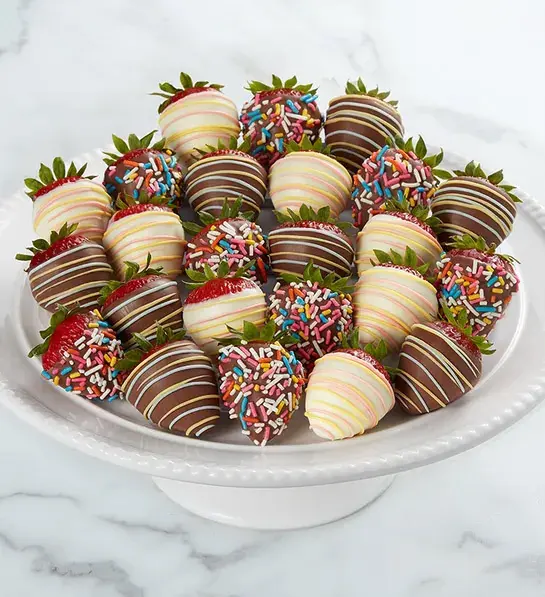 Make your best friend's birthday even sweeter with these delicious hand-dipped strawberries. They are covered in milk or white chocolate and decorated with colorful drizzle for a fun and festive treat.
Food & snack gifts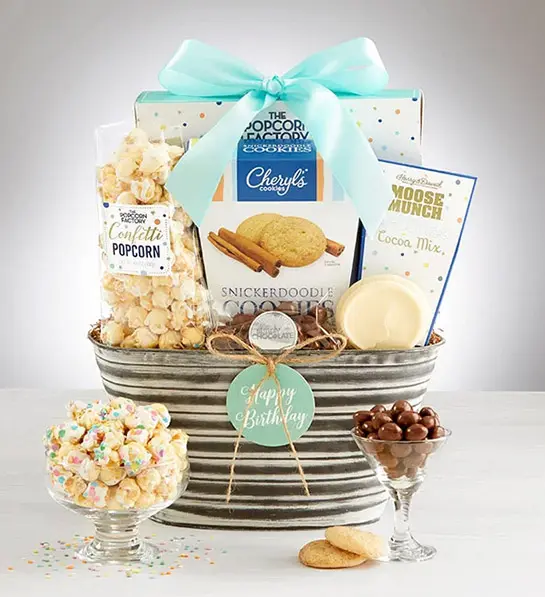 This gift basket is a great choice for that best friend who has an insatiable sweet tooth. It's filled with a variety of goodies, including Harry & David® Moose Munch® cocoa, a confection-covered pretzel, Simply Chocolate® truffles, and more. Plus, the basket comes with a "Happy Birthday" tag to make their day extra memorable.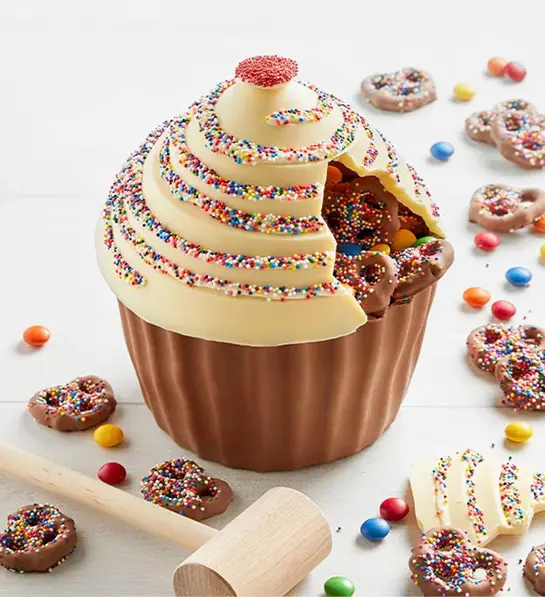 Here's a gift that your best friend will love to pieces! This jumbo Belgian chocolate cupcake is filled with mini pretzel twists and colorful milk chocolates, making it an ideal gift to share with a group of buddies who love indulging in gourmet desserts.
This is a perfect birthday gift for a best friend who likes a little bit of everything. With caramel popcorn, shortbread cookies, red licorice, and candy-coated gum drops, this assortment will satisfy any sweet craving they have.
Keepsake gifts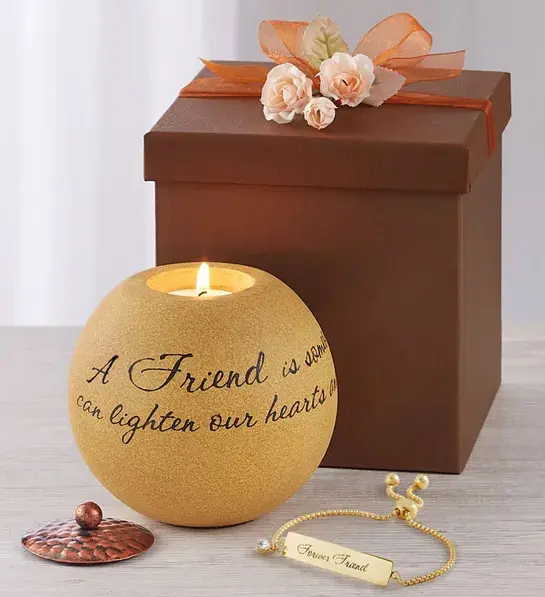 A candle can make a great gift, and this Friendship Candle is a lovely choice. It comes with a thoughtful message that reads "A friend is someone whose warm, loving ways can lighten our hearts and brighten our day," as well as a delicate tealight that will fill any room with warmth and comfort.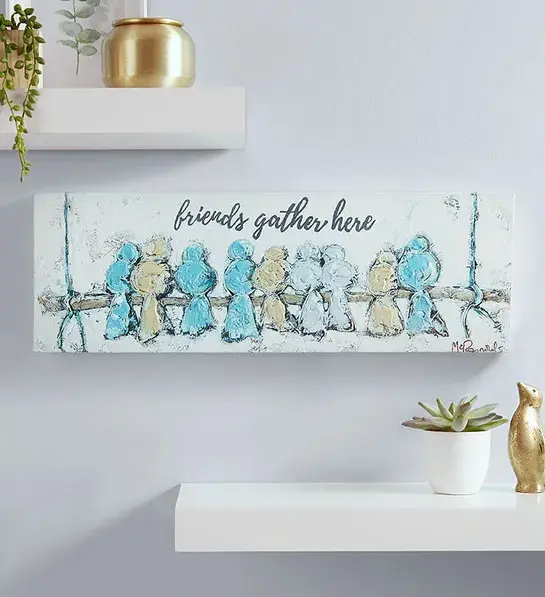 A unique piece of art that celebrates the importance of friendship and togetherness, this canvas features birds and a heartfelt message from the artist who designed it.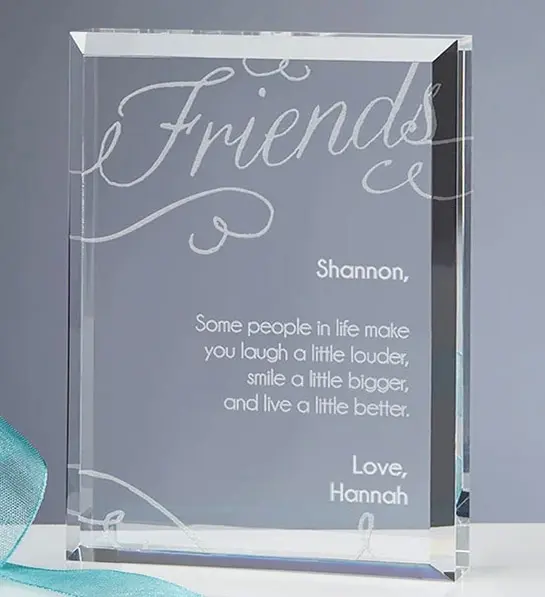 This beautifully crafted keepsake serves as a memento of the unbreakable bond you and your best friend share. Personalized it with their name and a special message from you.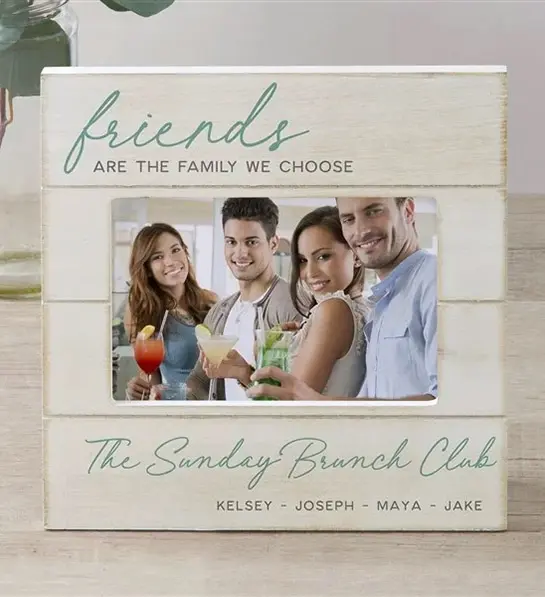 Showcase the special relationship you both share, along with a special photo of the two of you, in this high-quality, rustic-style frame. Personalized with their name and a touching sentiment of your choosing.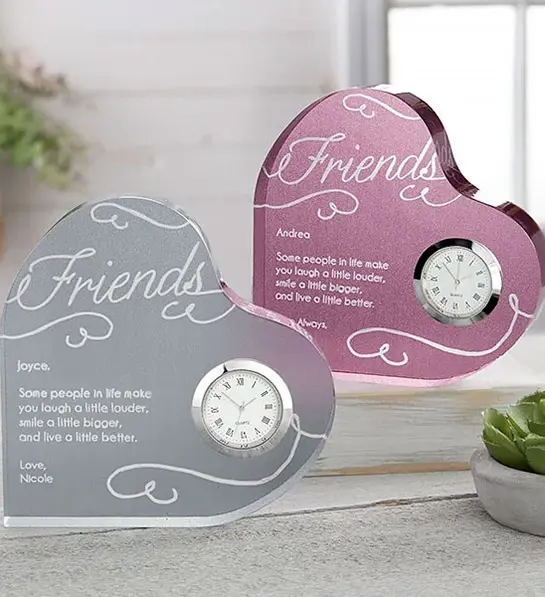 This heart-shaped clock serves as a practical and sentimental gift for your best friend. Engrave it with their name and a special message from you.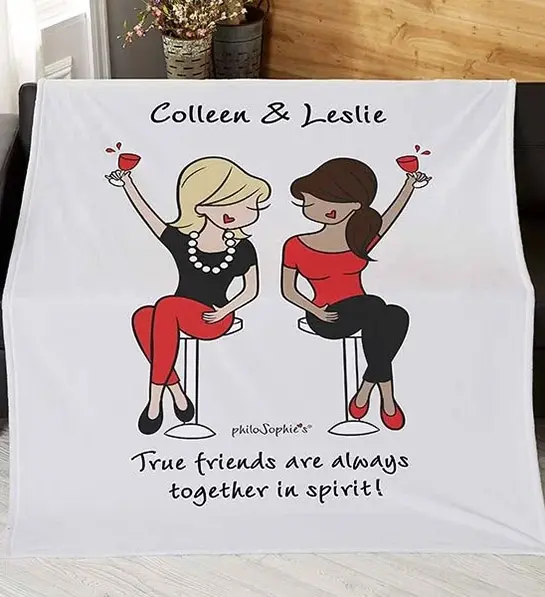 Give your best friend the gift of snuggles with a cozy and soft fleece blanket. In addition to being able to add names and a fun saying to it, you can make the characters look just like you and your bestie by choosing their skin tone, hair color, and hair style!
Unique gifts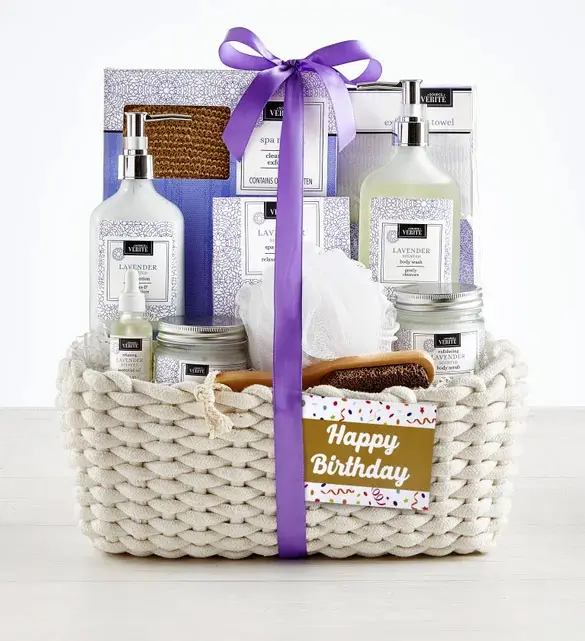 For best friends who need some self-care, this spa basket is an excellent choice. It includes lavender body lotion, shower gel, essential oil, and many more luxury products designed to give them an exquisite spa experience at home.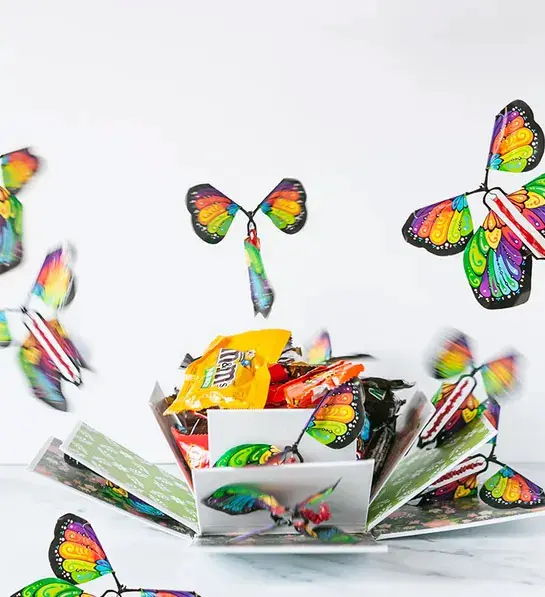 This gift is perfect for best friends who love surprises and sweets. The explosion box includes a chocolate tuxedo Bundt cake and a surprise candy kaboom filled with a variety of mini candy bars. The best part is when your friend opens the box, several faux butterflies flutter into the air for an extra touch of magic.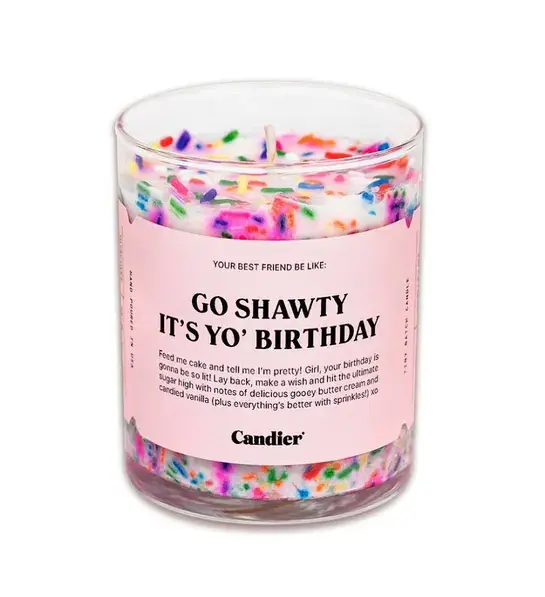 Give your best friend the gift of a delicious scent with this birthday cake candle from Candier. Featured in Forbes' 10 Best Luxury Scented Candles for 2022, this 100% natural soy wax candle smells like gooey buttercream, candied vanilla, and bourbon. And with its 60-plus hour burn time, your friend can savor its smell long after her birthday has come and gone.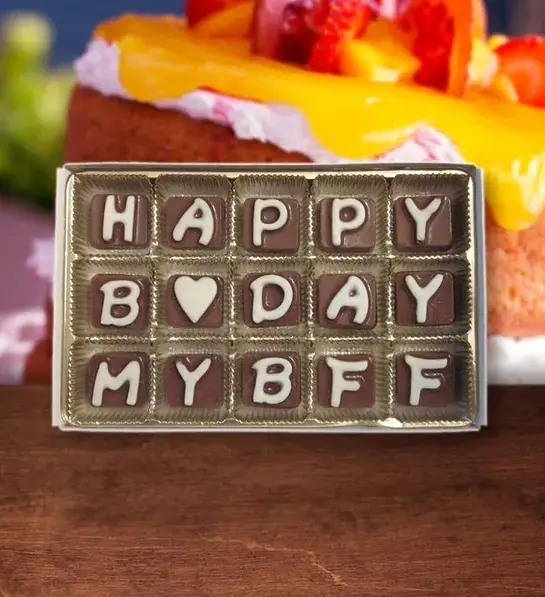 In case you can't find the words to express your feelings for your best friend's birthday, let the gift say it for you. These chocolates from What Candy Says relay just the message you're going for, and they are darn tasty to boot. They may even save you the trouble of picking out a card!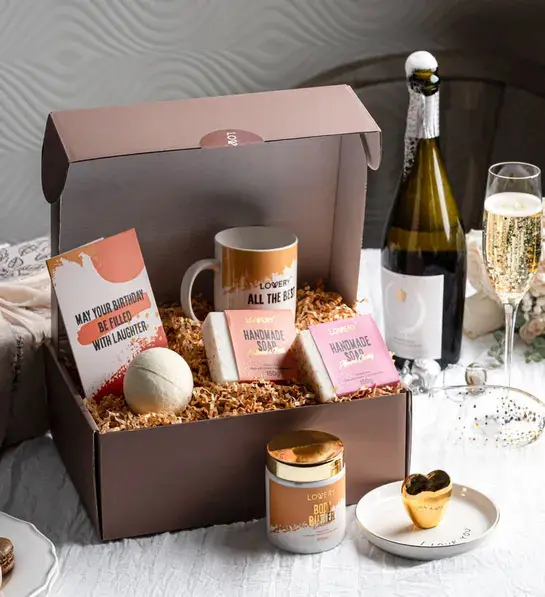 For the best friend who needs some relaxation and pampering, this spa gift set from Lovery is the way to go. It includes handmade soaps, a bath bomb, body butter, a jewelry tray, and a porcelain mug!