December brings a crush of invitations to swanky or stuffy holiday parties with Champagne and carols. Sure, the free drinks and passed hors d'oeuvres are nice, and maybe you'll win a prize in the annual raffle, but for the most part, these affairs are dull.
The solution to your holiday party doldrums? An ugly sweater party!
As tried and true a tradition as the stiff corporate holiday gathering, the ugly sweater party embraces the joy of good old-fashioned (or bad-fashioned) fun with friends and family. "An ugly sweater party is intended to be casual and playful, so the focus should be on having a good time," says Amy Zediana Dearth, CSEP (that's Certified Special Events Professional for the uninitiated), president of Consider It Done Special Events in Boston.
Use this guide to get you set on the right track for hosting an ugly sweater party to remember this year.
Invite them in style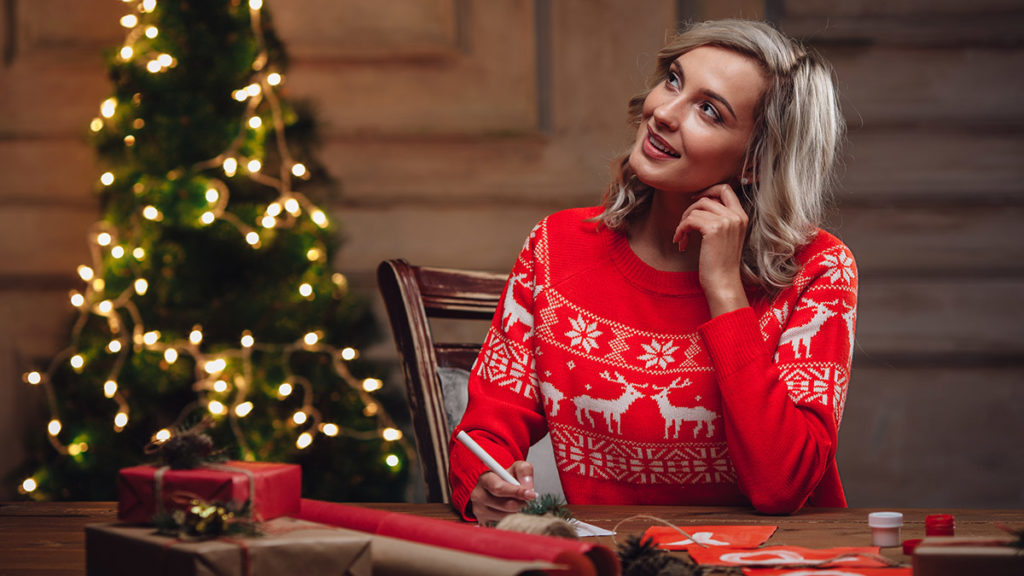 Set yourself up for a fun night before your guests arrive. "Creative invitations are a way to set the tone of the event at the very first possible moment," Dearth says. "While some people may simply send an electronic invitation, getting a touch creative can really make a difference."
Of course, she notes, the size of your guest list will determine how creative you can get. If you're having a smaller gathering, consider dressing up in your finest ugly sweater and personally delivering an invitation to each guest.
For a larger get-together, you can send personalized ugly sweater invitations in the mail. "Making that moment memorable will entice your guests to want to attend," Dearth says.
Food with a theme
No party — cute sweaters or otherwise — is complete without the right snack spread. The key to a party menu that appeals to everyone is to mix and match sweet, savory, and spicy options. And when you're throwing an ugly sweater party, keep the theme in mind when serving traditional party foods.
Dearth suggests incorporating aspects of an ugly sweater into the party menu. "For example, if you'd like to offer beef skewers as an appetizer, instead of bamboo sticks, perhaps you can use knitting needles," she says. "If you are building a buffet, fill empty vases with holiday ornaments and balls of yarn."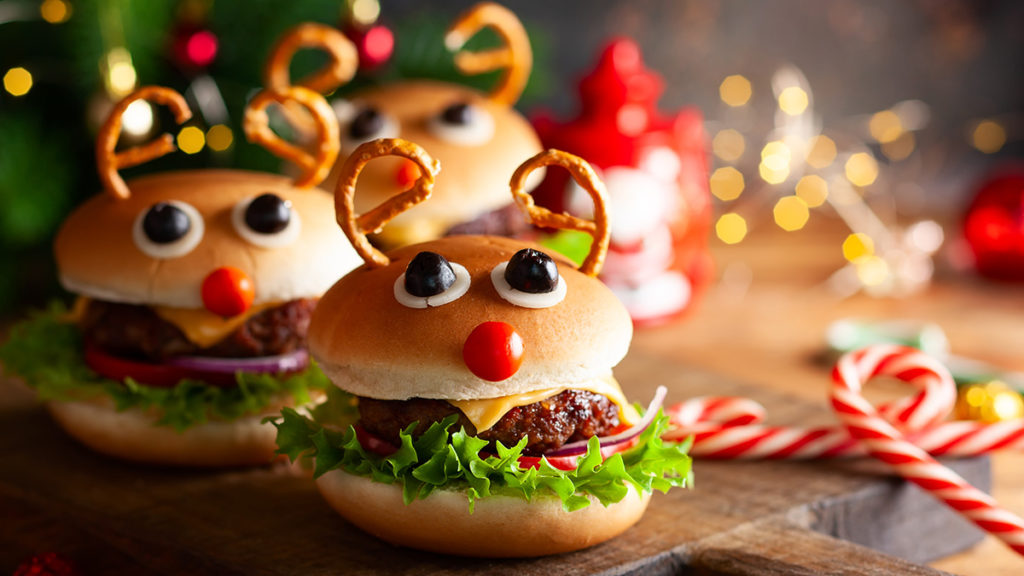 For something savory, lay out an elegant charcuterie board so guests can help themselves to sausages, briny pickles, and tasty spreads. Decorate the table around the board with tinsel, holly, and mistletoe to stay on theme.
To add some spice to your party, offer a selection of relishes with crackers or crudité for dunking. Or, for a snack that satisfies nearly every taste bud, you can't go wrong with a giant tin of popcorn. Opt for one with traditional flavors, such as butter, caramel, cheese, and white cheddar, or go the seasonal route, with varieties such as Snowflake Sugar Cookie or Holiday Cookie Dough. Some tins even come in a festive plaid motif that is reminiscent of an ugly sweater design (unless you still think plaid sweaters are in style).
And, of course, because it's the holidays, you have to end the night with something sweet. A holiday cookie basket provides your hideously dressed guests with an assortment of festively frosted, sugared, and sprinkled baked treats. Plus, the basket makes for a decorative presentation that's perfect for the occasion.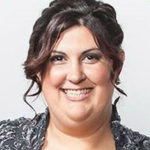 Plan some high-energy, exciting forms of entertainment. Because an ugly sweater party is meant to be silly, focus on games that are silly!
Amy Zediana Dearth
President, Consider It Done Special Events
Drink up
Great drinks are just as important as tasty food at your ugly sweater party. To keep everyone happy, offer a selection of both adult beverages and alcohol-free options.
Cozy holiday parties call for warm-me-up sips, such as mulled wine (which will also make your house smell wonderful) and pear martinis. If you're feeling especially festive, pop open a bottle or two of sparkling wine to set the mood.
And don't leave your bottles of wine out in the cold! Keep the theme going right through to the drink table by dressing them up in an adorable ugly sweater and matching hat. They're just the right size for your favorite 750-milliliter bottle, regardless of whether you prefer red or white.
Capture the moment
Since your party is all about showcasing the wildest looking sweaters all night long, Dearth recommends having cameras at the ready for the inevitable photo ops.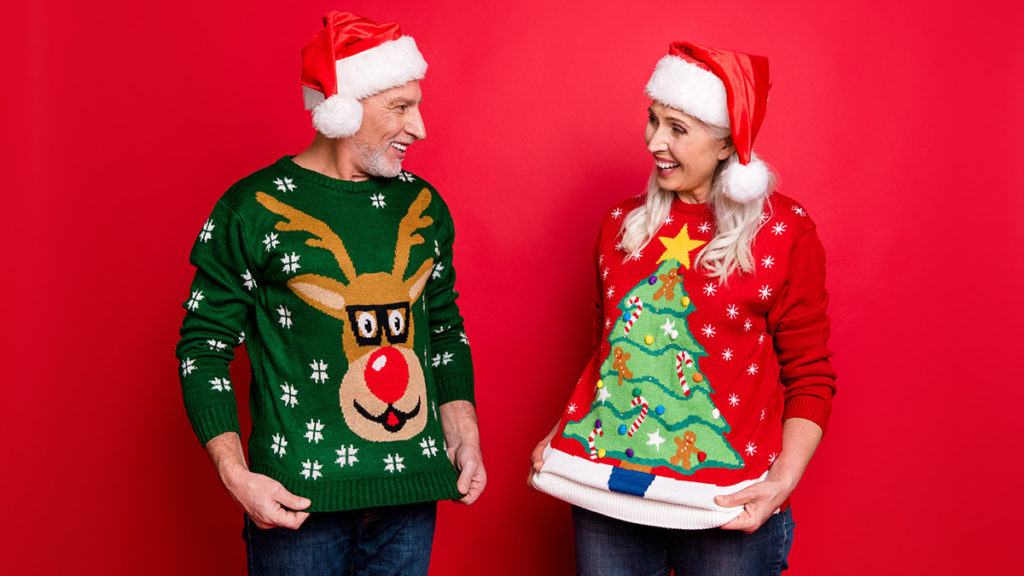 She also suggests setting up a backdrop, or several, around the party for guests to pose in front of. "Because the sweaters are the focus, try for a more neutral backdrop," she advises. Set out a few instant cameras so guests can take their pics home as a party favor.
For additional decorations, Dearth says to always return to the theme. Turn your living room into a cozy ugly sweater itself with decorative touches, such as colorful yarn, festive and kitschy holiday accents, pom-poms, and glitter.
Keep 'em laughing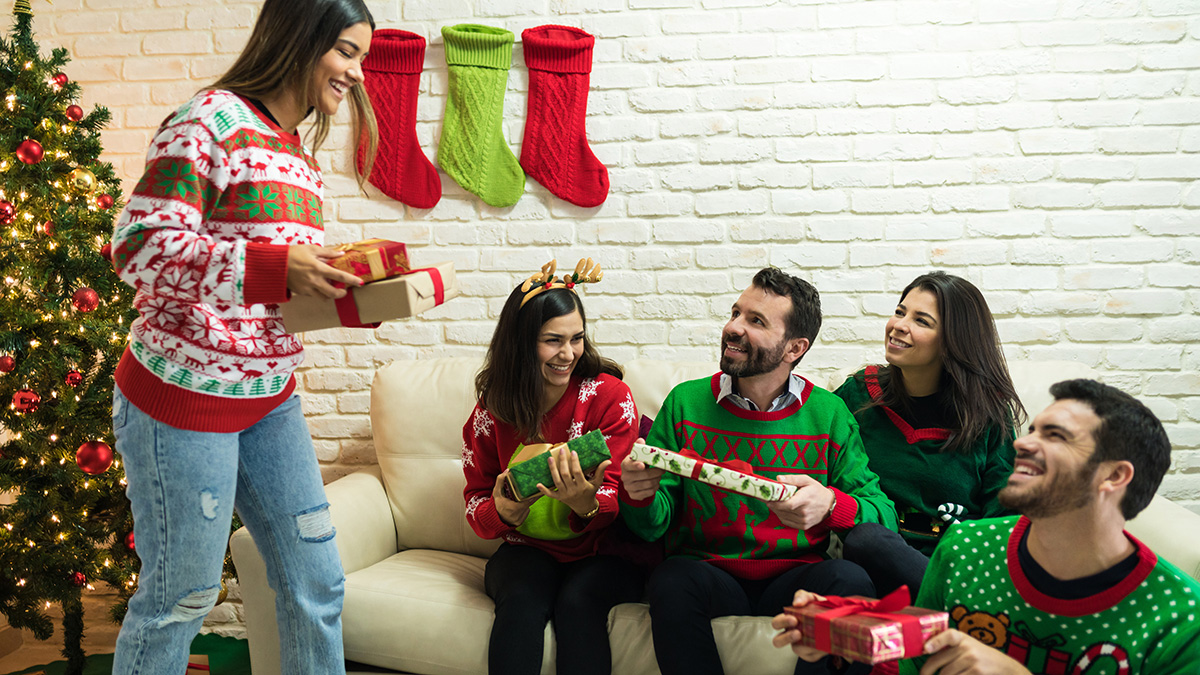 The biggest mistake hosts make when throwing any kind of party, Dearth says, is forgetting about the fun. To avoid that pitfall, you need to fully embrace the lighthearted nature of an ugly sweater party. "Plan some high-energy, exciting forms of entertainment," Dearth recommends. "Because an ugly sweater party is meant to be silly, focus on games that are silly!"
Break out old school board games, such as Twister and Sorry. If your party is adults only, arrange an interactive drinking game that incorporates charades or picture drawing. Or, get Bad Christmas Movie Bingo, which combines watching a holiday movie (any one of your choosing will do…the worse, the better) and, well, playing Bingo, of course.
At the end of the night, close things out with a group vote for the ugliest sweater. The winner can take home bragging rights and a festive prize — like, say, a set of Star Wars ugly sweater stemless drinking glasses.