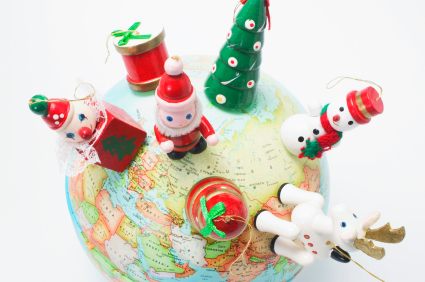 It's the most wonderful time of the year, and not just in the United States… in other countries around the world, too!  Although many countries across the globe celebrate Christmas, did you know each one has their own truly original traditions? Read on to find out some interesting international Christmas traditions around the world!
Christmas in Australia
How to Say "Christmas" in Australia: "Christmas"
Australians very rarely have a white Christmas. This is because it is summer in December, down under! Kids are "wrapping" up their school year along with their Christmas presents! Christmas in Australia is celebrated similarly to the U.S. Families decorate the Christmas tree, hang stockings on the fireplace, sing Christmas carols and send out Christmas cards to friends and family.
Christmas in Brazil
How to Say "Christmas" in Brazil: "Navidad"
Like Australia, Brazil enjoys Christmas in the summer! Similar to Santa Claus, Papai Noel (Father Noel), delivers Christmas gifts in Brazil. Unlike Santa's heavy attire to stay warm in the U.S., Papai Noel usually wears light silk clothing to escape the summer heat. A big Christmas tradition in Brazil is to create a nativity scene, also called "Presépio." In Northern Brazil, people often gather to watch the folk play, Los Pastores or "The Shepherds." Festive decorations in Brazil include fresh flowers and tall Christmas trees made of electric lights that can be seen in the night skies, especially in major cities like San Paolo & Rio de Janeiro!
Christmas in Canada
How to Say "Christmas" in Canada: "Christmas"
In Canada, Québec especially, Christmas is celebrated by putting up a large Christmas tree either inside or outside the house, filled with colorful lights. Canadians almost always have a white Christmas, because there is often snow during the holiday season. Most Canadians eat a turkey dinner, but years ago, people enjoyed eating "Tourtire," a stew made of meat, potatoes and onions. Their Christmas dinner is called, "Revellion," which is usually eaten when people come home from midnight mass.
Christmas in China
How to Say "Christmas" in Chinese: "Shèngdàn
In China, Christmas is celebrated by decorating the Christmas tree and by adorning the house with paper lanterns. The Christmas Tree is known as "the Tree of Light." Popular Christmas tree decorations are handmade paper flowers, paper chains, and paper lanterns. Santa Claus is referred to by children as, "Christmas Old Man." Since many people in China are not Christian, the main festival during the holiday season is the Chinese New Year. It is tied to the lunar-solar Chinese calendar, and is a time to honor deities and ancestors. It is also a time where families come together and enjoy delicious feasts.
Christmas in England
How to Say "Christmas" in Canada: "Christmas" (English) or "Noël" (French)
As in most countries, Christmas in England is full of joyful Christmas music, decorations and delicious traditional food. While we say "Merry Christmas" to wish someone a good holiday in the United States, in England and throughout the United Kingdom, they instead say "Happy Christmas." One English Christmas custom is called "mummering." During the Middle Ages, people put on masks and performed in Christmas plays throughout towns and villages. These people were called "mummers" and the plays are still performed in England to this day. The gift giver in England is called "Father Christmas." On Christmas Eve, children leave an empty pillow case or stocking at the end of their bed and hope it is filled with toys left by Father Christmas the next morning. A traditional Christmas dinner in England is turkey, vegetables, and different kind of sauces which is usually eaten midday on December 25.
Christmas in France
How to Say "Christmas" in France: "Noël"
Delicious food and desserts are a big part of the Christmas holiday in France. One tradition is to make a cake in the shape of a yule log, called "buche de Nol." The cake is served during a large feast called, "le Réveillon," which is held after midnight mass on Christmas Eve. Some items on the menu include turkey, goose, and oysters
Christmas in Germany
How to Say "Christmas" in Germany: "Weihnachten"
There is plenty of Christmas celebrating in Germany, starting on December 6, St. Nicholas Day. Children in Germany, as in the U.S. also have a naughty or nice list. On the eve of December 6th, children will leave a shoe by the fireplace for St. Nicholas. If the child has been good, St. Nicholas will fill the shoe with Christmas goodies. If the child has been bad, their shoe will be filled with sticks. In Germany, children do not see their Christmas tree until Christmas Eve. When the children are in another room, the parents will decorate the tree with beautiful lights, tinsel, trains, cars, and even cookies and fruit! When the tree is finished being decorated, a bell will ring and the children can come into the room and see all the decorations, sing Christmas carols, read stories, and open gifts.
We hope you enjoyed learning about the different and magical Christmas traditions as much as we did! We wish everyone around the world a very happy and healthy holiday season!