How to Pack the Perfect Beach Picnic and Make a DIY Beach Flower Centerpiece!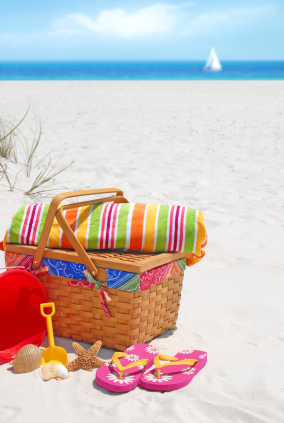 Hitting the shore for a day of good food, good weather and good company? Don't let the sand and ocean breeze put a damper on your picnic! Here are eight tips for having the best beach picnic this summer.
1. Keep lunch simple with finger food.
When you're surrounded by sand, wind and saltwater, using plates and utensils can get very messy. Small, portable finger food is the best way to go when it comes to a beach picnic menu. You can store it in airtight plastic containers to keep it fresh and protect it from sand, plus it helps you cut down on the amount of stuff you have to pack! Here are some ideas for your seaside fare:
Bite-sized fruits and veggies
Cheese and crackers
Individually wrapped sandwiches or wraps
Chips
Brownies
Cookies
Avoid anything with mayonnaise, which goes bad in the heat. Also, steer clear of any desserts with ice cream and chocolate, which will melt in the sun.
2. Pack your food and drinks in a cooler—not a picnic basket.
Toting your menu items in a cooler won't just keep the sand away from your lunch; it'll keep your food and drinks nice and cold throughout the day too. Picnic baskets aren't ideal for the beach: They have tiny holes that make it easy for sand to creep into your perfectly packed meal. Make sure you place the heavier items at the bottom of the cooler; lighter items, at the top.
3. Stay cool and hydrated with bottles of frozen water.
Ditch the sugary drinks and opt for bottled water instead. It does a much better job of keeping you hydrated in the sun and salty air. Plus, freezing the bottles before your picnic will ensure that you'll have cold drinks throughout the day, and you can drop the icy bottles into the cooler to keep the food cold. Stay away from cups, which won't safeguard your drinks against pesky sand.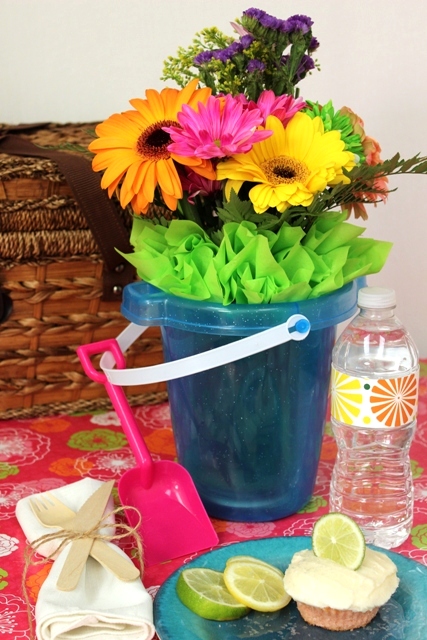 4. When you get to the beach, set up your picnic on a tablecloth.
A big tablecloth is much easier to pack, lay out and wash than a blanket or towel. It also gives you plenty of space to fit the whole family! To keep the cloth from blowing away in the wind, use large rocks or your belongings to anchor each corner of the tablecloth to the sand.
5. Set the mood with a cute, beachy floral centerpiece.
Whether you're having a romantic beach picnic for two or a day of seaside fun with the family, an adorable beach-themed bouquet of flowers will add a truly original touch of creativity to the scene. Making a DIY beach bouquet like the one pictured here is easy: Just fill a vase with water and summer flowers, place the vase in a sand pail, and fill the bucket with rocks or sand from the beach to weigh it down and keep the vase snug. That's it! Now you have a beautiful arrangement that'll make your picnic in the sun even brighter.
6. Protect yourself and your loved ones from the sun.
Spending a day in the sun may be fun, but it can do a real number on your skin. Don't forget to bring along hats, sunglasses and sunscreen to shield yourselves from those harmful UV rays. Pitching a large umbrella or tent will give you a nice shady spot that'll keep you, your family and your food cool and refreshed.
7. Make cleanup easy with baby wipes, baby powder and paper towels.
Washing your hands in the ocean only makes your hands stickier, turning your fingers into a magnet for sand. For hassle-free cleanup, keep some baby wipes and paper towels within reach. To easily wipe off that impossible-to-remove sand, just rub some baby powder onto your skin and voila! The sand will slide right off.
8. Don't forget the fun and games!
No day at the shore would be complete without some fun games and activities that you and your loved ones can enjoy together. Volleyballs, beach balls, Frisbees, surfboards, rafts, sand buckets, shovels and snorkeling gear will keep everyone busy and smiling all day long. Make sure you have some beach towels and folding chairs on hand for some relaxation time too!
Which beach will you be heading to for your seaside picnic this summer?