Imagine opening your door and crossing the threshold to your humble abode to be greeted by an overwhelmingly fresh scent of invigorating flowers and herbs. With just a few easy steps, you can turn any flower bouquet into a green-filled arrangement that will tickle all five senses!
We found that subtle, more muted flower colors such as lavender or pale yellows and oranges would look best with this arrangement, so we used the stunning Iris and Eucalyptus bouquet from the stunning 1800Flowers.com Fresh Cuts collection.
Depending on where you are in the world and season, you may have varying herbs available to you. When picking out your herbs, try and pick out the options with the longest stems and most fragrant smells. Alternatively, you can create multiple mini arrangements in mason jars or mugs and scatter around the room.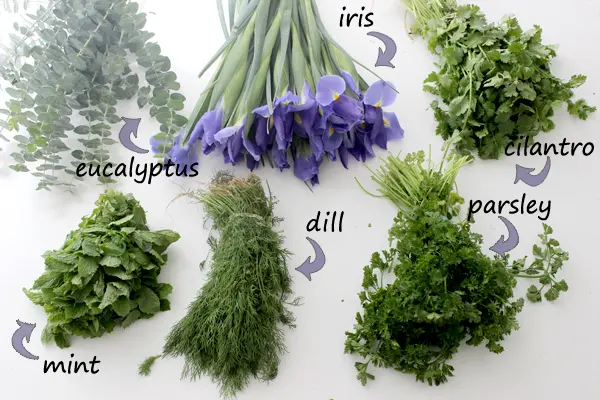 Recommended herbs:
Thyme
Dill
Curly parsley
Mint
Cilantro
Chives
Peppermint

How to Add Herbs to a Flower Bouquet
First, prepare your bouquet by trimming your flower stems then arranging them in your prepared vase. You are then ready to start adding the herbs. For our flower and herb bouquet, we paired iris flowers with dill, curly parsley, mint, cilantro, and eucalyptus leaves, but you can pair yours with whatever herbs you have available in your region of the world.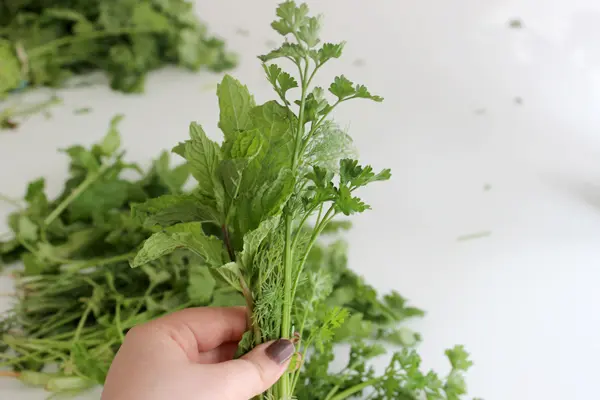 Begin by making a small bundle of your available herbs.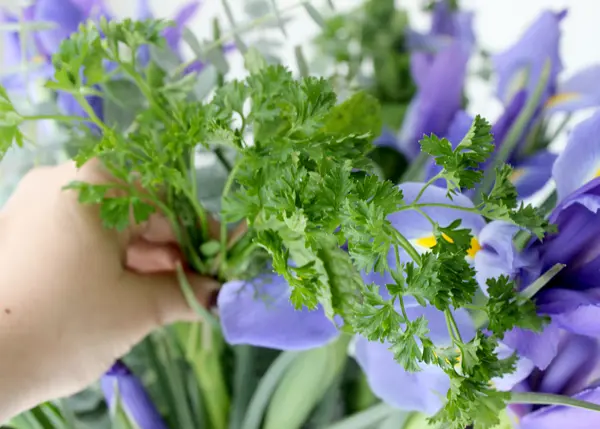 Then, arrange them into your bouquet to your liking. Continue this process until you are satisfied with the look and scent of your arrangement! We used three small herb bundles for our bouquet.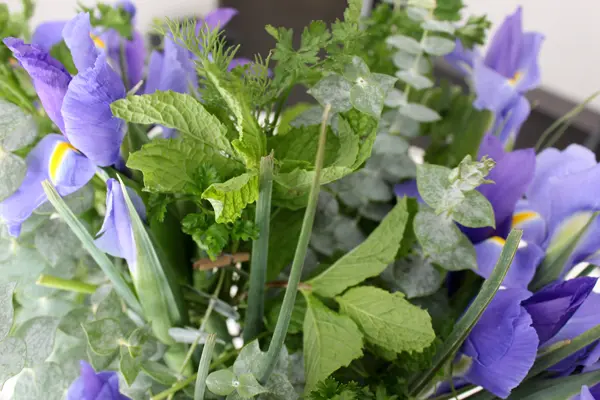 Guests are sure to be wowed when they step into the room and are greeted with a unique, one-of-a-kind arrangement and refreshing aroma of your herb blend.