The series "Unboxing the Holidays" is all about bringing you top-notch advice and creative ideas to make the most of the season's special moments. In this article, we highlight the top tending flowers and wreaths for this holiday season.
From adorning the Christmas tree with ornaments to hanging lights outside the home, there are countless ways to decorate for Christmas. You won't be surprised that our favorite way to deck the halls is with trending flowers and wreaths. Traditional holiday red roses, unique candy cane amaryllis, and poinsettia plants are among our favorites.
Curious about what others are choosing for their Christmas decorations? Here are the top-trending Christmas flowers and wreaths for the 2022 holiday season.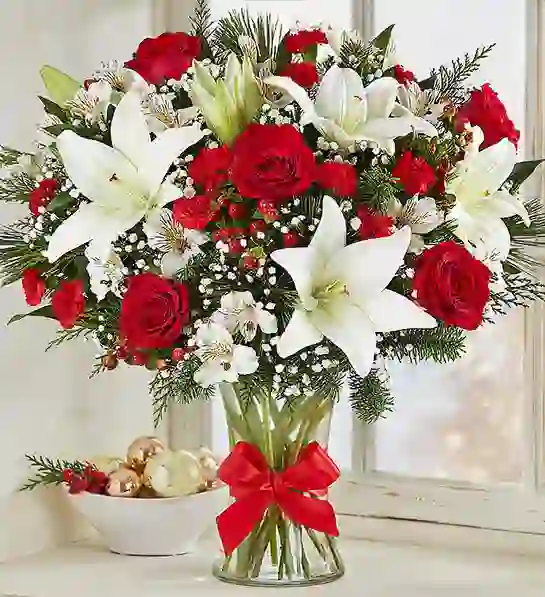 This arrangement continues to reach our top trending list year after year, and it's no wonder why. These flowers are a festive arrangement of red roses, white lilies, white alstroemeria, red carnations, hypericum berries, gypsophila, and mixed Christmas greens. We consider these red and white flowers the perfect combination for Christmas and look great in any home!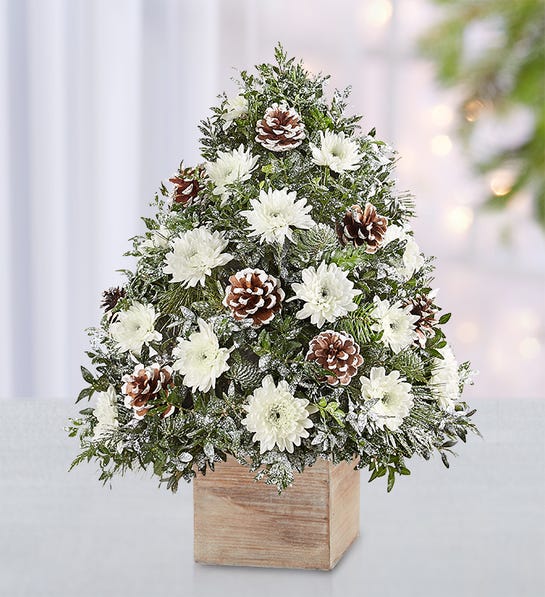 For a subtle, natural approach to Christmas florals, the Holiday Flower Tree not only brings understated seasonality to the decor but also provides a fresh aroma of eucalyptus mixed with pine. A light dusting is applied to capture the effect of snowfall, which is an authentic added touch that will rival the Christmas tree.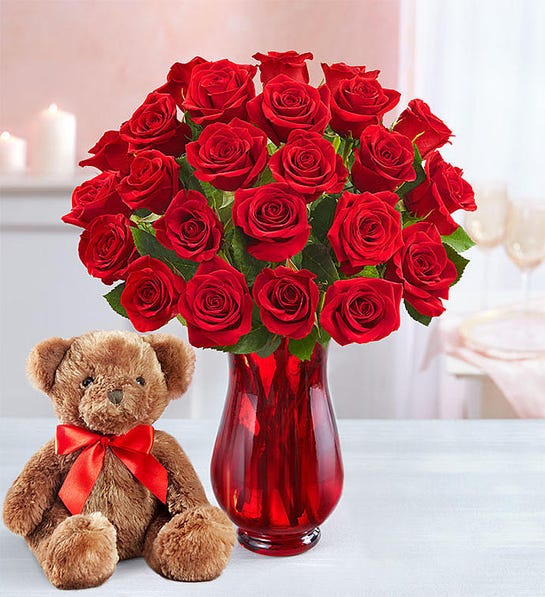 You can never go wrong with roses, especially when they come with a classic teddy bear. Whether giving a host or hostess gift, using them to decorate your home, or giving them as a holiday gift, roses remain a holiday flower staple.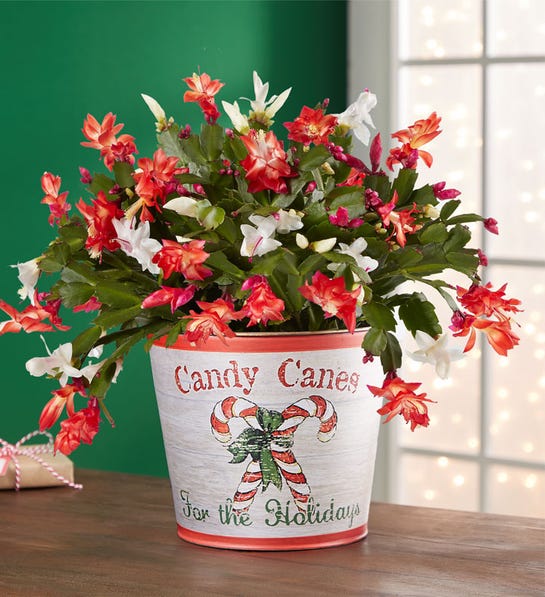 Flower enthusiasts can't get enough of the Candy Cane Christmas Cactus, literally, as the plant arrives ready to mature. The red and white blooms offer a whimsical, holiday candy cane style that will add color to your home well after the holiday season.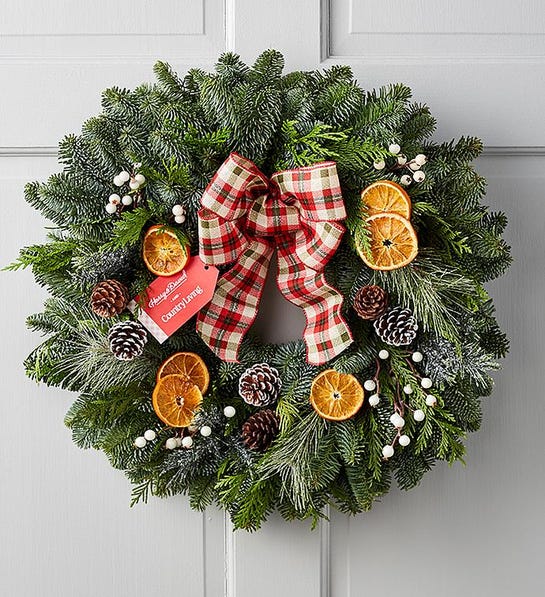 The Country Living citrus wreath gives a rustic feel to the home but is still festive for Christmas with its dried oranges and lodgepole pinecones. This wreath gives a warm and natural look to the home with its subtle holiday additions.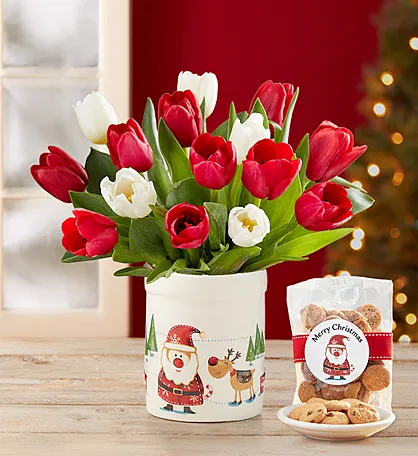 Start a new holiday floral tradition with a bundle of tulips. Perhaps the most cheerful flowers in the patch, tulips are a natural addition to the holiday home. The Santa ceramic vessel is a gift that lasts, which is ideal to use as a cookie jar and food safe for other treats. What won't last is the delicious chocolate chip cookies.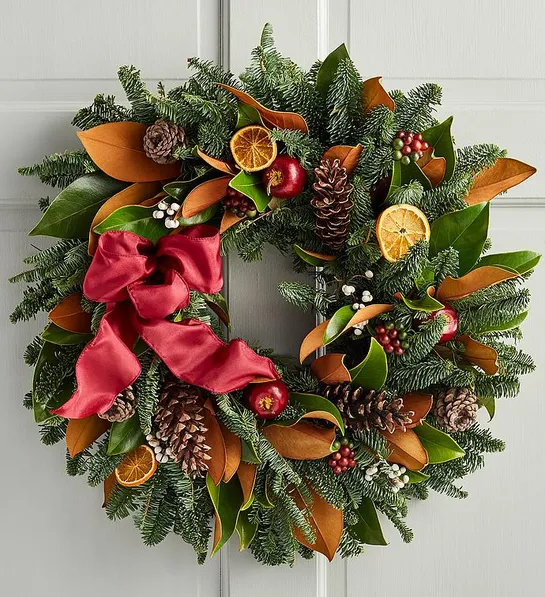 The Magnolia Wreath makes the top trending list because of its festive faux fruit from apples to orange slices to pomegranates. This wreath is handmade in California to give it an extra special holiday touch. It almost looks good enough to eat!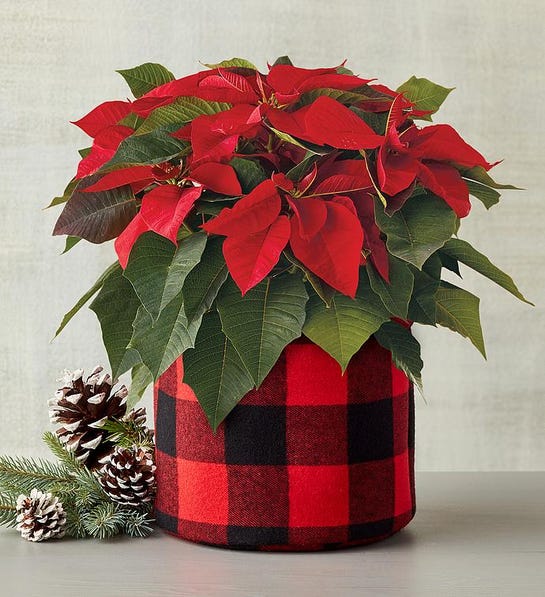 Poinsettias are always a holiday favorite but they never looked so good packaged in classic red and black buffalo check. Traditional and festive, the poinsettias evoke time spent in an alpine setting. Great as a gift but be sure to get one for yourself.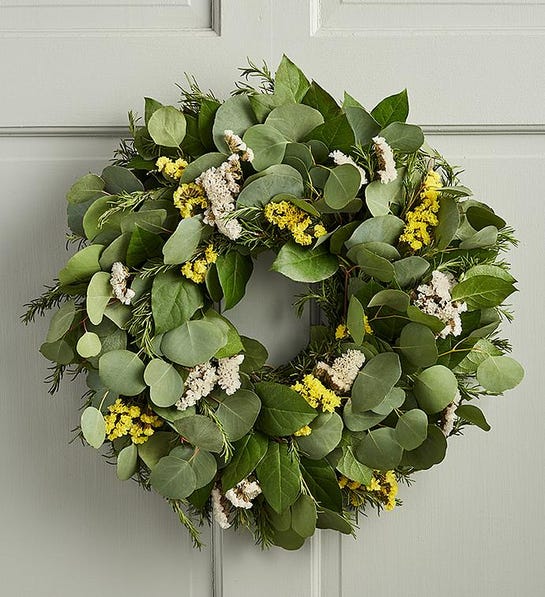 What better way to welcome loved ones into your home for the holidays than with a festive wreath that emanates the healthy scent of eucalyptus. Does this wreath foretell the healthy year ahead? We certainly think so.