I have always had a real affection for the old Shiny Brite ornaments that were part of the Christmas tree décor of almost every American home throughout the 1940's and 50's. These colorful and charming ornaments were first introduced in the United States right before World War II when Max Eckhardt, a German manufacturer of glass ornaments, sensed the storm clouds of war gathering over Europe and made a deal with Corning Glass to mass produce the ornaments at an affordable price.
The best parts of the holiday season are the nostalgic memories from childhood. Incorporating those memories into what you do today creates new traditions that tie to the past. Here I created a tabletop tree using another nod to the past and American craftsmanship, a Fenton hobnail milk glass planter, as the base. The tree was made using a floral foam base and fresh boxwood accented with a few sprigs of balsam and baby's breath. The garland is new, but done in the traditional "shiny brite" colors. I put this tree on my kitchen table and it perfectly complements the large tree in the adjoining family room that is filled with all of the ornaments that I have collected over the years.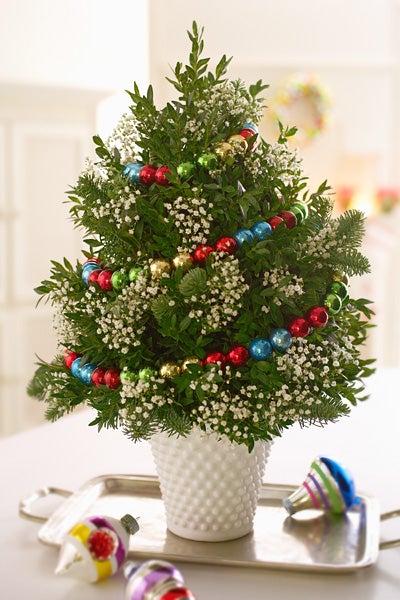 Think outside of the box and come up with other ways to be creative when decorating for the holidays. You can create new looks using the décor elements from the past. Here is a way to use your Shiny Brite ornaments to create a welcoming wreath for your front door.