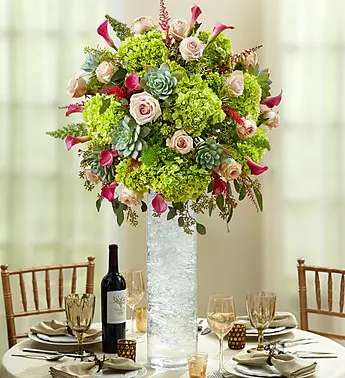 If you're a bride on the hunt for the perfect floral theme for your wedding, we have three words of advice for you: Stir things up! This year, mixed-and-matched bridal flowers are all the rage. Bringing together different yet complementary colors, shapes and motifs in your arrangements creates a breathtakingly eclectic look that'll surprise all of your guests. Check out the hottest and most inspiring 2013 wedding flower trends, and find out how you can incorporate them into your own chic wedding-day décor!
Glamorous Rustic Wedding Flowers
These days, barn-inspired receptions are by far one of the most talked-about themes amongst brides. The beauty of countryside nuptials lies in their simplicity: Natural elements like wood branches, lush greenery and delicate flowers bring a touch of storybook romance and enchantment to the air, without straining your budget. But this year, designers are using crystal, sequins and glitter to add a dash of drama to the traditional rustic wedding. The stark contrast of sparkly accents against a quiet, woodsy backdrop makes a stylish and unexpected statement that'll mesmerize your guests … and make your wedding feel like a fairy tale come to life!
Get the Look: Bling out your rustic wedding with this stunning Vineyard Wedding Luxury Centerpiece, which features a charming mix of fresh roses, hydrangeas, calla lilies, succulents and more set atop a fabulously frosted vase.
Ombre Wedding Flowers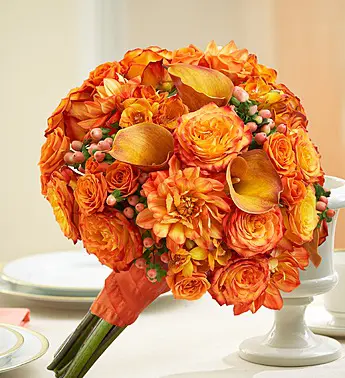 The ombre craze has taken over everything from hair color cake decorating, and now it's taking weddings by storm too! "Ombre" refers to a coloring technique in which different shades of a single color are arranged in order from darkest to lightest, gradually fading into each other. Wedding bouquets and centerpieces have now caught on to the trend, and it's not hard to see why. Aside from the spellbinding way the flower colors bleed into one another, ombre floral arrangements are also an easy choice for brides and florists. Just pick one main color for your wedding flower theme, and your florist can put together a beautiful mix of different flowers that have varying shades of that color. So as soon as you pick your favorite hue, all the work is already cut out for you.
Get the Look: The rich tones and undeniable appeal of this Orange Mixed Bridal Bouquet and its matching centerpiece will bring a whole new spectrum of color to your wedding celebration.
Geometric Wedding Flowers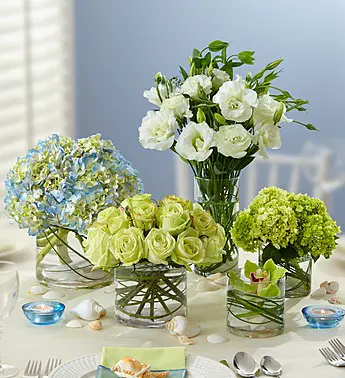 For ages, artists and designers have been using clean lines and geometric shapes to bring a sleek, sophisticated look to their work—and in 2013, brides are doing the same for their weddings. What's in vogue for centerpieces this year is to group together round or square vases of varying heights, each filled with one specific kind of flower. Separating the flowers by type into single vases (called monobotanical arrangements) gives you the freedom to create your own trendy color scheme: You can choose to have the same flower color in every vase, or you can color block by choosing a different hue for each container. With each arrangement sitting in a classy, simplistic vase with defined edges, you'll have a rich, eye-catching centerpiece for your elegant reception.
Get the Look: The individual arrangements of orchids, roses, hydrangeas and lisanthus—all beautifully presented in posh round vases—in this Beach Wedding Centerpiece Package will give your reception table depth, shape and definition.
Modern Vintage Wedding Flowers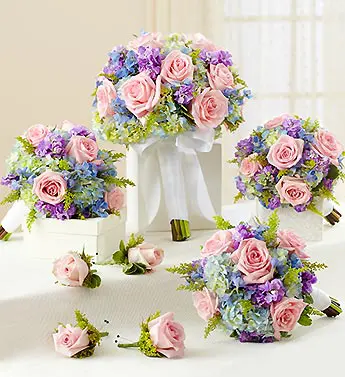 "Modern vintage" may be an oxymoron, but it sure does make for a stunning and whimsical wedding flower theme. 2013 brides are taking the dainty, feminine floral designs of bygone eras and launching them into the modern-day world. Picture a sweet, old-fashioned garden party with a fresh new twist: delicate flowers in blush pastel colors, subtle white and gray neutrals, and a mix of aged metallics like gold, silver and pewter. Baby's breath, peonies, calla lilies, daisies and hydrangeas are the perfect blooms for creating the soft, romantic setup—just like the one you dreamed of as a little girl, wearing Mom's oversized hat and pearl strands at your imaginary tea party.
Get the Look: The gentle pinks, purples, blues and greens of this Pastel Bridal Party Personal Package—accented with a graceful, flowing white ribbon—are the perfect tones for achieving that something-old, something-new look.
Which 2013 wedding flower trends are your favorites?